JJ HANRAHAN MAY still only be 22 years of age, but his maturity is a striking element of his personality.
The Kerryman is known as 'Jasper' to many of his teammates; a reference to the bearded and slow-moving Simpsons character who's a veteran of World War II and resides in the Springfield Retirement Castle.
Hanrahan is well liked within the Munster squad. Source: James Crombie/INPHO
The nickname is in jest, of course, and Hanrahan is an immensely popular member of the Munster squad, but it gives an indication as to the sense of an old head on young shoulders.
So when Hanrahan sits down at the Castletroy Park Hotel in Limerick after training at nearby UL to discuss his move to Northampton Saints at the end of the season, there is a calm clarity in his communication, as has always been the case on the pitch.
This is a talented young man who is apparently entirely at ease with his decision to leave the province where he has long been seen as the great red hope.
Confirmation of his heavily-rumoured departure to Northampton came on 7 January, and just over two weeks later, Hanrahan is comfortable in the knowledge that he has reached the most suitable conclusion in opting to leave Munster.
Absolutely, fully comfortable," says Hanrahan. "In any big life decision… I suppose you could use the example of breaking up with a girlfriend.
"It might be for the best, but at the time you're still disappointed. You're better off down the line though, you know? You're disappointed when you make the decision because you were Munster growing up, you want to be there and you've seen a big future.
"Obviously your dreams are playing for Munster, but when you make your decision, you base it on what's best for your career and your development going forward."
Not that the point of no return came about easily at first. Hanrahan reveals that he lay awake in bed every single morning over a four-week period pondering Northampton's offer.
Hanrahan started at 12 away to Clermont in the Champions Cup. Source: James Crombie/INPHO
There was "a fear factor" as he wondered if he was "absolutely crazy" to even consider leaving Munster. Initially, he says he took advice from close friends, family and several senior players, but the final call was entirely his own.
So how exactly did Hanrahan reach the point of realising that his immediate future was better served in Northampton? What exactly is the reason for leaving Anthony Foley's Munster squad?
"You can't really say it's based on any one factor," explains Hanrahan. "Throughout the process you're weighing up different things from all sides of it. Ultimately, it's what I felt was best for my career and where my career development and progress could be.
I suppose I see myself, at the moment, the best way for my development would be in Northampton next year in terms of opportunities to play, opportunity of the new challenge, a new environment."
"Going into a new environment, you have to become a really strong character. If you're ambitious to play for Ireland and have ambitions of playing for Ireland, you have to be a strong character and mentally tough. I suppose it'll develop that side of my game as well."
Ireland hopes, opportunities to play, the chance to grow mental strength; these are all important aspects of the move. Just as crucial is Hanrahan's desire to play out-half, with Ian Keatley having blocked his path in that position at Munster.
Hanrahan has been used at fullback and inside centre at different stages of the season, but he's in no doubt as to where his future lies.
"There is no secret that it [out-half] is my favourite position to play, where I think I can add most to the game is at 10," outlines Hanrahan. "It's where I think of going forward in my career and where I can add most value to myself and to other teams is playing at 10.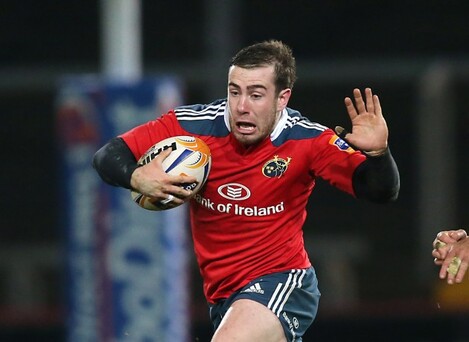 Hanrahan is certain that out-half is where his future lies. Source: Billy Stickland/INPHO
"It's a factor, it's one of many. I train constantly as a 10, I think as a 10, I drive play as a 10. It's something, going forward, that I think I can add most, that's where my ability comes out, that's where I could be best used in the future."
Ironically, Hanrahan may initially run into a familiar problem at Northampton in terms of the out-half position, given that 30-year-old Stephen Myler is performing well there for the Saints at present.
Hanrahan underlines that he has not been promised a first-team position and will have to earn it like any other player.
"There is never assurance anywhere you go. It would be wrong to ask for assurance, I'd never ask for guarantees anywhere. You just can't do that, you know? You just have to back yourself and make a decision.
You have just got to go over there, trust yourself, trust your ability and just try and play the best you can."
Regarding the actual contracting process, Hanrahan points out that Munster "were great throughout all this" and underlines that he was "in a very privileged position to be offered two very good contracts, both Munster and Northampton."
The former Rockwell College student stresses that his decision did not come down to the terms of either deal.
"It's 100% a rugby decision," says Hanrahan. "That's all it's ever based on, completely. It's all it's about at this stage, rugby. Like I said, I have huge ambitions for Ireland, I have huge ambitions for my career. I am a very driven and focused person.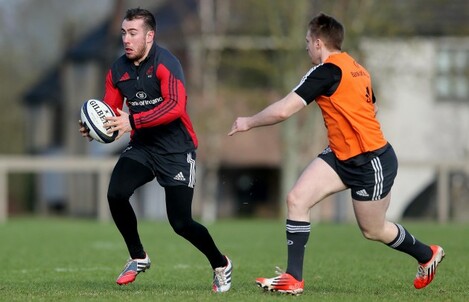 Hanrahan at Munster training in UL yesterday. Source: Ryan Byrne/INPHO
"It's the only thing that's driving me, where I can best develop myself and where I can become the best player that I can be. That's what it's all about, becoming the best player that I can be."
Did style of rugby come into the decision? Munster's kick-heavy and oftentimes narrow game plan would appear to be at odds with some of Hanrahan's more prominent playmaking skills, while Northampton are the more expansive side by some distance.
"Yeah, Northampton play a nice brand of rugby but Munster do as well you know," answers Hanrahan. "I know it mightn't have been seen at the weekend [against Saracens] but I think that was just one of those days where the team just didn't turn up as a whole.
But Munster played a lot of nice rugby this year and Northampton definitely play a good brand of rugby. There is some quality players in their team and it's a number of factors, it's not just one. It would be nice to play in a quality side like that."
All the strands added up to ensuring Northampton won the rights to call Hanrahan their player next season and beyond. The reaction within Munster's support base has involved outrage and sadness, but the people closest to Hanrahan understand.
"There has been a mixture of reactions, but the people that really matter to me are my family, my close friends and that's the people that matter. They are the people who I really seek guidance in.
"They understand my reasons for leaving and it has been very, very positive from their point of view. I suppose the one thing my mother is happy about is Kerry to Luton is a good flight, so it's only ten minutes down the road really."