GERMANY COACH JOACHIM Löw has talked up the Irish team ahead of the sides' meeting in a crucial Euro 2016 encounter on Thursday.
The teams face off at the Aviva Stadium tomorrow, with Germany needing just a point to guarantee qualification for the Euros.
However,  Löw believes his side are in for a tough task, comparing the Boys in Green favourably to Scotland.
"We don't always get a 6-1 result — it was very much matches of attrition [in past encounters between Ireland and Germany].
"They're stronger physically than Scotland. They play more imaginatively in attack than the Scots. So we have to look out for that.
"They know how to make life difficult for the opposition, they're very robust and they can also play on the counter.
"Ireland have it all to play for, they can qualify directly or at least [finish] third. We also know just like Scotland, they will fight until the last minute.
"But we want to take the game to them and impose our own match philosophy."
With most of his key players fit, Löw says he is unlikely to make too many changes from the team that beat Scotland 3-2 last month, however he admits many of the team's stars looked tired following a hectic weekend of action, which included a pivotal Bundesliga encounter between Bayern Munich and Borussia Dortmund.
"Last Sunday, many of my players were involved," he said. "When I looked at them, I saw they needed days of regeneration.
"We formed two training groups and resolved to have just one regular training session today.
"[Morale] wasn't as bad as the media have suggested. Players are able to put bad results behind them.
"There will nearly always be weekend winners and losers [before squad gatherings]. The Dortmund players have handled the defeat well."
Löw also played down concerns about the problematic full-back positions, as well as the form of Mario Götze, who has struggled to get in the Bayern team at times this season.
Be part
of the team
Access exclusive podcasts, interviews and analysis with a monthly or annual membership.
Become a Member
"Players like [Jonas] Hector, [Antonio] Rüdiger and [Emre] Can are on a learning curve. I'm sure they'll gain experience, so I don't see the full-back position as a problem.
"Götze received a boost [scoring against Dortmund at the weekend]. Even for Bayern, he has shown he is a player of great skill and potential
"It's natural for big clubs to have 18 world-class players at their disposal
"Guardiola favours rotation, which he's done well. Scoring goals has worked wonders for Götze. I never doubted his capabilities. He is a much-used player for my team and will remain so.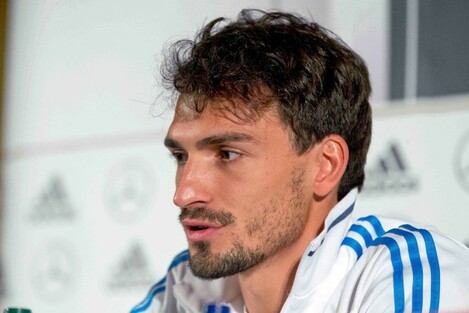 Mats Hummels pictured at today's press conference. Source: Morgan Treacy/INPHO
Meanwhile, German centre-back Mats Hummels claimed his controversial remarks following Dortmund's emphatic loss to Bayern have been misreported.
Hummels had suggested the team's tactics were ill-conceived, but said it was a constructive criticism, which didn't absolve himself from any blame.
"I'm used to my words being used the wrong way," he said. "I didn't cross any red line. All I did was point out tactical shortcomings, including myself, not excluding myself. That bit didn't get published, because it didn't fit the picture the media wanted to paint.
"We will talk internally at Dortmund. It hasn't happened yet because I haven't had a chance to travel back to Dortmund.
"Minor incidents are now treated as scandals."
And as for tomorrow night's encounter with Ireland?
"I expect a fantastic atmosphere like Scotland — passionate opponents, physical robustness.
"I can remember [testy] encounters from the first game.
"Germany will have more possession but we will have to be careful not to be caught on the counter."