HE'S ONE OF the most renowned and naturally gifted hurlers of the modern era, but Galway star Joe Canning knows that not all of the work is done on the field.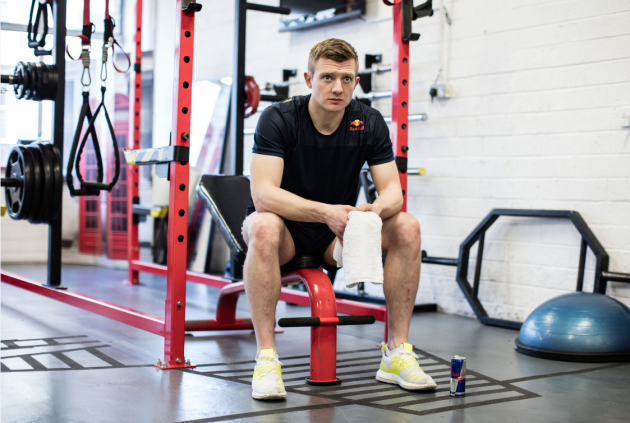 Galway hurler and Red Bull brand ambassador Joe Canning.
Strength and conditioning and fitness are becoming more and more important in both hurling and football year after year, and players know that they have to keep up with the fast-paced nature of change to perform at the highest, and their optimum level.
Having grown up in an age where there was basically no emphasis put on strength and conditioning and gym work, and if there was it was lifting heavy weights, 28-year-old Canning admits that it isn't his favourite part of life as an inter-county hurler.
"I'd prefer to be out on the field to be straight up about it," he tells The42. "It's not something that I really enjoy on a personal level but I know I need to do it because it will stand to me further on in the year."
You need to do it to be honest, and it's good to, but personally I'd way prefer to be out on the field hurling. I grew up hurling when I was younger and that's what I enjoy, but I understand that S&C is a huge part of it and it needs to be done."
He knows the importance of strength and conditioning work, and how necessary it is on both a personal and team level.
Galway haven't won the Liam MacCarthy Cup since 1988. They've come close on several occasions, and lost six finals since. Last year's campaign saw them knocked out by eventual champions Tipperary in the All-Ireland semi-final.
Canning and his side will hope that the hours of preseason training they put in will reap its benefits come championship time and allow them to go one step further, or even the full way, this year.
"Training is different at different times of the year. A lot of it is strength and stamina work at this time of the year, I suppose along with a lot of flexibility stuff, that we're not breaking down and not getting injured.
"Comparing it now to a couple of years ago, when I first started out, a lot of it was lifting as heavy as you can and into the gym, putting on muscle mass more so than anything. Nowaday's it's all about flexibility and injury prevention, and obviously getting your strength work and movement based stuff, but not about putting on a huge mass. It's a lot of body weight stuff more so than anything.
"It's not about lifting huge weight or bench pressing 200kg or anything like that – that's gone now. It's obviously a mix of that, and interval training on the pitch as well that you're running a lot too.
"This time of the year it's probably two or three nights a week doing strength and conditioning, and hurling is two or three as well. It's kind of 50/50 at the minute.
I'd say as we get on further into the season, after the league, it'll probably be more 75/25 or 70/30. It could be 2 nights a week S&C and four hurling. The hurling and speed-work will take over the further into the season we go, but at the moment it's probably 50/50.
"A lot of it is done through our S&C coach Lucas. He has a plan done out for us for different weeks, so we follow that basically. Sometimes we're together and sometimes we're on our own.  I'm not an expert on S&C and neither are many of the guys on the panel, so I follow Lucas and do whatever he tells me, as well as the physios too."
Canning is a prime example of someone who missed growing up alongside the prevalence of strength and conditioning in GAA, as well as the ever-increasing importance of science and technology in sport.
And he's the first to stress the changes to the game over the years.
"It's very different now, for sure. Even different S&C coaches have different ideas, I've went through four or five guys in the last number of years, and none of them have really been too similar. There's always new ideas coming out and different things which makes it enjoyable as well. You're doing different things so it's not boring and you're improving every year.
The science out there now and technology, we get well-looked after and we're not killed either. They know that we train for a certain time and that's it, that's our load. It definitely helps, but you have to be honest with them so they know exactly what you're doing."
"There's no point in me doing side sessions myself and not telling the coaches, and then us doing a hard session again, and vice-versa; me telling them I'm doing something and then them giving me a night off. We all have to know exactly what we're doing so we can get the best out of our bodies."
Nutrition is also now a given in sport as well as a huge part of an athlete's life, something which was pretty much unheard of years ago.
"You're used to it now, it's part and parcel of your daily routine. It's huge really, we have a nutritionist there who tells us what to do and what to eat and what not to eat.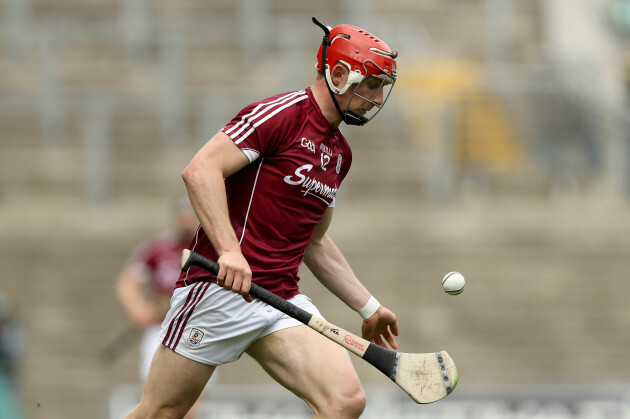 Ryan Byrne / INPHO Canning in action for Galway. Ryan Byrne / INPHO / INPHO
"A lot of it is common sense too I suppose, you stay away from the processed food and just eat whole healthy foods, and everything in moderation really. You just need to fuel your body.
"There's so much about it now that I think everybody has a fair idea what's right to eat and what's not right to eat. There's no point in me saying I'm an expert in it either, I basically just eat what I'm told to eat a lot of the time."
Currently nursing his way back to full fitness following a nasty injury in last year's semi-final, Canning is relishing the chance to get back on the field.
Forced to walk off at half-time with a hamstring injury 'probably a centimeter and a half away from ending my career', the attacker has had a difficult few months on the road to recovery but hopes to return for the latter stages of the National Hurling League.
"For the first six weeks I had a knee brace on and crutches, so I wasn't really able to do much. Then gradually, after four or five weeks I was doing a bit of pool stuff, I was trying to walk again and for the first couple of weeks it was pretty small steps.
"Stuff that I look back on now and go 'Jesus that was baby stuff', but at the same time I had to do it, and I had to take it slowly. Then, just working with the physios and working with the S&C, they kind of had a plan for me to get back. They took it slowly.
I'm nearly coming to the end of it now so I'm itching to get back on the field. When you get to the end you're wanting to jump over a few things quite quickly instead of taking your time, that's the biggest challenge I suppose. I'm not rushing it too much either."
Canning knows how important injury prevention is in the game nowadays also.
"A lot of is about staying as flexible and as free as possible. That you're looking after yourself, you're foam rolling, you're getting to the sea. There was a stage where lads were putting on huge muscle mass and breaking down then because they weren't flexible enough.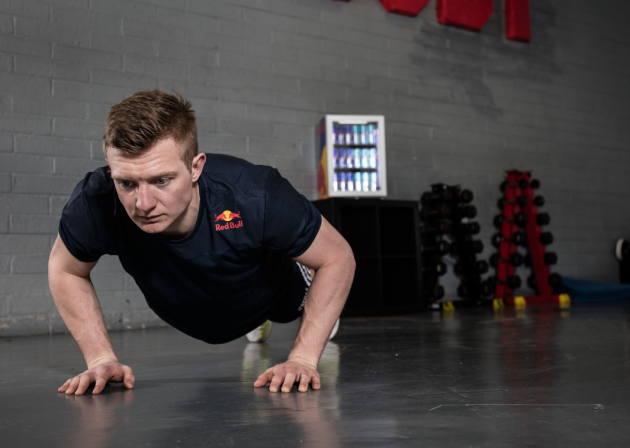 Canning is returning from injury.
"You've even seen it in the last couple of years with rugby – there was a stage there where guys used to be huge, but now they're slimming down a little bit more, and becoming more flexible, and slimmer, and able to move that bit easier.
It's the same with us, it's not about looking good it's about being able to perform – that was lost there for a while."
As a brand ambassador with Red Bull, he's currently involved with their fitness campaign with FLYEfit gyms.
He takes classes, has a fitness blog on their website and helps promote working out and fitness around the country.
Canning feels that the classes are a good way for people to learn more about his way of life, and more about the man behind the helmet of course.
"When you're in a gym and you're doing an S&C class or whatever, it's a different side that's behind the scenes more so than anything. People don't really see that side to hurlers or camogie players, and sports people in general.
"It's kind of a cool idea that they could see how I train I suppose and exactly how we do things in the gym. It's really cool for people who aren't in the inter-county scene, or playing inter-county hurling or anything like that.
It was really cool just to see that I suffer just the same way that everybody else suffers."
"I suppose I've been involved with them [Red Bull] the last number of years. This time around, at the start of the year, it's brilliant for the month of January. They're really pushing fitness.
"Everybody's into the whole 'new year, new me' slogan, everybody wants to get it across and join and gym. Red Bull are always wanting to be a little bit different. They're not your normal type of business, or brand to work with.
"They're always trying to work with us and see what they can bring to us and how they can improve our sport more than their brand. They put us first, first and foremost. We've been working the last couple of years together and trying to improve each other, so it's good that way."
Written by Emma Duffy, with interviewing by Ryan Bailey.
The42 is on Instagram! Tap the button below on your phone to follow us!