WAYNE ROONEY MADE his international debut when Liverpool's Joe Gomez was just under six-years-old, so it's only natural that the defender would have been a keen fan of England's main striker.
Rooney scored his 50th international goal last night, breaking Bobby Charlton's goalcsoring record for the country in the process, and naturally the well-wishes on Twitter were flowing.
One person to tweet his congratulations to the striker was Liverpool's promising defender Joe Gomez, who tweeted this emoji-laden message just after Rooney had broken the record.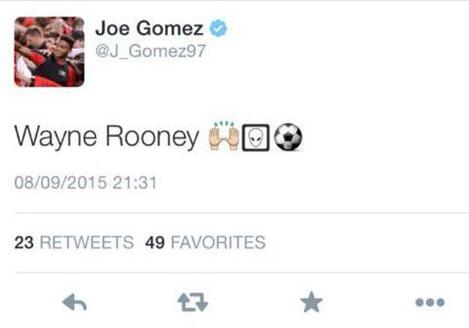 However, with Liverpool and United set to lock horns this weekend, some Liverpool fans didn't take too kindly to one of their players congratulating Rooney on his career milestone.
The 18-year-old deleted the tweet soon after the abuse started to pour in, but luckily, the true Liverpool fans online have been giving the young star their backing.