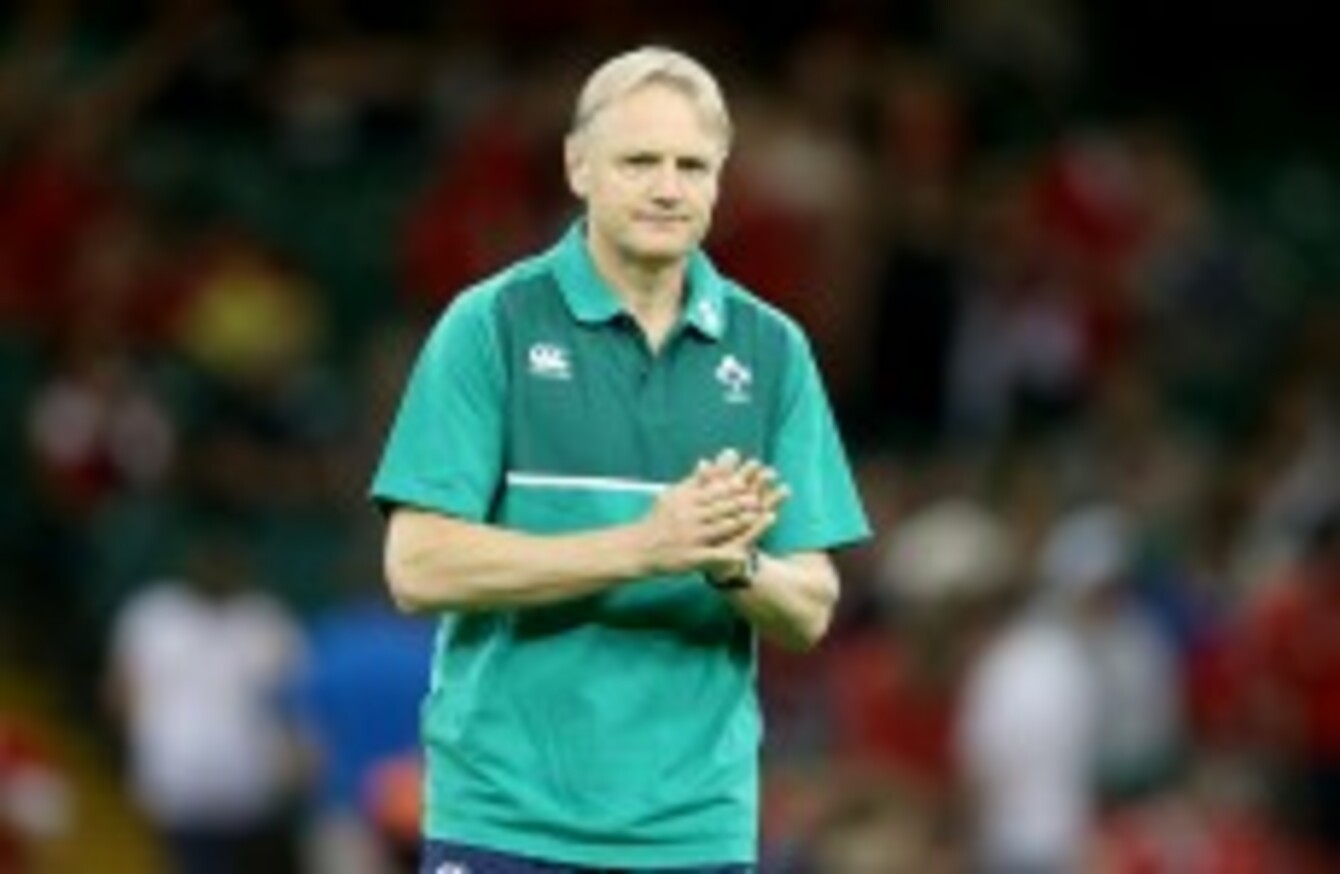 Schmidt had mixed feelings about Ireland's performance yesterday.
Image: Dan Sheridan/INPHO
Schmidt had mixed feelings about Ireland's performance yesterday.
Image: Dan Sheridan/INPHO
JOE SCHMIDT ADMITS that cutting players from the Irish squad ahead of the World Cup is one of the more difficult parts of his job.
The Irish squad will be reduced next week, with the coach bracing himself for a number of tough decisions, after his side's convincing win over Wales yesterday.
Ahead of Ireland's World Cup warm-up with Scotland next weekend, it's understood that he will likely cut seven players from the 45-man squad in the coming week,  and Schmidt says it won't be easy.
"I think there's some guys who put their hands up," he said. "Obviously, Keith Earls got player of the match. I mentioned Tommy, I thought he did really well.
"Donnacha Ryan got through a massive volume of work and he bosses the lineout really well for us. I have to say, I thought the skipper went pretty well. I just probably wouldn't say it to him directly. But, there's a number of guys who went well.
"We'll do a bit of analysis over the next 24 hours probably. Do a bit of review Monday morning and then turn our attention to Scotland on Monday afternoon."
On the players set to miss out, the Ireland coach added:
"Inevitably, there has to be some communication as to how and why a decision has to made. Sometimes those decisions are very difficult to make and they're very, very tight and so… they're not great conversations to be honest. They wouldn't be my favourite part of the job by a long shot.
"They're part of the job and it's part of the respect I have for the players that they have committed to our programme so far and they're working really hard. The least you can do
is make sure that that communication is as clear as it can be. It's as candid as it can be but also it's conciliatory as well, because I know how hard they're working.
"If a number of guys put their hand up, that's part of the selection conundrum. That does make things a little bit of a headache. At the same time, that's exactly the headache we want, to be honest.
"We don't want something to be clear and obvious because somebody hasn't performed. We want it to be tough, but we'll have to make a decision, because two or three players have performed for the same spot."
And while those who miss out are unlikely to feature at the World Cup, Schmidt is refusing to rule them out definitively.
"I think anyone's still in the mix. If we get an injury or someone gets ill, there's too many uncontrollable variables. I don't think any player gets distracted or spooked by injuries. They know, they've been playing the game long enough. I think if you're spooked or distracted by something, you're more at risk, so I think they'll just forge ahead.
"If they are players who we leave out of the squad and they go back to training with their provinces — I don't think they're ever completely out of the squad because you only have to look back at the last World Cup and we don't want anyone going fishing that doesn't fit
into their jersey [referring to Stephen Donald being called up to the All Blacks squad belatedly]."
He added that his feelings on yesterday's game were mixed, lamenting the Irish team's discipline, while praising the set piece.
"Obviously, there are aspects which we're very happy with. I think our set piece gave us a very good opportunity to get into game; our scrum and lineout. And I think some of the defensive pressure we put on early on was pretty effective, so those are obviously positive aspects.
"Our second-half discipline was disappointing and the way we loosened up defensively. I suppose that's the two sides of it in a very brief summary."