THE IRFU HAS spoken out in defence of its player management system following recent criticisms of the programme by Leinster head coach Matt O'Connor.
Ireland boss Joe Schmidt and IRFU performance director David Nucifora, the two key decision makers in Irish rugby, yesterday underlined their belief that Ireland's player management system is "the envy of a lot of other rugby-playing nations."
Schmidt says he has lots of good conversations with the provincial coaches around player management. Source: Morgan Treacy/INPHO
O'Connor has been frustrated to lose his front-line players at important times of the season, pointing to those absences as among the reasons for Leinster's extremely disappointing Guinness Pro12 season so far.
The eastern province are in grave danger of missing out on the league play-offs as they prepare for this evening's clash with Ulster in Belfast. The knock-on danger for Leinster is a poor seeding for the pool stages of next season's Champions Cup.
O'Connor has shared his frustrations regarding the player management system with the media on a number of occasions, stating that it was "debatable" how two-way the conversations between province and national team are in this area.
The Leinster coach has also claimed that he has had access to his best players for only 30 per cent of the season, something which Nucifora underlined as not being wholly attributable to the player management system.
"There's been this magical 30 per cent number tossed around out there and I can tell you it is grossly inaccurate," said Nucifora at a media briefing called to specifically address criticisms of the IRFU's player management system.
"That 30 per cent number takes into account player injuries, non-selection, as well as the games affected by the player management system."
O'Connor openly expressed his frustration at not being able to select the likes of Sean O'Brien, Rob Kearney, Jamie Heaslip and Devin Toner for the Pro12 clash with Glasgow Warriors [a game the province drew 34-34] a week after the conclusion of the Six Nations.
It is also understood that Leinster were pushed into deciding to use their front-liners either against the Dragons two weekends ago [a 25-22 defeat] or versus Ulster this evening, with the latter option taken.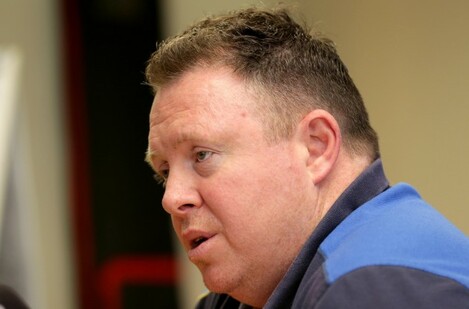 O'Connor has been vocal about his displeasure at the player management system. Source: Morgan Treacy/INPHO
However, Schmidt bluntly denied that there was any truth in that suggestion.
"That's not accurate," said Schmidt. It's unequivocally not accurate… They were not told anything."
The Ireland coach also stated that chatter over leading Ireland internationals being limited to just eight of the 22 regular season Pro12 fixtures was wide of the mark.
Instead, it appears that the limits are based on minutes played, believed to be somewhere in the region of 640 over the 22 games for top internationals.
"The number of eight that was thrown out there, that's a misnomer," said Schmidt of what he terms a "flexible" system.
"There are players who are part of the national squad who have played a lot more than eight and there are players who have been part of close to every national match day squad who have been involved in more than eight games. Or will be, certainly, over the next two weeks.
"If you add it all together, if someone plays nine European games, eight Pro12 games and ten Test matches, you are at 27 games. So, it may be eight for one player and it may be twelve for someone who only played, say, two EPCR games because they were injured."
Schmidt said he doesn't know why Leinster boss O'Connor has felt the need to break ranks over the issue of the player management system this season, merely saying: "I guess you could ask the same question of Axel Foley, Neil Doak, or Pat Lam."
The Kiwi said his conversations with the provincial coaches regarding player management and the release of players during national camps such as during the Six Nations are often productive and positive.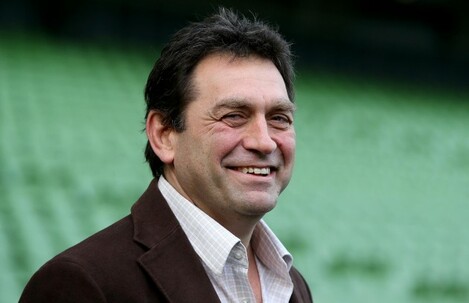 Nucifora previously worked in a similar role for the ARU. Source: Dan Sheridan/INPHO
Schmidt admitted that O'Connor has been the most "disadvantaged" of the four due to having such a high volume of his squad involved with Ireland and also hinted that other provincial coaches have been easier to negotiate with.
"Even post-Six Nations, I was on quite a tight timeframe but there was only really four players who were unavailable to play other than those who were injured and those that were weren't made public, because provinces aren't going to tell you that someone's hurt," said Schmidt.
"But I can tell you that Paul O'Connell, Conor Murray, Peter O'Mahony, they were all available. They could have played but the provincial coach decided to give them a week of rest and I'm delighted with that because I think it's really good management of them.
"That may well give them a benefit at the back-end of the season. Probably the guy who was most disadvantaged was Matt with the amount of national players he had, but if you look at the other end of the spectrum, you've got Connacht with one player.
"That one player, I rang Pat Lam and said 'Robbie [Henshaw] is fatigued, he's got a sore wrist. Nothing that's a show-stopper, but he could really do with a week off.'
"Connacht were going away to Scarlets, a crucial game in the battle for sixth place and he was down Bundee Aki and Dave McSharry, who were injured, but he said 'I totally understand, we'll work around it.'
"I think there's a really positive relationship more often than not in the context of trying to look after players."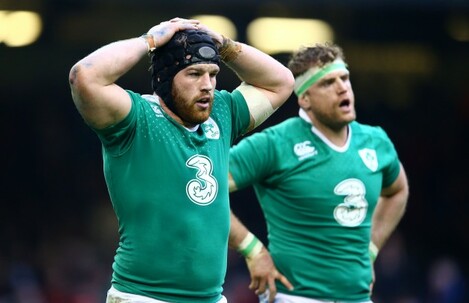 Sean O'Brien's decision to stay in Ireland was partly due to the knowledge that he would be managed well. Source: Cathal Noonan/INPHO
Asked if his relationship with Lam, Foley and Doak is stronger than with O'Connor, Schmidt replied:
"It can fluctuate, because provincial coaches come under pressure at times and that can cause stress. I have been there.
"And there have been times when if I went back to the last World Cup period [2011] where Leinster contributed far more players to the World Cup squad than anyone else, then you do feel stressed during that time.
"During that time I think we won four from six games, but we ended up topping the league by ten points. At the same time, it is very frustrating sometimes where you want to be able to utilise your players and you may feel you need to counter-balance it to some other time. I sympathise with the situation.
"It's a challenge for provincial coaches to get the best out of their teams all the time when you don't always have the top players available every time.
"Two years ago through the Six Nations, period Leinster got 18 out of 20 available points, last year they got 19 out of 20 available points, this year they got nine out of 20 available points.
"If you look at the teams that were put out through those three years, those teams are very similar and have international experience, with guys who have been internationally capped. I think from that perspective the system isn't broken and we're trying to refine it every quarter."
Schmidt also pointed out that a high number of Leinster academy and U19 players have trained with Ireland in the last two years to cover for those senior players released back to their provinces.
Indeed, Schmidt praised Leinster's academy manager Girvan Dempsey, "who has been superb over the last two years," for his work in providing players for Ireland to run against as opposition in training.
Schmidt said the IRFU's management of international players is one of the reasons Johnny Sexton is returning to Leinster from Racing Métro next season, as well as being a primary motivation in Sean O'Brien's decision to turn down Toulon last year.
Nucifora also underlined the attractions of the player management programme for the players themselves, revealing that "it comes up regularly" during contract negotiations.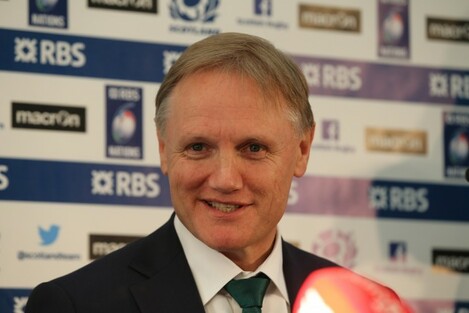 Schmidt has been on the other side of the fence as Leinster coach. Source: Billy Stickland/INPHO
"By managing the players, we have the ability to add years to their careers," said Nucifora. "When we're competing against other countries who have far bigger bank accounts that we will struggle to compete with, we need every advantage that we can get.
"If we can turn a player's career and make it one, two or three years longer, then obviously there's a monetary value in that to the players. The players do take that into account and they do appreciate the fact that we look after their welfare and their well-being and their longevity."
Nucifora said the player management system is one that is constantly evolving, reviewed as it is after quarterly blocks of the season.
The IRFU's performance director has previously worked with the Australian Rugby Union in a similar position and underlined that Ireland's player management system is a vital unique selling point.
"I think it's really important to say that the player management system really is the envy of a lot of other rugby-playing nations. The system is there, above all else, to look after the well-being of our players.
"That's its primary role and the system is an integral part of the success of Irish rugby, both nationally and provincially, over the last number of years. It's played a big hand in the success that's been had at both levels.
"I can only say after experiencing other systems that Ireland has a massive advantage in having this at their disposal. It is not mean to be to the detriment of anyone. I actually think it's a massive positive for Irish rugby, provincially and nationally.
"Over those years, provinces and national teams have managed to win trophies. Hopefully, if we keep improving it going forward, that will continue to be the case."
Watch this space.