FOUR MORE TRAINING sessions.
Joe Schmidt reminded us yesterday that time is tight for Ireland on the pitch before they meet Wales in their Six Nations opener on Sunday 7 February in Dublin.
Schmidt with his fellow Six Nations coaches. Source: Billy Stickland/INPHO
Between the end of the World Cup and the beginning of this week, Ireland had just one 24-hour camp to prepare themselves for the Six Nations. That day-long stint in Carton House didn't even include huge amounts of time on the training paddock.
It means that hopes that Schmidt's side will unveil an altogether new game plan in time for the Wales clash are far more difficult.
So much of the coverage on and discussion around Joe Schmidt's Ireland in the last two years has centred around their tactics. Too much kicking, it's been said. Not enough invention with ball in hand. It's not expansive enough.
The Kiwi head coach has consistently stated that Ireland don't have just one game plan and did so again yesterday in London when it was put to him that there might be some shift in this Six Nations after the World Cup quarter-final exit against Argentina.
"It's funny, the game plan in the World Cup, I thought, served us really well and we still did get two tries against Argentina and I could show you a bit of footage that one good decision gives us another one at least," said Schmidt. "That makes you competitive against a really good side."
"Are we that far away? We've beaten all the Southern Hemisphere sides in the last two years apart from the All Blacks. I don't think we're that far away and ironically we change our game plan a little bit week to week, so we don't do the same things.
"One of the things that Andy Farrell [the former England defence coach and soon to be Ireland's] said when I was chatting to him, he said that he found us difficult to prepare for because 'they'll do this or they'll do that and then there was a little bit too much to cover.'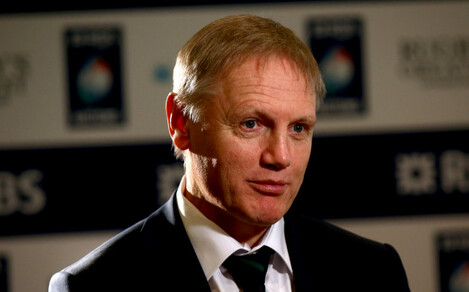 Source: James Crombie/INPHO
"Then he'd finish up by saying 'whatever you have seen, they'll do something different again so we've got to be prepared for that.'
"If we are challenging teams to analyse us like that, that's probably a strength for us because the more time they spend analysing us, the less time they're going to be spending on their own game and looking at how to disassemble us.
"Even coming out of the World Cup, per game we kicked exactly the same number of times as the All Blacks did. You have a look at the All Blacks' last three games, how did they play against France? France only made two less offloads than the All Blacks did. How'd they play against South Africa? They suffocated them, they put the ball in behind them, they kicked a huge number of times.
"Then against the Wallabies, they changed it up again. They didn't play the same way, they don't play the same way and they've got fantastic players to play any way they want to on any given day depending on how they think they want to manipulate the opponent.
"I think that's part of the strategy of it and sometimes if somebody has more physical power than you, then you've got to be light on your feet. Other times, if you think you can physically overpower a team, then you might play to that strength.
"I think it is about getting a balance in how you play and there's a reality in that we've got five trainings [four after today, Thursday] before we play Wales. There's a reality that you can't reinvent the wheel; you can continually fine tune it, but to reconstruct is very, very difficult."