EVEN AFTER ANOTHER great moment in his coaching career, Joe Schmidt was insistent on spreading the praise elsewhere.
It is always this way with the Ireland head coach.
While the rest of us jostle to laud him for Ireland's achievements, which continue to stack up, Schmidt stresses that these feats are not about him.
Ireland's players celebrate their remarkable win. Source: Tommy Dickson/INPHO
In the wake of guiding Ireland to their second win over his native New Zealand on Saturday night, the 53-year-old insisted that the pride he takes is because of what those around him have contributed.
"I get a bit of reflected pride because I watch them work, I work with them and it's nice to be close to people who know how to get the best out of themselves," said Schmidt.
"And even working with S&C [strength and conditioning] people, the medical people, the coaching staff, the analysis staff – you know, Merv Murphy and Vinny Hammond, they never get a mention but they do a phenomenal job in pinpointing weaknesses and trying to make sure that we maximise strengths when we go out there.
"It's pretty collective when we put our heads together so, you know, I'd love to say I'm a really important part of it but it is very much a machine and a consensus, very often."
Modest words from Schmidt as ever, but there is little doubt that he is the driving force behind this superb Ireland team.
He benefits from having a world-class group of players and support staff, as well as the IRFU's system, but Schmidt has played his part in building and encouraging those things too.
His big decision on whether to stay with Ireland after the World Cup or leave now looms close, with the All Blacks' Steve Hansen similarly set to confirm his future plans.
Schmidt has masterminded Ireland to major success. Source: Dan Sheridan/INPHO
Ireland's supporters will now be keener than ever for Schmidt to stay but he insists his mind is not yet made up.
"To be honest, I'd like to think about it but it's very much a family decision and I haven't really seen my family since I went to Chicago [three weeks ago]," said Schmidt.
"I needed my number ones so I called in on Thursday and picked my number ones up, my suit, and came straight into the Shelbourne, so I haven't really seen them too much.
"We haven't discussed it. We had a pretty good chat about it over the summer and then we'll just confirm things, one way or the other.
"I definitely don't want it to become an issue that you get a win like that, you know, I'd be very much a sidebar because those guys were front and centre. They were massive tonight, huge."
It was a momentous evening at the Aviva Stadium, with an atmosphere that matched anything Irish rugby has witnessed on home soil before.
If Schmidt is to stay with Ireland, a night like Saturday will surely be among the main reasons why.
Ireland beat the All Blacks for the first time ever in 2016 in Chicago, of course, but it felt even more special in Dublin.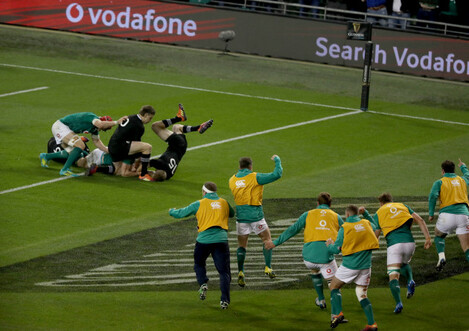 Jacob Stockdale scores for Ireland. Source: Bryan Keane/INPHO
"The win in Chicago probably took us a little bit by surprise in that it had been a limited week," said Schmidt. "We really only trained on the Thursday. We had a bit of a walk-through on the Tuesday and we didn't really probably expect things to go the way they did, you know, five tries to four.
"Again, there was a super little set-play with Robbie [Henshaw] finishing it off and you watch things like that and you're delighted for the players and you know what you've committed to deliver it.
"It's a bit special at home and it was a bit special tonight because of what happened in 2013, because of how the crowd were.
"I thought the crowd were unbelievable and if you need a 16th man, there's not many better places to go than the Aviva Stadium, Dublin."
Subscribe to our new podcast, Heineken Rugby Weekly on The42, here: