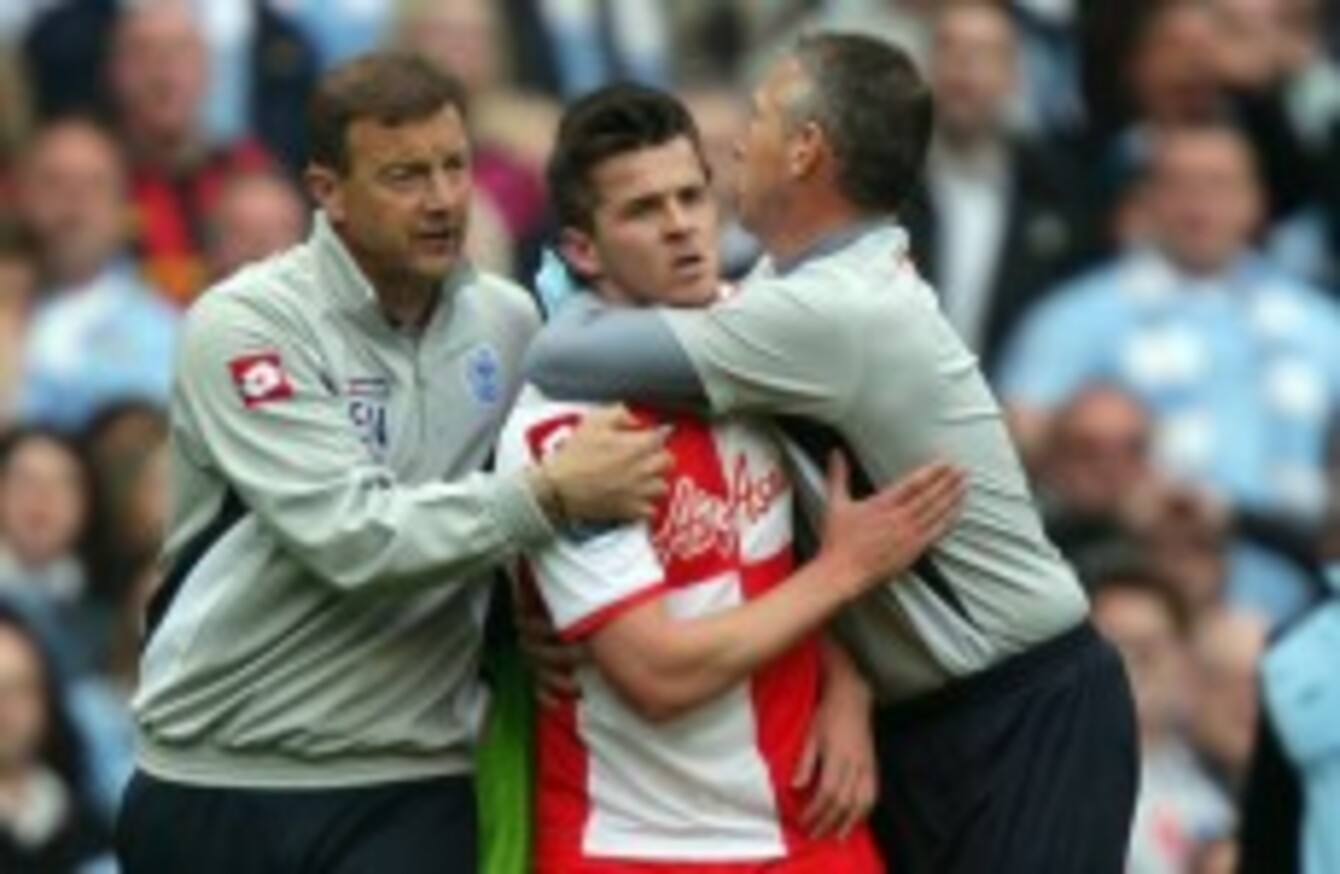 QPR's Joey Barton is escorted from the pitch.
Image: Mike Egerton/EMPICS Sport
QPR's Joey Barton is escorted from the pitch.
Image: Mike Egerton/EMPICS Sport
HERE HE GOES again.
Controversial Queens Park Rangers midfielder Joey Barton has denied he tried to deflect attention form his headline-grabbing behaviour yesterday.
Barton was dismissed during QPR's crucial final-day game at Manchester City for an elbow on Carlos Tevez before he then kicked out at Sergio Aguero and tried to headbutt Vincent Kompany.
Then, last night the one-time England man launched an expletive-filled attack on his former Newcastle United boss and Match of the Day pundit, Alan Shearer.
And he shrugged off accusations from Gary Lineker that his attack on Shearer was an attempt to deflect attention away from his meltdown at Eastlands.
"No deflections here mate. Think the fact about 100m people seen it will see to that. Just don't like how he gets personal…," Barton posted on Twitter page this morning.
"Right enough about yesterday, I apologise to everyone offended by it. If that's not enough for some, so be it. Life is too short. Things happen on the pitch, in the heat of battle sometimes. Not how we always plan them to happen.
"For there are brighter sides to life and I should know because I seen them, but not very often…"
Barton now faces up to 10 games on the sidelines at the start of next season. He tweeted last night: "Can do nothing but apologise to the players and fans.
"Still don't think it is a sending off. Still not my proudest moment but who gives a f***. We are safe.
But he took to his laptop later in the night to react to comments from Shearer on the BBC.
"Shearers still on my case… I know I fucked up Alan, thanks for stating the obvious," he wrote. "Whilst were both stating the obvious about each other, can I just say for the record what a great player u were. Well better me…
"But I have a better hair (which is not hard), wear well better shirts on TV and have a personality (something u lack).  P.S. My final point, ur a shit pundit/manager…
"I really don't like that prick, in fact I honestly despise him… Goodnight," he added.