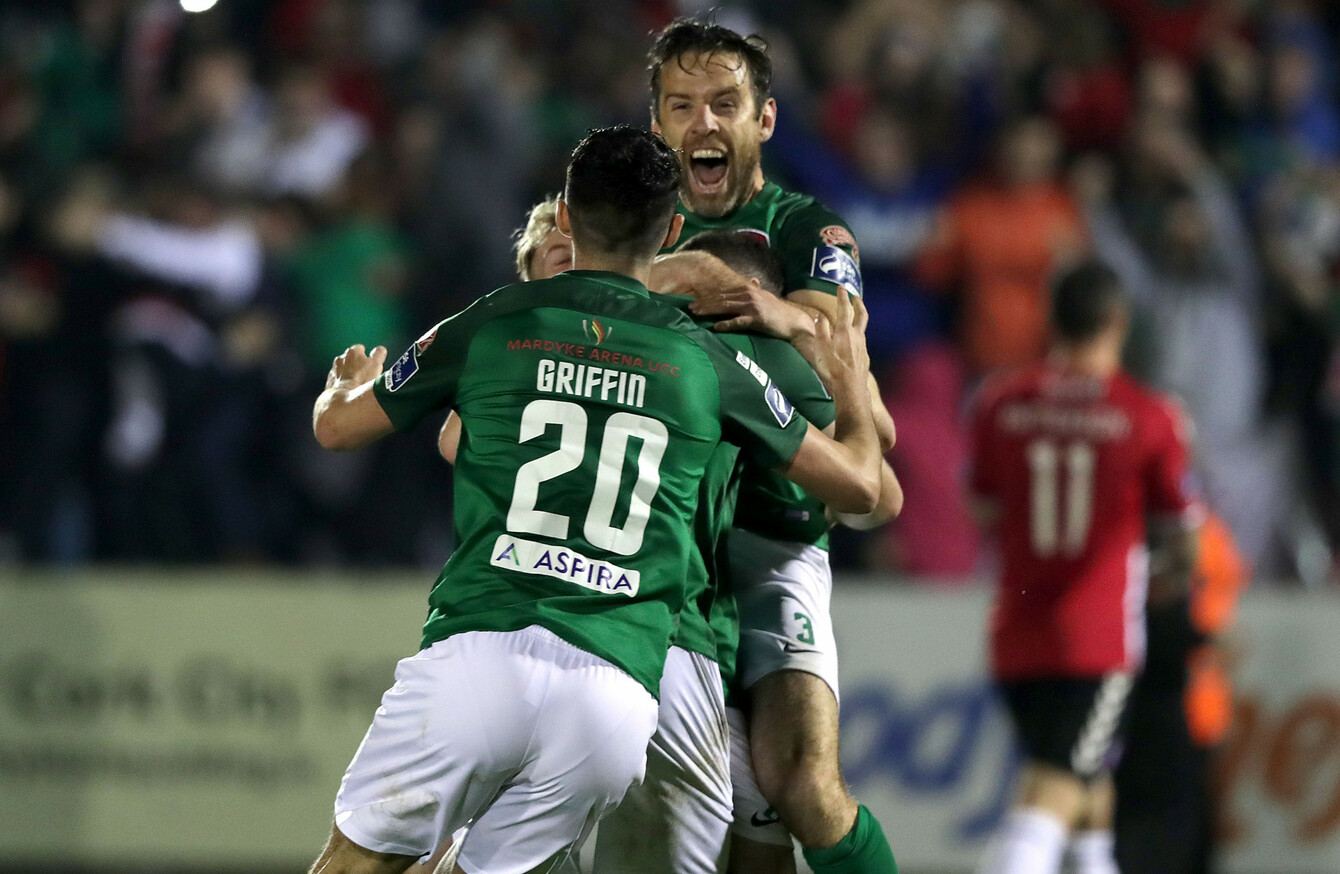 Cork City players including Alan Bennett and Shane Griffin celebrate after being crowned champions on Tuesday.
Image: Morgan Treacy/INPHO
Cork City players including Alan Bennett and Shane Griffin celebrate after being crowned champions on Tuesday.
Image: Morgan Treacy/INPHO
CORK CITY HAVE taken the most significant step since they became a supporter-owned football club back in 2010.
That's according to manager John Caulfield, who revealed this afternoon that the newly-crowned SSE Airtricity League Premier Division champions are now in a position to ensure that all playing personnel are paid for 52 weeks of the year.
In recent years, most League of Ireland players have had to rely on 40-week contracts, forcing many to draw the dole or seek alternative employment during the off-season.
While 52-week contracts are becoming increasingly more common again, particularly at clubs like Dundalk and Shamrock Rovers, they remain the exception rather than the rule.
Caulfield announced today that from 1 December, all first-team players at Cork City will be signed to contracts which guarantee them year-round payment.
Caulfield explained that while other League of Ireland clubs can offer more substantial wage packets on a weekly basis, City's scope for ensuring that players are paid an annual salary should make them an attractive proposition — both for current players whose contracts are about to expire, and for potential new signings.
But most importantly, he insisted, the move will provide increased financial security for individuals. The former Cork City striker referred to the "immoral" situation that exists in the League of Ireland, where the vast majority of players receive no payment for three months.
"I've been pushing all the way through to get to a stage where we can pay players for 52 weeks because it's immoral not to. This is their employment, this is their livelihood and at the end of the season when they finish, for three months they get nothing. It's wrong," said Caulfield, who took over as manager ahead of the 2014 season.
"You have to be serious and treat people with respect. One of the biggest issues for me was trying to get the club to a point where we could actually go to 52-week contracts and thankfully we're going that way from 1 December this year. That has been signed off by the board and the accountants.
"But at the same time, we'll be able to manage that with the structure that we have and with the finances coming through. That's why in some ways our budget is a bit tighter because we're going to pay for 52 weeks.
"But in the bigger picture, at least players can now sign two-year deals, three-year deals and know that if they go for a mortgage or if they go to the bank for a loan, they have a proper job. In a lot of these places they don't entertain you because you don't have a full-time contract."
Be part
of the team
Access exclusive podcasts, interviews and analysis with a monthly or annual membership.
Become a Member
After Cork City's holding company was wound up in 2010 due to unpaid taxes, the club was rescued from the brink of extinction by supporters group FORAS. Under their ownership, City won their first Premier Division title in 12 years on Tuesday night courtesy of a goalless draw with Derry City at Turner's Cross.
Caulfield added: "Players train every day, six days a week. They don't need time off. This is their job. That's why we want players to come down here who, if they want to play social football they can join someone else, but if they want to win trophies, they train every day, live down here and we do things right.
"This to me is probably the biggest thing the club has done. I admire the board for signing it off and the supporters, FORAS, for agreeing to it."
On the back of their success this season, several members of Cork City's squad are subsequently in demand. Karl Sheppard, Greg Bolger, Steven Beattie and Conor McCormack are among those who have been linked with moves away from Turner's Cross.
Caulfield, whose own contract extension is expected to be announced imminently, will hope that the new payment policy can act as an extra enticement for his most valuable assets to remain on Leeside for their title defence and Champions League involvement in 2018.
"We have a fantastic environment here," he said. "Players are looked after incredibly well. But there are some clubs who give better wages. You have to look at it two ways: the football environment where you're at, which is fantastic down here with the facilities — do you want that with a good wage, or if you get a few bob more do you want to go somewhere else?
"That's your choice. I'm confident most of the team will stay. Will some fellas leave? I'm sure they will. But I don't want any fella here that's not happy. They have to be happy."
He added: "They might think the fields are greener somewhere else, and they might well be. But I think the fields here are brilliant. They're lovely and green. But that's part of football. We've lost players before and we'll lose players again.
"It's up to us to go out and get other players, and we will. There's loads of players who want to come to Cork City. Loads of players want to be in this dressing room. We have to make sure they're the right person, to make sure they can perform eight-out-of-ten every week, to make sure we win trophies.
"But I would be surprised if there was many fellas who wanted to leave. We'll wait and see over the next couple of weeks."