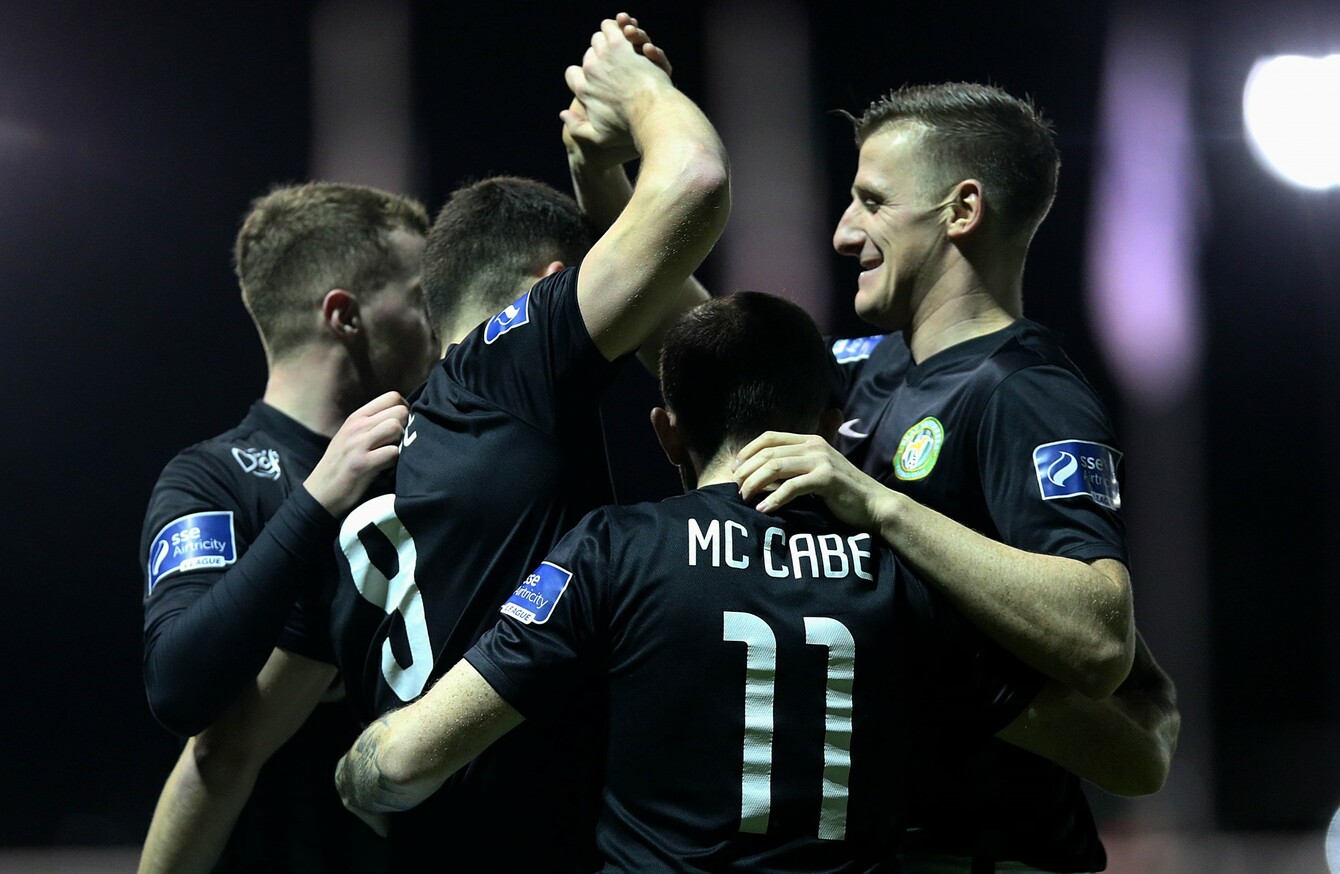 Bray Wanderers players celebrate after Aaron Greene scored against Drogheda United in March.
Image: Donall Farmer/INPHO
Bray Wanderers players celebrate after Aaron Greene scored against Drogheda United in March.
Image: Donall Farmer/INPHO
CORK CITY MANAGER John Caulfield has expressed his sympathy for the players at Bray Wanderers, who he believes could have a tough task in finding new clubs.
There's significant uncertainty surrounding the future of the Wicklow outfit, after it emerged in recent days that the club can only afford to meet its wage costs for one more week.
Bray's players, who have brought their side to third place in the SSE Airtricity League Premier Division this season, are subsequently free to pursue their options elsewhere, but Caulfield believes that won't be straightforward at this stage in the season.
The Cork City manager, who dismissed reports linking him with Bray striker Aaron Greene, said: "The problem the players are going to have at Bray is that we're mid-season, so the budgets of all clubs are gone.
"I see there's a lot of speculation but I can't see many of their players getting moves because I don't know what clubs are flush with money, bar Dundalk possibly. There seems to be a situation where Limerick are looking at a few, but I can't see too many clubs being involved for the players because they won't have money, unless they get rid of players. So from that point of view it's not a good position for a lot of the players to be in.
"The bigger picture for the league is that it's a story that we don't need, particularly when you look at the position they're in and how well they were doing. It looked like they were going to get one of the European positions. It's not a good story for the league."
In an interview with RTÉ, Bray Wanderers chairman Denis O'Connor explained that ahead of the 2017 season, the club sought to assemble a strong squad that could compete in the upper echelons of the table, in the belief that attendance numbers would subsequently increase.
Players such as Gary McCabe, Anto Flood, Aaron Greene and Derek Foran were brought in and, under the guidance of manager Harry Kenny, they picked up wins over the likes of Dundalk and Derry City to leave the Seagulls on course for qualification for the Europa League.
However, the drastic increase in crowd numbers they were hoping for at the Carlisle Grounds hasn't materialised and money has seemingly dried up, with O'Connor expressing his belief that running a Premier Division club in Bray isn't currently viable.
A crowd of 1,538 turned up for Friday's defeat at home to Dundalk, while at the other end of the scale, only 171 adults paid to attend when Galway United visited earlier in the season.
"Bray made a significant change at the start of the season, in the sense that they brought in big hitters to get into Europe and to compete," Caulfield said. "You would always worry when you hear a statement released that the crowds haven't come. With all due respect, there's never been crowds in Bray."
He added: "When Bray were winning cups, their crowds were still only maybe a thousand, twelve hundred at most. If someone thought at the start of the year they were going to compete for Europe and all of a sudden get five or six thousand, that was never realistic.
"There are a lot of questions that need to be answered but it's more frustrating because sometimes you wonder with people getting involved in clubs, where they're coming from — are they passionate about the league and driving on?"
The Football Association of Ireland held talks with Bray Wanderers today, during which they asked the club to clarify its situation. In a statement released this evening, the FAI said:
A number of key items were discussed during the meeting, including the commitments the club entered into during the Independent Club Licensing process. The FAI will continue to monitor the situation and discussions are ongoing between the Association and club representatives."
Be part
of the team
Access exclusive podcasts, interviews and analysis with a monthly or annual membership.
Become a Member
Bray's situation is the latest example of a League of Ireland club finding itself in a financial plight. Cork City had their own difficulties between 2008 and 2010, with the club eventually entering examinership before re-establishing itself under the ownership of supporters.
John Caulfield said: "You look at those players, they're on massive contracts and it's their employment. They have to pay their bills and now they're wondering what's going to happen. I'm sure the contracts they were on, they're not going to get anywhere else.
"That's the problem because, as I said, the budgets of teams are gone. Even if there are clubs looking at the players they probably can't give them the money they were on. That's a huge worry.
"I suppose the bigger thing is that you have to respect that in a professional league you pay players professionally. That's their money, their work. Unfortunately here some people still treat the league like, 'Ah sure it doesn't matter, the players shouldn't be getting that much'. But it's their work and they have to pay their bills and their mortgages. It's disrespectful.
"Maybe someone else will come in and take over the club. Hopefully that'll be the situation. But it's not a good position to be in and certainly not a good position for their manager, giving up a full-time job to take it four or five months ago as well.
"Thankfully there are a lot of progressive clubs and a lot of positive clubs out there. We're one of those that are trying to work things in the right way, that we won't be in situations like that. We've come from bad situations to a good situation. Hopefully that's the way forward.
"I think if you look around, there are clubs like ourselves and [Shamrock] Rovers that are doing things the right way. Hopefully that's the better picture and the bigger picture for clubs."