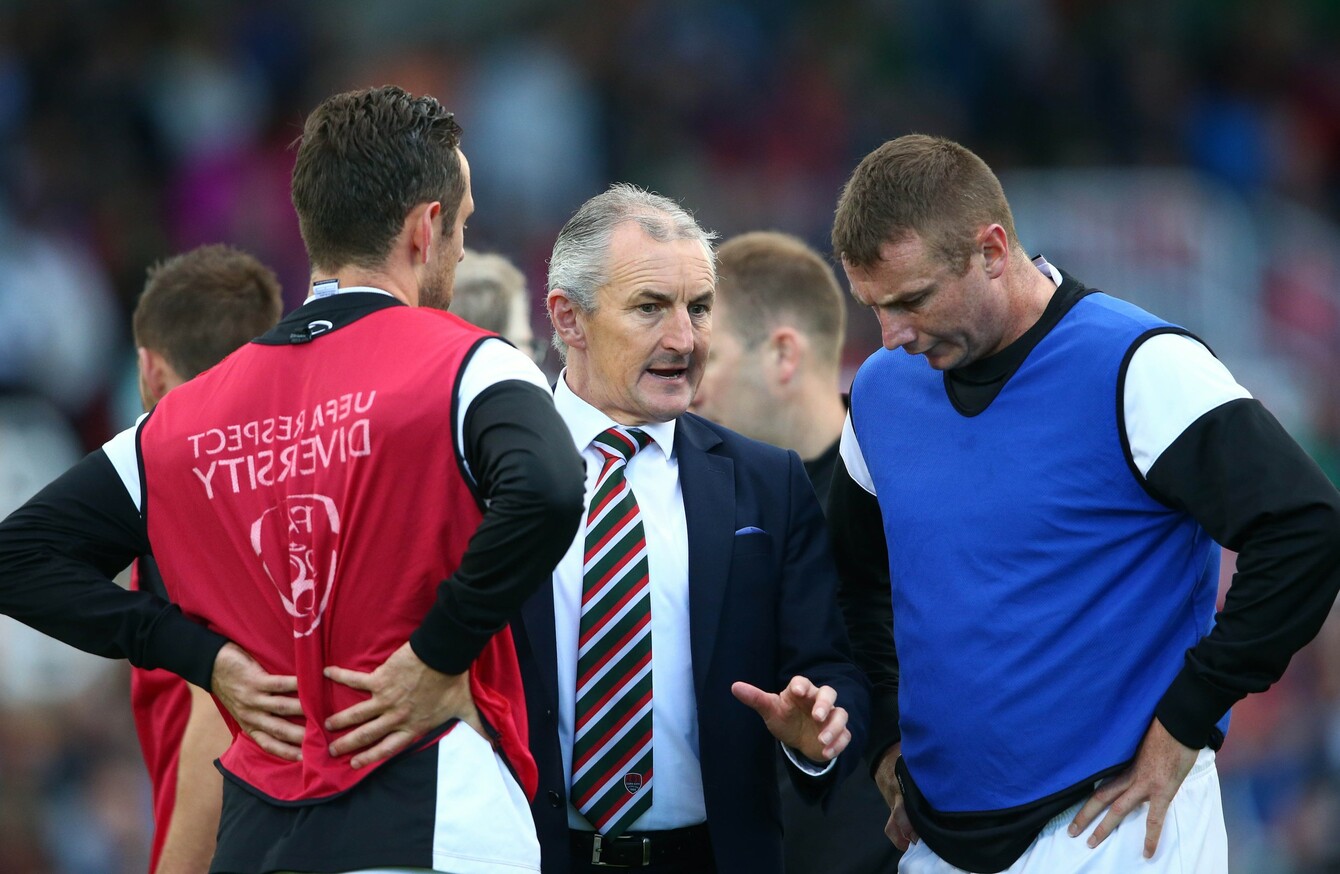 John Caulfield with Cork City defenders Alan Bennett and Kenny Browne before last night's game against Genk.
Image: Cathal Noonan/INPHO
John Caulfield with Cork City defenders Alan Bennett and Kenny Browne before last night's game against Genk.
Image: Cathal Noonan/INPHO
CORK CITY COULDN'T quite manage to emulate Dundalk's achievements last night, but that didn't deter manager John Caulfield from outlining the importance of using the recent success of Irish clubs on the European stage as a catalyst to improve the state of the SSE Airtricity League.
Dundalk defeated BATE Borisov on Tuesday night to secure a place in the play-off round of the Champions League, while Cork City came unstuck against KRC Genk in the Europa League third qualifying round following wins against Linfield and BK Hacken in the earlier stages of the competition.
Those results have led many with an interest in Irish football to wonder how much could potentially be achieved by SSE Airtricity League clubs if the domestic game were to benefit from substantial investment from the FAI, which isn't the case at present.
Last week, for example, Irish football's governing body announced that it was allocating funding to clubs to assist in the completion of their five-year strategic plans — to the paltry tune of €5,000 each. Derry City chief executive Sean Barrett branded the grant as "disgraceful" and says the club will subsequently refuse to accept the money.
In his post-match press conference following last night's defeat to Genk at Turner's Cross. John Caulfield was asked about the future for the League of Ireland. It's a topic the City boss is clearly passionate about, as he spoke — uninterrupted — for over four minutes about how he believes finding solutions isn't as complicated as people might think.
Caulfield's core point was that individuals with a strong historical connection to the league — such as certain former players and managers — should be brought on board to put plans in place based on their views and ideas, before tackling problems and building for the future. Here's what Caulfield had to say:
The league is a fantastic league. The problem, as I keep saying, is that we have too many teams in Ireland and we have no standard in terms of facilities and grounds. That's where we have to get to. I think that there has been a lot of good talk, obviously with us doing so well, St Pat's getting through a round in Europe and how great Dundalk are going.
"I think it's important that League of Ireland people are brought into the mix. I hear a lot of the time that they have meetings in Dublin and all the clubs are represented. It needs to go back to basics, it needs to go back to the soccer people, the real League of Ireland people — the Pat Dolans, the Brian Kerrs, Declan Dalys, Johnny Glynns. They're the people you bring into your committees, along with the managers who are in this league and know the league, and say 'Right, how can we bring the game forward?'
"The solutions are there, I can see them. But it does need investment, it does need marketing, it does need a bit of promotion. Now is the time for us to drive on. We need to set our standards. It couldn't happen next year but in the next two or three years, we set a standard and say that's the standard from the top. If you're in the Premier Division, you have to have this. If you don't have it, you can't be in it.
Be part
of the team
Access exclusive podcasts, interviews and analysis with a monthly or annual membership.
Become a Member
"That's the way it's done. No different than when Cork City, Derry City and Shelbourne were demoted a number of years ago because they were in administration — rightly so. We have to set our standard and come with good League of Ireland people around the table, past and present, who can come up with a plan to say 'These are the requirements we want by 2018, 2020, whenever…'
"After that then we move forward. Clubs that aren't doing anything for themselves and they're living from week to week, you're not going to progress if you're doing that. We need a bigger picture but I'm very optimistic. People see lots of problems but I see lots of solutions. I see very simply how it could be sorted.
You have to bring back the League of Ireland people, the people who know that. I see people out there who I'd love to bring around a table and set up a plan of how to go forward and how we could do this. But it's very simple solutions.
"Yes, you need a small bit of money, but not massive. Every club has to run themselves, [with] a little bit of money from the outside to promote, advertise and get proper TV. No European match this year, from what I understand, from any of the [League of Ireland] clubs has been on the national broadcaster. Is that right? Personally I would think not.
"So maybe bring the other people in and let them have their say as well. I think the solutions are out there. And it's maybe for yourselves in the press to drive it home and say it's time we started talking. The Conroy Report, the man did fantastic work; doesn't matter. That's the same as what's been going on for 40 years — with all due respect, because he did a lot of hard work.
"There are too many teams in our country at the moment. Back to basics, narrow it down. Premier Division, that's your standard. You have to have these facilities — this, this and this. You can still have your First Division there, but if you want to come up, and whether you start your Premier Division with eight teams, six teams, nine teams, ten teams… that's your standard. And if we do that, the standard of players will come up.
"You have a scenario where [Dundalk defender] Paddy Barrett is on TV the other night and he's clapping his hands, saying 'I'm going to be paid at Christmas'. In no other job would you be told you're paid for 40 weeks, good luck.
"I'm as convinced as ever that the solution is out there, but it's not the chairmen of clubs that need to make the decision because clubs think about themselves. We need to bring in the outside people who know and the people I mentioned who follow the league, have been involved in it and can see the bigger picture on how to bring the league forward."