John Delaney speaking at today's announcement.
Image: Cathal Noonan/INPHO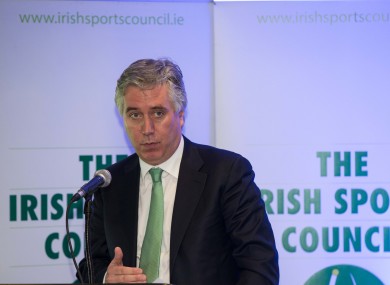 John Delaney speaking at today's announcement.
Image: Cathal Noonan/INPHO
FOR THE FIRST time during his spell in charge of the purse strings, funding for Irish sport — specifically the three main sporting bodies — has not been cut with the Minister of State for Tourism and Sport Michael Ring TD today announcing a €7.4 million investment in rugby, football and Gaelic games through the Irish Sports Council.
The FAI will benefit to the tune of €2.36 million with Chief Executive John Delaney emphasising his organisation's focus will be on the development of the underage and ladies games.
For kids in particular, this can not only benefit their physical and mental well-being, but also the quality of players who come through at senior level in the League of Ireland and for the national side.
"We've a player development plan with 700 people attending the workshops around the country a couple of months ago and we received very positive feedback," Delaney said.
"It's not rocket science. Give kids more time on the football, more fun, more flexibility, learning to love possession of the football, not just kick it away. Not to, if they mistake, think they've done something wrong but to learn from it.
"I'm a firm believer in the principal that kids should move from 5v5 to 7v7 to 9v9 with no competitions below 12, no keeping of tables, etc. All that's really common sense.
"I mean, if you play on smaller pitches and have to control the ball better and pass the ball quicker, those are the fundamentals.
"We have a clear pathway through for players now with the U17 league coming in August, the U19 league, the senior league.
"All those will only give us the opportunity to produce better players."
Another area Delaney told The42 he and his organisation are particularly passionate about is continuing the growth of the women's game here.
"It is one of our priorities. I'm a father of twins, I've a boy and a girl and it's very important my daughter gets the same opportunity to play sport as my son. I feel very strongly about that, as the FAI does.
"I think Steph Roche's goal brought more attention to women's football in this country that we've never previously seen. It was a fantastic moment in time and great for her and I wish her the best in her career.
"That helps us to advertise the sport but what we've to do is build on the development of the game.
"Looking back on it, a couple of years ago we'd about 8,000 registered women players and now we've about 25,000.
"The fact is our U17s got to the quarter-finals of the World Cup in 2010 where they were beaten by the eventual winners and they could qualify for the Euros today all going well. I think they're tangible examples of how the ladies' game has improved here.
"I fundamentally believe the principal that every woman has the right to play sport in this country."
And inclusiveness is something Delaney is keen to stress, citing the FAI's support for the Irish amputee footballers who participated in the recent world cup and the Night Leagues run by the organisation that are aimed at reducing crime in disadvantaged areas.
"Football is a very simple game, it's easy to learn and it's easy to play. Because of that simplicity it adds to increased participation. If you go into a housing estate in a disadvantaged area and bring a football, the kids are more inclined to play sport instead of getting into trouble.
"The FAI's late night leagues have made a difference in many housing estates around the country, I think the Gardai will verify that."