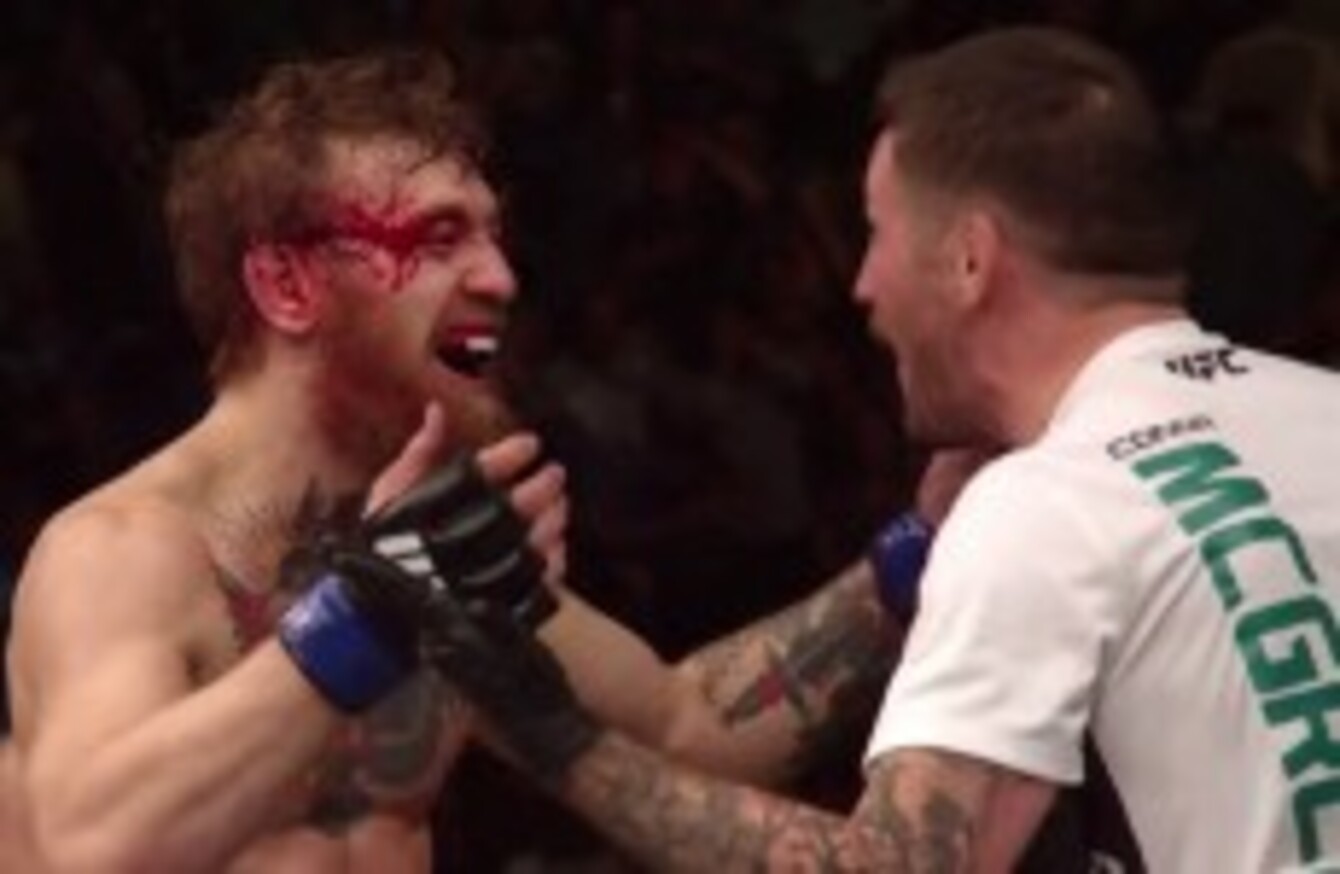 Conor McGregor and John Kavanagh celebrate following Saturday's interim title win at UFC 189 in Las Vegas.
Conor McGregor and John Kavanagh celebrate following Saturday's interim title win at UFC 189 in Las Vegas.
I THINK IT was Owen Roddy who was directly behind me when referee Herb Dean stopped the fight.
Owen grabbed me by the shoulders and started shaking me. He said: "You've done it! You've done it! You've trained a world champion!"
Hearing him say that was almost like being punched in the mouth. I wish I was better with words because there have been a few incidents over the last few days which have left me completely speechless.
When did I start believing that a UFC belt was attainable? I began travelling to gyms in the US a few years back — myself and Owen went to American Top Team and I had already been at Team Quest — which were UFC champion level.
When you worked out with them you realised that — you know what? — these guys put on their trousers one leg at a time too. There was nothing incredible about what they were doing and you soon started to see them as equals.
I always knew Conor McGregor had exceptional striking. Mixed martial arts tends to attract high-level grappling, but not necessarily high-level striking, because those guys can make more money in boxing or K-1 so they tend to drift towards that. As Conor's dad Tony might say, however, that was an ace up the sleeve.
The striking was already there, so with my particular forté being grappling, I was confident that I could fill in that gap. It doesn't do any harm that Conor is pretty quick-witted on the microphone as well. When you add those factors together, I did think it was inevitable that this day would come. A day when Conor has a UFC belt around his waist.
Before Saturday's title fight against Chad Mendes in Las Vegas, I did an interview with Ariel Helwani on FOX in which I said that I thought Mendes would get a couple of takedowns in round one, tire himself in Conor's guard, and that in round two Conor would finish him. When Mendes found himself in the guard, I knew Conor would be talking to him constantly and people don't realise how frustrating that can be.
I knew Mendes would be very tired from showing Herb Dean enough to keep the action on the floor. Conor was sitting up and talking to me on his stool at the end of the first round, but Mendes' demeanour was very different. He certainly wasn't upright and smiling.
I read a lot of reports that said Conor looked very tired at the end of the fight, but he wasn't at all. There's a difference between being tired and being overcome with emotion. I'm not quite sure how people could think he was tired when he popped back to his feet with big shots to finish the fight.
The body shots had a big impact on the outcome of the fight too. Anyone can see the impact of a punch to the head when there's a cut or the head whips back, but body shots tend to be a little more subtle to the naked eye.
One unfortunate side of MMA is that a takedown seems to completely counter anything else that happens in a round. A striker could be winning well for four-and-a-half minutes but then concede a takedown and automatically lose the round. There seems to be an automatic reaction for people to score the round to whoever gets a takedown, as evidenced by the first round on Saturday night.
I agree, of course, that a takedown should score heavily, but it shouldn't be the only scoring criteria. I was absolutely unconcerned at the end of round one. When I watched the fight again, it seemed obvious to me after less than 60 seconds that Mendes was on the back-foot, breathing quite heavily and trying to get away from Conor.
I knew at the end of that first round that there was absolutely no way Mendes was going to get through another 20 minutes without being finished. No way whatsoever. Even if he had made it to the end of round two, I would have been 100% certain that the finish was coming in the third.
As for people criticising the stoppage, when a fighter is not defending himself intelligently, is the referee supposed to take his eye off that in order to glance up at the screen and see how many seconds are left? Of course not.
I actually saw a good still of Conor walking away from Mendes — at least three seconds after the fight had been stopped — and Mendes isn't pleading with Herb Dean. He's still on his knees, hands stretched out, looking at the mat. There was no controversy about that stoppage at all.
Afterwards, it was clear for everyone to see how much it meant to Conor. He's a pretty emotional guy, he wears his heart on his sleeve, but it wouldn't be too often that you'd get that type of reaction. There were some great photographs that really captured the mood.
He's been with me now for nearly 10 years and it's been a daily effort. I'm sure it's hitting him more than you, I or anyone else just how significant an achievement this is. It usually bugs me when I see people jumping on the cage. I certainly never thought I'd do it but I was up there in the blink of an eye. It was a pretty cool moment, I have to say.
When we went backstage, we accidentally went into a room which wasn't actually our locker room. Arnold Schwarzenegger, UFC CEO Lorenzo Fertitta and some other people were in there. I left the rest of the guys there, made my way into our own locker room and just lay down on the floor for a while.
It's almost a sort of tradition I have, just to get away from everybody. And I didn't actually realise until afterwards that the UFC were live streaming the locker room, so apparently a lot of people were posting images of me just lying there on the floor.
I actually didn't see Conor again until Sunday when we all met up at a pool party in Vegas. I got my stuff together, met up with my fiancée Orlagh and we just had a pretty quiet night together, while the rest of the guys went out. People always ask me what I do to celebrate after a fight but the reality is that I just end up going home early. It's not very rock 'n roll, I know.
The process of allowing it all to sink in hasn't really begun yet. I only arrived back in Ireland yesterday so perhaps that will help. When you're stuck in the bubble yourself you always just assume that it's something not a lot of people know about, but that clearly isn't the case here.
Maybe it will hit me over the coming days, but right now all I'm thinking about is Paddy Holohan's fight in Glasgow on Saturday. Conor is going straight into his next project as a coach on The Ultimate Fighter so he won't be home for a couple of months. When you go from one thing to the next, who knows when these things will get a chance to properly register with you?
After that we'll probably be starting preparations for Jose Aldo, a fight which looks like it might happen on 2 January. I was already confident about the fight with Aldo, but the fact that Conor finished an opponent in two rounds who Aldo couldn't finish in five, that must fill Conor's fans with even more confidence and Aldo with an element of fear.
Already over the last few days we've seen a spike in interest in people wanting to join the gym at SBG, so I'm guessing that gyms all over the country are going to get a nice boost from this too. And that's the most important thing; that it gets more people involved at grassroots level. There's definitely been a massive rise in popularity in people watching the sport, but ensuring that that's manifested in the participation numbers is extremely important.
Saturday was also a great night for SBG's Gunnar Nelson, who defeated Brandon Thatch inside the first round. One of the things I was talking about before the fight was Gunni's huge increase in aggression. Sometimes in the past he would tend to coast through rounds, but now he's going out to finish people — and fast. Although I'd be lying if I said that it didn't shock me when he dropped Thatch — who's a great stand-up fighter — with that left-right combination.
But Gunni is an incredible athlete with a great turn of pace. Like Gunni, Stephen 'Wonderboy' Thompson also had a great win last weekend and I personally think that match-up would make a great headliner for UFC Dublin in October. I think it makes absolute sense for Gunni to headline that card. He has a huge following here.
After just a day at home having been away for the last 10 weeks, it's off to Glasgow for me next for Paddy Holohan's UFC fight against Vaughan Lee on Saturday. It's going to be an interesting clash of styles and I think it'll be an early Fight of the Night contender.
I believe Paddy is just more dangerous in all ranges and you must have cold blood if any fight involving Paddy Holohan doesn't get you excited. I'm really looking forward to it.
I could probably do with a day off or at least an extra hour or two of sleep right now, but coaching one of my fighters at a UFC event on a Saturday night… we worked hard enough to get here… there's nowhere else I'd rather be.