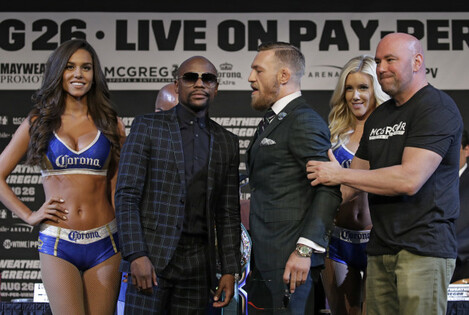 Floyd Mayweather and Conor McGregor at last night's press conference. Source: John Locher
WHILE I WAS in a car heading towards Las Vegas earlier this week, a billboard for Saturday night's fight caught my attention.
Floyd Mayweather v Conor McGregor, 26 August, T-Mobile Arena
Even now that fight week is finally here, that still manages to stop me in my tracks and I just have to laugh to myself. I stopped doubting Conor a long time ago, but a professional boxing debut against the most successful boxer of his generation? This is the biggest, most unusual contest in the history of combat sports and somehow we're at the centre of it.
How we got here defies logic. According to the majority of observers, so too does the possibility of Conor emerging victorious. I've got no problem with that. A guy with a 49-0 record shouldn't feel threatened by an opponent who has never boxed professionally before.
But the problem with that logic is that it's being employed by people who haven't seen what I've seen from Conor McGregor — in the last 10 weeks, but also in the 10 years before that.
I recently had another look at Conor's rematch with Nate Diaz, which took place exactly a year ago last weekend. Apparently that fight was used by the commission as an example of why Conor is worthy of a boxing licence.
If I compare the technique in his hands in that fight to what it's like now, that Conor would struggle to last six rounds with this Conor. He hasn't had to train wrestling, jiu-jitsu, kickboxing and all of the other aspects of mixed martial arts for this fight. He's been able to focus on the area of combat sports which he excels most at anyway — striking with the fists — and he has subsequently improved leaps and bounds.
I was already very confident in Conor, but when I watched him spar a world champion just a couple of weeks ago, it confirmed to me that the skillset we have transfers effectively.
I'm not under any illusions that Paulie Malignaggi is in the same league as Floyd Mayweather, but it does show that the technique and strategies we've been training are working because Conor completely outclassed Paulie. It was a mismatch. It proved to us that we were on the right track.
Conor has been ridiculed from all corners of the boxing world recently. There has been plenty of criticism of his technique as a boxer, which I have found quite amusing.
I can only imagine the fits that Prince Naseem Hamed gave his trainers during his heyday. When he was coming up in the 1990s, I can remember just how confused the commentators were by this guy dropping his hands, changing stances and throwing shots that people just weren't accustomed to seeing in the boxing ring.
People look back now and talk about the fact that he eventually lost and didn't fight beyond the age of 28. That's true, but he went on an incredible run before that and demolished good guys by breaking the rules and disrupting the system. He was a guy who understood that while you have to stay within the ruleset, you don't have to do things in the same way that they've always been done before. There's more than one way to skin a cat.
There's room for manoeuvre here. On Sunday morning there will be a lot of people claiming that Conor only won because he's awkward and he didn't do things in the conventional way. However, I also think there will be a few younger boxing coaches who will admit to themselves that maybe there are a few lessons they can learn from it.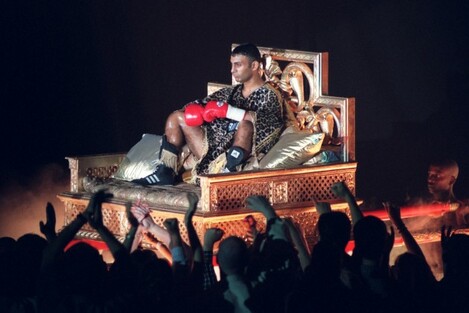 Prince Naseem Hamed Source: EMPICS Sport
The boxing coaches that I know, such as Packie Collins, are open-minded to new things. They're experimenting. But there are many others in the majority who are very set in their ways.
In one of the sequences from the sparring footage with Paulie, Conor wobbles him with an absolute peach of a straight left. I could only smile when Freddie Roach was asked if it was good technique and his response was that it wasn't. I was scratching my head.
How do you ultimately define what constitutes good technique? For me, the only question is 'does it work?' If it does, it's good technique, regardless of whether it matches the criteria developed by the boxing community. It's as simple as that.
It brings me back to a Muay Thai fight that Aisling Daly had many years ago. I think the fight ended in a draw or a loss for Ais, even though she beat the other girl up and down the ring.
Afterwards, one of the judges told me that she was penalised for not being in a Muay Thai stance and not executing a certain number of kicks, or something along those lines. The fact that she dominated her opponent didn't seem to matter.
People may not approve of the technique, but on Saturday night we'll be effective and that's all that matters. These judges are used to watching boxing but I fully expect them to be fair and reasonable in their approach.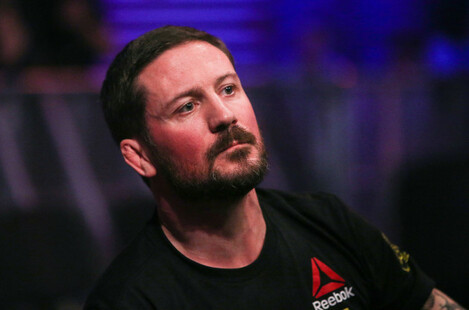 John Kavanagh Source: Gary Carr/INPHO
Because this event is being co-ordinated by Showtime and Mayweather's team, many aspects of the build-up have been new to us in the context of what we're used to with the UFC.
We haven't been familiar with a few things, such as the 'Grand Arrival' event on Tuesday here in Las Vegas. There seems to be a lot of ritual attached to a major boxing bout like this, and mostly we've had no idea what's actually involved.
Conor has taken it all in his stride, but there's no doubt in my mind that from Mayweather's point of view, it's all geared towards catching his opponent off guard in the hope that it will distract him from the task at hand. One or two things have turned out a little differently to how they were sold to us, but that's okay — we're used to being comfortable in uncomfortable situations.
It has reminded me somewhat of Conor's UFC debut in Sweden four-and-a-half years ago, when it was just the two of us dealing with all these new experiences. This week has certainly been something new but what matters is that the nine weeks before it couldn't have been better in terms of preparation. None of the other stuff will matter on Saturday night when it's just Conor, Floyd and a referee in the ring.
We may not be familiar with the rituals of boxing, but the fundamentals of fighting — understanding distance, being able to hit hard, hit without being hit, pacing yourself for 12 rounds — don't change. They're the only questions that have kept me awake and right now I'm completely satisfied that we have answered them all.
Conor is prepared for 12 rounds, but he'll only need half that. We're ready to shock the world.