Source: Donall Farmer/INPHO
Updated at 19.55
THE NATIONAL U17 League is just four months away.
Over recent weeks, a number of clubs have advertised management opportunities as well as trials for potential players but most interesting has been the Radio Kerry report that the Kerry District Schoolboys League (KDSL) received an FAI invitation to participate in the league, so the net has been cast beyond SSE Airtricity League clubs.
The KDSL will have expressed interest last year when the FAI opened up the process. Many schoolboy clubs will also have applied. Interest in the U17 league is greater than seen previously for the U19 league. Why the greater interest? Money plays a huge role.
There will be other reasons given, e.g. a desire to play at higher levels, but elite level schoolboy football in Ireland is influenced hugely by money and driven by agents, clubs and parents.
A schoolboy club can earn €20,000 training compensation from a UK transfer for each year a player was on their books. The U17 league would allow a club already moving players to the UK to retain elite players for an additional year, in a high profile national competition.
Within schoolboy districts, the ability to offer progression to national league competition could provide a significant advantage over rivals offering national cups and representative sides.
It will help to attract better players and subsequently additional income. Any serious elite schoolboy club already developing top players to 16 will want to be involved in a National U17 League.
I suspect the direction that the FAI is heading in terms of national schoolboy competition has a lot to do with Cabinteely FC's decision to join the league.
Ironically, it is First Division clubs which may have most difficulty with the U17 requirements. It adds a third nationally-competing team to clubs which have modest income streams to support them.
There will be opposition from SSE Airtricity League clubs. Their argument against inclusion of non-league clubs will be developmental; objections will cite schoolboy clubs' lack of elite structure beyond seventeen to further develop players.
They will point to the lack of places for U17 players in a smaller U19 league, reducing the standard and competitiveness of the U17 league for no benefit. But the real opposition will be based on finance and league clubs will most vocally oppose competition from their local schoolboy clubs.
Be part
of the team
Access exclusive podcasts, interviews and analysis with a monthly or annual membership.
Become a Member
None will object to the KDSL inclusion. When the 'A' Championship and U19 league were put in place, league clubs welcomed interest in Tralee and Castlebar. They saw potential League of Ireland clubs for under-represented parts of the country. But there was also the lack of real local competition, except in Galway, where football crumbled before the recovery of the last two years.
Neither Tralee nor Castlebar made it to the league. It's unlikely the KDSL or schoolboy clubs in under represented regions will enter an U17 league and subsequently add a national U19 side to their ranks before applying for a First Division licence.
The schoolboy clubs best-equipped to operate are within the DDSL, an already saturated League of Ireland market.  If league clubs must fund an Under 17 team, they will not want to compete with schoolboy clubs for the best players in the region.
Losing out on a local player who would otherwise have signed could impact upon future transfer income, which due to UEFA rating SSE Airtricity League clubs more highly is a whopping €60,000 per year of player registration.
Schoolboy clubs will deem it hypocritical that any SSEAL club seeks to influence development at all. As welcome as Tralee and Castlebar were, many clubs didn't want an U19 league, some fear for the U17 league. Few clubs put real investment into their U19 structures, fewer put investment into younger age groups.
Limerick FC and Shamrock Rovers are two clubs with strong academies but their presence in schoolboy football causes difficulties as egos collide.
The same collision occurs at national level; schoolboy clubs and the SFAI (schoolboy association) will, based on my experience during meetings on the proposed U17 league, look to exert control and influence. Moreso with U15 and U13 national leagues imminent if we follow High Performance Director Ruud Dokter's plans.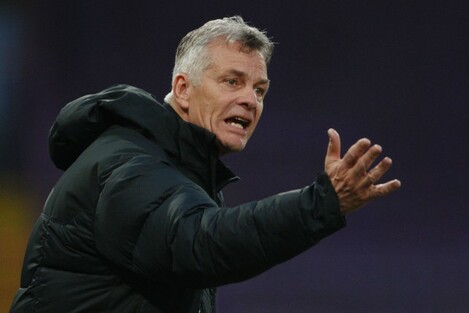 FAI High Performance Director Ruud Dokter. Source: Thomas Starke
The relationship between the FAI and SFAI has been strained recently and schoolboy football within a national league will add pressure to that relationship.
With competing factions, neither with the purest motives, Dokter must be strong and stick to the mantra 'the best, with the best, against the best'.
The best and most experienced coaches in the country gravitate towards our domestic league, the best place for our elite players to be positioned, where they can learn within a professional environment is within league clubs.
The Under 19 league has been a success, the numbers progressing to professional football are impressive. It's not perfect, but as a template for the U17 league, it's as good as we've got.
SSE Airtricity League clubs must be the most important members of the U17 league. However, our clubs must also be held to account on development.
It's not good enough to pay lip service to the U19 and U17 leagues. We know that the long term plan for development of elite players in this country consists of contentious U15 and U13 national leagues and SSEAL clubs must start planning for that eventuality.
Follow John on Twitter @johngosullivan