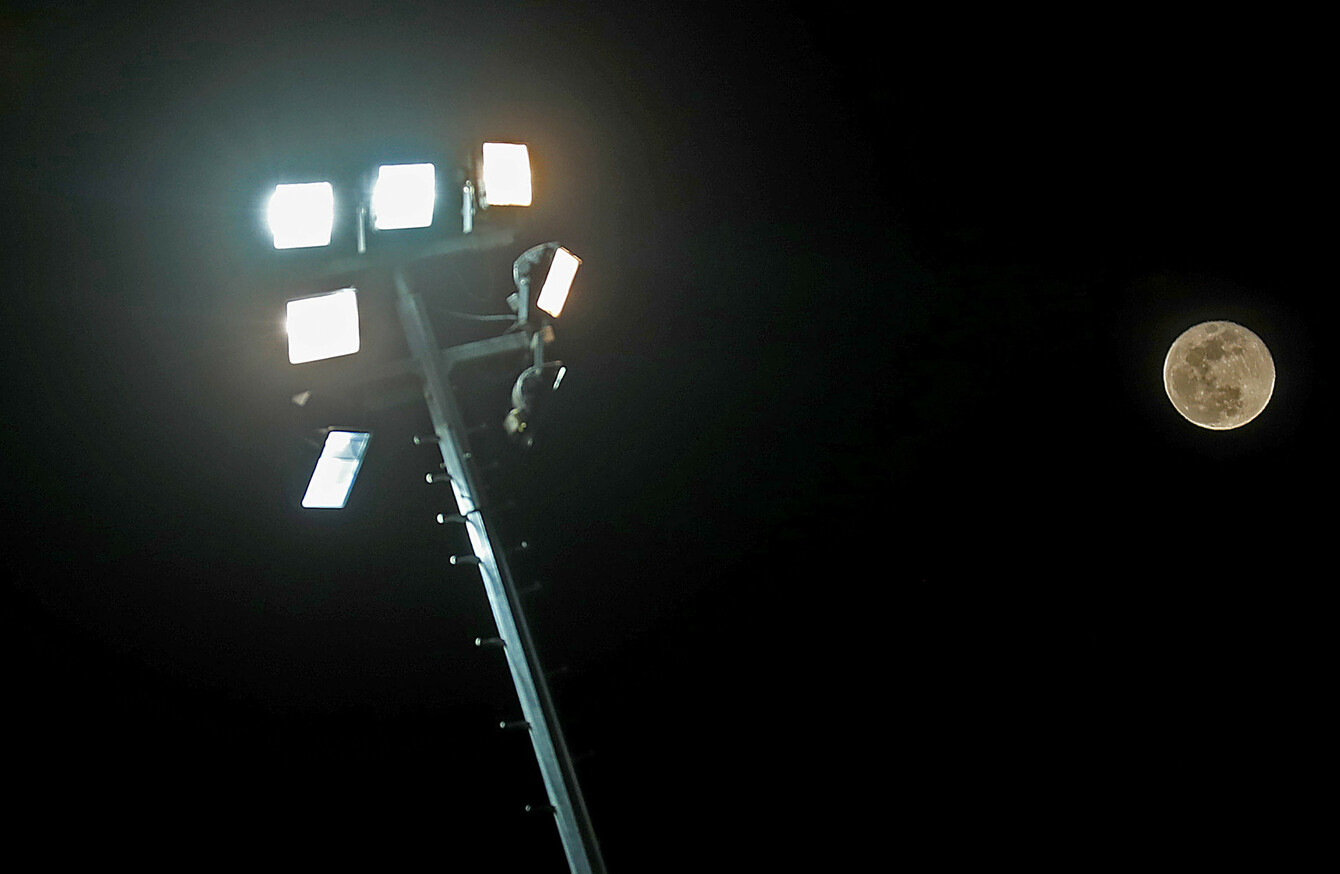 A general view of a floodlight (file pic).
Image: Donall Farmer/INPHO
A general view of a floodlight (file pic).
Image: Donall Farmer/INPHO
WE'RE ONLY BACK three weeks and the 'Beast from the East' has put paid to an entire series of games.
The FAI made a decision early to cancel all this weekend's fixtures and it was the right call, it wouldn't have been safe to play matches, or travel to them.
Games will often fall foul of the weather. While at Athlone Town, I had a friendly against Port Vale cancelled an hour before kick-off following 30 minutes of biblical rain – in August – leaving huge amounts of surface water on the pitch. It was unforeseen, but there are few weeks in the League of Ireland where something unforeseen doesn't cause a headache for someone.
On Friday last, the postponement of the Drogheda United and Finn Harps game could have been foreseen, and its impact was wide ranging.
Soccer Republic had sent an outside broadcast crew and Marie Crowe to cover the game. Finn Harps had travelled the three-hour bus journey from Ballybofey and of course, Drogheda United had a match night all set to go when at 7.45pm, the referee called off the match after he 'judged the lighting to be unsatisfactory' according to the official SSE Airtricity League website. Those in attendance drifted away, the Finn Harps fans lining up for refunds as the Drogheda fans were told their tickets were valid for the next home game.
The initial reaction was finger pointing at Drogheda United, but they got their message out quickly and effectively. The issue was known, the work was scheduled and their landlords – the FAI – were on the case.
While Chairman of Cork City, we had to move a home game against Mervue United to an early Thursday kick-off to accommodate scheduled works on the floodlights at Turner's Cross. It was easy to move the fixture, it took a few phone calls but there were no obstacles from Mervue United, the match officials or the FAI. I was the biggest moaner, worried that the early kick-off might reduce our match income during a period when things were already tight.
Drogheda could have moved Friday's fixture if they'd had any sense that the game might not go ahead. A Saturday afternoon kick-off wouldn't have needed floodlights and Finn Harps might even be happier, getting home early at night rather than facing into a 2am return to Ballybofey.
But to react to an issue, you need to acknowledge there is – or may be – an issue.
Drogheda United's floodlights were and are working, they'd been working right through the off-season. Between 23 January and 15 February, Drogheda United played three friendlies against Premier Division opposition and a competitive Leinster Senior Cup game. All these were played under the same conditions as the game called off last Friday. All games were sanctioned by the FAI and as such, had FAI referees in place. Maybe some additional bulbs had failed since those games but both Ollie Horgan and Tim Clancy indicated that they wanted the game to go ahead, that they were happy to take responsibility for their players. The ref, citing player safety, disagreed.\
The clubs involved are unlikely to receive compensation. Finn Harps hired a bus for a round trip and had stopped for food for the players and staff on the way down. That money is gone and will have to be spent again for the rescheduled fixture. Drogheda United will still be invoiced for the night – stewards, Gardai, programmes, tickets printed and myriad other costs have to be paid without any match income to offset them.
Ultimately, one man's view of the level of lighting, which is ultimately a subjective opinion has cost the two clubs involved thousands of euros in a league where it is incredibly difficult to earn thousands. It goes back to consistency, why were players less safe on Friday last than during pre-season games.
The question really is how did we get to the stage where a subjective opinion can cost so much. Where was the communication beforehand? Like all answers in the League of Ireland, Drogheda have culpability but so too do the FAI.
The fact is that the FAI own United Park and are Drogheda United's landlords. The club had highlighted that the floodlights needed work and the FAI acknowledged the issue. A stadium infrastructure report is submitted every two years as part of licensing, the specific lux is called out there. United Park would have had an engineer who would have identified the lux level of the floodlights. The fact that the FAI had already scheduled upgrade work would suggest that United Park failed to meet the minimum required level, but were granted a dispensation and awarded a licence based on the planned upgrade.
With both club and association aware that the needed work was not complete, why did no one think to check the status of the floodlights in the week leading up to the game, if anyone believed there was a chance it could be an issue? It probably would have taken 20 minutes to power up the floodlights the weekend before, a referee in place, and make a call there and then to move to an afternoon kick-off.
With Soccer Republic cameras there covering First Division football in a year where it could be a particularly competitive season, it's an own goal for Drogheda United and the league, deflected off the FAI's backside as they had their back turned.
The42 is on Instagram! Tap the button below on your phone to follow us!