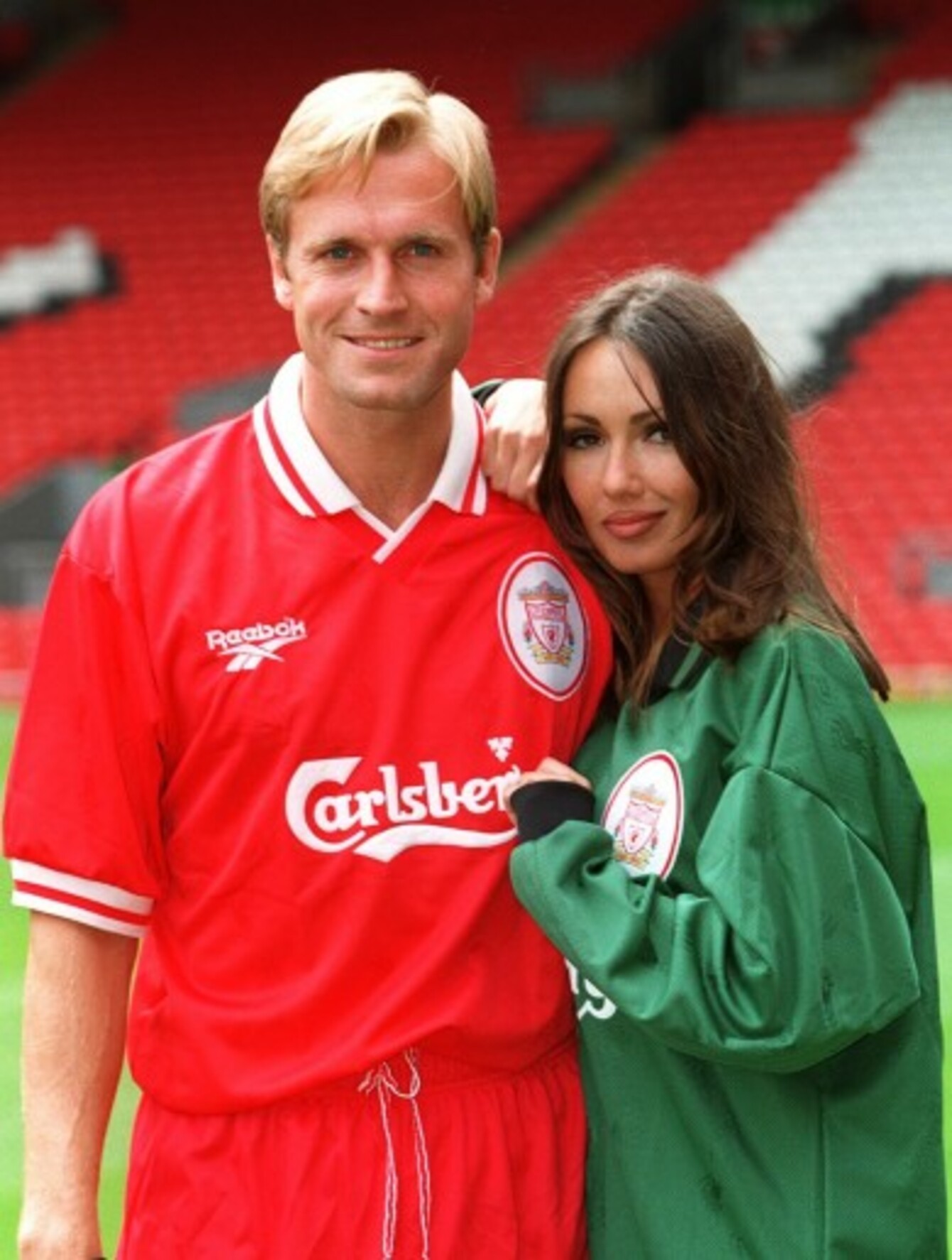 John Scales poses with Page 3 girl Kathy Lloyd to model Liverpool's new Reebok kit in 1996.
Image: EMPICS Sport
John Scales poses with Page 3 girl Kathy Lloyd to model Liverpool's new Reebok kit in 1996.
Image: EMPICS Sport
WHEN LIVERPOOL UNVEILED their new strip before the 1996-97 season — Kathy Lloyd, frequently seen topless in lads' magazines such as Maxim, Loaded and FHM — was involved in the photo shoot wearing a full goalkeeper's kit, her arms wrapped around John Scales's shoulders, Scales looking slightly uneasy. 'I went with the flow for far too long and eventually, it caught up with me,' he says.
This is Scales as he wants to be: smoking and enjoying brunch as morning leisurely breaks into afternoon. He will spend the rest of the day with his two young daughters who are on half-term. As he eases into a steal seat, stretching out his long and powerful limbs, he insists he's happier in his 40s than he was 20 years ago.
'The trouble with the football dressing room then was that it was defined by the lowest common denominator, which, with all due respect, is the majority of people involved,' he says. 'Anyone who wanted to be different stood out a mile — as in society generally, I suppose. Football is often a reflection of society. But because there is so much money involved and, sadly, a lot of jealousy, society does not want to admit it.'
Scales is a tall, blond, well-spoken and clean-cut-looking man and, even though he is not, he appears every inch a public school boy. It is hard to imagine how he fitted in, particularly at Wimbledon, proponents of the sabre-ratting welt down the middle, football's imitation of the 2nd Panzergruppe.
I suggest to Scales that he possesses the appearance of the intelligent kid at school who ends up mixing with the wrong crowd.
'On the face of it, that's how it seems,' he admits. 'But I had to find a way to fit in, otherwise my career wouldn't have followed the relatively successful path that it did.'
Scales talks about the bubble of football and describes a prohibitive environment where he was not alone in acting insincerely. As the only singleton at Wimbledon, in an attempt to impress his teammates, as well as to convince them that he wasn't gay despite the sniggers inside the dressing room, Scales courted a 'trophy girlfriend' and took her to the 1988 FA Cup post-final dinner.
Scales went further and tried to be 'one of the lads again' by heckling the Lord Mayor of London during a speech that celebrated Wimbledon's remarkable achievement in beating one of the greatest Liverpool teams that has ever been. 'I sat there shouting "Boooring… boooring." It wasn't in my character to make a fool of myself, but mix footballers with copious amounts of alcohol and the one-upmanship is unbearable.'
(John Scales, pictured before the 1996 FA Cup final, in one of the Liverpool team's infamous white suits)
SEE SPORT
DIFFERENTLY
Get closer to the stories that matter with exclusive analysis, insight and debate in The42 Membership.
Become a Member
'In football, everyone plays a role. When I finished my career, it was a relief because every day I'd drive through the gates of the training ground and become a different person. You need to act in a certain way to earn acceptance in a dressing room. I'm not proud to say I did that. You should have the strength of character to say, "This is who I am and you should accept me."
'But I was affected by the environment. A big part of that was drinking a lot and going out — being one of the lads. I hid behind bravado. I'd train, go to the pub, stay out late and sweat it off the following morning, then repeat the process. It was an intense routine that takes it out of you.'
Jason McAteer was an example of this at Liverpool. Despite being perfectly sensible when he wanted to be, he was considered a bit of a clown. At Tottenham Hotspur, Scales later met Ramon Vega, a Swiss defender of Spanish parentage, who was exactly the same.
'Ramon was the butt of all the jokes. He'd love being the centre of attention, playing the fool. Yet he's one of the brightest guys I know. He now works as an investment banker. There are a lot of people like that in football. It's often a mechanism to deal with an insecurity or vulnerability.
It disappoints Scales that taboos still exists in football and he believes it is holding the game back.
'You can't show insecurity in football. If you show any vulnerability, you get slaughtered — maybe by your peers, maybe by the press. It's as simple as that. That's why no active footballer has come out as gay. Players think they've got nothing to gain and all to lose. If you can't be true to yourself, your performance — no matter your field of work — is not going to be at its maximum. It is to the detriment of the sport we all love.'
The above text is an excerpt from 'Men in White Suits: Liverpool FC in the 1990s, The Players' Stories, by Simon Hughes. The book is published by Bantam Press and available now. For more info, click here.