COMING INTO THIS game I was nervous.
Sure, we gave a fantastic display against Laois, but you're questioning whether it was a real test for Kildare.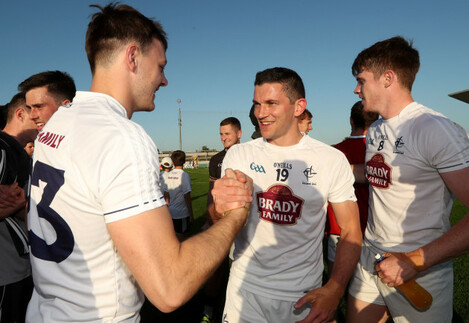 Source: James Crombie/INPHO
Looking back at the league final against Galway, we didn't play with that fluency and we were a little bit tentative. That was in the back of my mind coming into Tullamore yesterday.
As it turns out Kildare were outstanding. This team have been on the end of a few really tough days at the office and were the subject of criticism, so make it back to a Leinster final after playing two fantastic games of football is great for the Lilywhites.
There's an excitement around this team that hasn't been there since 2011 or 2012.
What really impressed me overall was their work-rate from start to finish. One play in particular really epitomised what this Kildare team is all about.
I was keeping an eye on corner-forward Cathal McNally just before he was subbed off in the final 10 minutes of the game.
Now bear in mind he had 1-3 from play to his name and we were over an hour into a game that Kildare were coasting to victory. A Kildare move broke down in the full-forward line and Meath launched a counter-attack.
Source: James Crombie/INPHO
Many's the forward would have shirked defensive responsibilities at that point in time, content with their contribution for the evening. But McNally ended up sprinting back inside his own 45 and got a tackle in. He was unlucky to give away a free, but it just showed me his sheer will to win.
I thought that was the difference between the teams.
Speaking of McNally, himself and his fellow inside-forward Paddy Brophy gave Kildare a real outlet for long kick-passes inside. That really helped their attack flow.
It was a tough ask for Paddy to readjust so quickly after returning from Australia, but he's a different animal to anything I've ever come across.
He's after being away from the round ball for a while but it didn't take him long to get back into the swing of things. He scored two points and he was unlucky not to add to that tally. The boys have huge faith in him and when that ball goes in there they know he'll win it.
Paddy has such a super attitude. He got off a plane after a long journey on a Thursday evening from Australia in April and he togged out for his club on the Sunday. That's the type of lad he is. He's just made to play football.
I spoke to him since he came back and he told me, 'I could have stuck it out but I was just longing to come home.' He was talking to the boys and Kildare were on a bit of upward curve so he bit the bullet and made the tough call. I doubt he has any regrets now.
Be part
of the team
Access exclusive podcasts, interviews and analysis with a monthly or annual membership.
Become a Member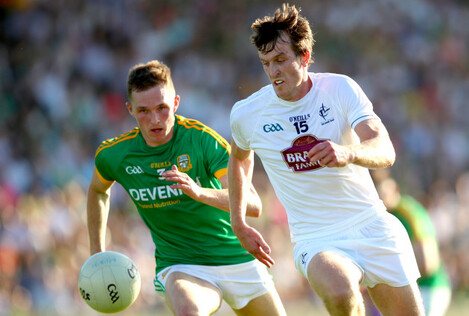 Source: James Crombie/INPHO
Elsewhere Eoin Doyle really led the line from centre-back and he eventually got to grips with Cillian O'Sullivan, who made a few dangerous runs in the first-half. Doyle reads the ball very well and he likes to sit back and attack from deep.
At one stage he sprinted 20 yards just to contest a kick-out, won the ball and got it straight into Daniel Flynn who kicked it over the bar. They're the game-changers.
David Hyland stuck like glue to Graham Reilly, who was their talisman but was kept very quiet today. Our two half-backs Johnny Byrne and Keith Cribbin were very solid, Cribbin got up the field very well, setting up two scores and winning a free for another.
Cian O'Neill deserves huge credit for his management of this group of players. Cian himself said last year he tried to take on too much. It's difficult to be the coach and the manager and he's brought in good lads this year in former players Enda Murphy and Ronan Sweeney.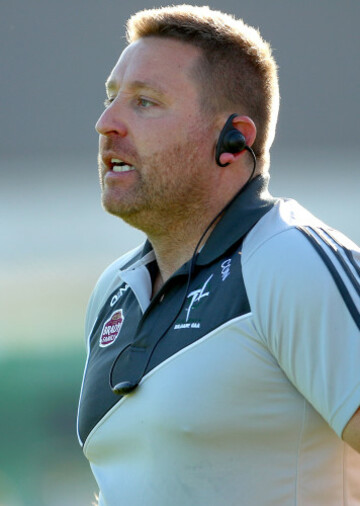 Source: James Crombie/INPHO
He changed it up a bit this year and stood back a little bit more, allowing the likes of Murphy and Sweeney do their thing.
Knowing the type of fella Cian is, he'll be waking up this morning fully focused on a Leinster final. I don't want to be in anyway disrespectful to Westmeath, but it'll most likely be Dublin who come through from the other semi-final.
It's another massive test but it's one I know these lads want. We have to find another gear again if we're going to put it up to Dublin. They're a once in a generation team who've won four All-Irelands and we've a lot of improving to do. People will say the Carlow game shows the Dubs are weaning a bit but I don't think they are.
On the venue today, I felt staging the game in a provincial stadium rather than Croke Park really added to the occasion. The grounds at Bord na Mona O'Connor Park were brilliant, it was a beautiful summers evening and the atmosphere was superb. It had everything. The scene was set from the word go.
I was coming up through the town and you could see there was plenty of banter between the Kildare and Meath supporters. I was chatting to a few people I knew from either county and you could see they were trying to stick the chests out and act confident, but deep down there were nerves there as well.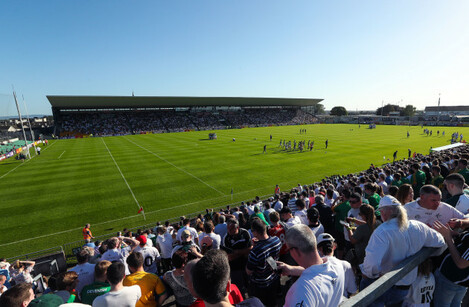 Source: James Crombie/INPHO
But venue was perfect. A huge crowd of 12,702 showed up and you could really hear the noise when either side built momentum. Bar you've 60,000 in Croke Park, you won't have that kind of atmosphere. The sun is shining a little brighter from a Kildare supporter's point of view, but I'm sure even neutrals enjoyed that game.
From a Meath point of view, I think they'll have a lot to say in this championship. In the first-half they didn't attack at pace and there were no runners off the shoulder. Anytime O'Sullivan made a burst forward he met a wall of defenders and there was no-one flashing by him.
They did that well against Louth but for some reason it was absent today. Sometimes that can happen. You've the best laid plans in the world and when the players look back at the game –  and I've done this myself – they'll ask, 'Why didn't I run? Why didn't I get myself into that position?'
Sometimes for whatever reason that happens. That's something Andy McEntee and his backroom team have to figure out. Meath are not a bad team. It's their first year involved with McEntee and he has a good group of mentors around him.
They'll learn a lot from this game and they'll be back.
The42 is on Instagram! Tap the button below on your phone to follow us!