THE FOLLOWING IS an extract from 'Rugby Revealed', a brand new book by Gavin Hickie and Eilidh Donaldson.
The book features interviews with over 100 of the leading players and coaches in rugby and helps the reader understand the roles and responsibilities of individual positions and skills, as well as how they combine to create a tactically astute team.
This portion of the book examines goal kicking, with Ireland's Johnny Sexton and Welshman Leigh Halfpenny among those offering their advice.
How to focus mentally for a kick
Kicking for points can be stressful. The clock, crowd, scoreboard and weather conditions all add to the pressure on a single player. How do the professionals tune out these pressures and focus on the task in hand?
Source: Dan Sheridan/INPHO
Johnny Sexton explains, "Sometimes when you kick really well you don't know where you've gone mentally because you are fully concentrating on the routine and process. Times when you are not kicking so well you are thinking about stuff you shouldn't be thinking about.
"I find myself lining up a kick and falling into the trap of thinking about what I'm going to do after the kick, where I'm going to put my next territorial kick. It's just about staying in the moment, but it's easier said than done."
How to approach a match-winning kick
Kicking to win a match or a championship in the last play of the game can be extremely stressful. It is very important that kickers approach every kick in the same way, regardless of the situation.
Sexton explains that it's about focusing on your process, "I feel every kick has the same amount of pressure, as it is going to have an impact on the scoreline. Even your first kick is a pressure kick because you've been building up to it all week and you are the most nervous before that kick."
While this may sound simple, even the top players can lose their focus in a game, but that's part of the job description for Sexton, "I've had easy kicks which I've taken for granted and you think about what you'll do at the kick-off and you miss it. That's just part and parcel of being a kicker."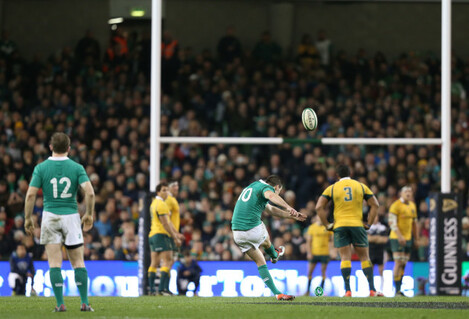 Place kicking will be massively important at the World Cup. Source: Colm O'Neill/INPHO
England's Jonny Wilkinson is the best there ever was in terms of kicking and we've seen him miss a few sitters but he is still the best. Kicking can be a fickle enough thing. Try not to focus on what might happen, focus on the process of the kick and doing your job.
For a kicker that is kicking the ball between the posts and scoring points for your team.
Mick Byrne – skills coach with the All Blacks – emphasises this, "A young player who has to kick the goal to win the game shouldn't be thinking, 'if I kick this goal, I'm going to win the game' or 'if I miss this goal, I'm the worst guy on this team'.
"He should go back to his normal process and take his steps back, look at the bottom of the ball, focus on the line he's kicking, find his target, kick the ball – and when it goes through they win the game."
Leigh Halfpenny's routine
"For kicking in stadiums with 70–80,000 fans the technique I use is to imagine that I'm back where I practised as a kid, my hometown of Gorseinon" says Leigh Halfpenny Wales, the Lions and Toulon.
"I put myself there, where it's quiet and there's no one around; it's just me, the ball and a set of posts. I'm imagining a third post in the middle of the posts, that's where I'm going to aim to hit. The ball is attached to a piece of string that goes right up to the third post.
Halfpenny, an ambassador for Lucozade Sport, is a world-class kicker. Source: Billy Stickland/INPHO
"You want your plant foot, your left foot, right up alongside the ball, you don't want it too far back because your body turns in and rotates. Go with feet a shoulder width apart, left shoulder tight over your left leg.
"Once you make contact you take your weight right through the ball so you finish beyond the kicking tee, shoulders facing the posts. You are always keeping your head down. Not trying to get your head up too early."
The sea of success
There's nothing like seeing the ball going over the posts to boost a player's confidence.
Dave Alred, who coaches Sexton and Paddy Jackson, outlines a way to help goal kickers become accustomed to success, "I put a line of five balls 15 yards in front of the posts, with the third ball directly aimed at the middle of the crossbar.
"Then I move back 3 yards and place another line of five balls in front of the posts, but space each ball slightly wider than the previous line of balls. I add another three lines of five balls, each with progressively wider spaces between each ball.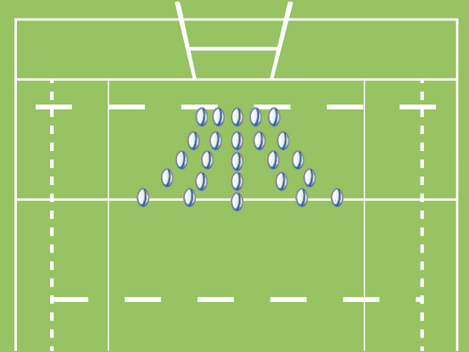 Source: Rugby Revealed
'There are a total of 25 balls (five lines of five balls), and what you have to do is kick 25 out of 25. The last line of balls is on the 22-metre line, so they are all very easy kicks. What you try to do is get the kicker to target the middle of the middle between the posts each time.
"You are working within the 'sea of success' because you have to kick pretty badly to miss one. If the player does miss it, it will only be a mental error. It will only be because you haven't thought through your routine. It's a tough thing to do mentally.
Alred also works with England's George Ford. Source: Morgan Treacy/INPHO
"Very few kickers, even international kickers, get 25 out of 25, because it is mentally draining. What it does is reinforce your routine. You see the ball go over, you see the ball go over, you see the ball go over.
"Then you get more fussy and think, 'I don't want it to just go over, I want it in the middle.' You can now get quite harsh on yourself because you are within success. Whereas, if you are missing kicks, that tends to beat you up."
You can buy a copy of Gavin Hickie and Eilidh Donaldson's newly-released 'Rugby Revealed' here. The book is published by Bloomsbury.