JOHNNY SEXTON HAS taken some heavy knocks for Ireland and Leinster this year, but the out-half says he's fair game – as long as the hits are legal.
Late tackles on the 30-year-old appeared to become something of a theme during the Six Nations, with Yoann Maestri setting the tone with his elbow charge on Sexton during Ireland's defeat in Paris.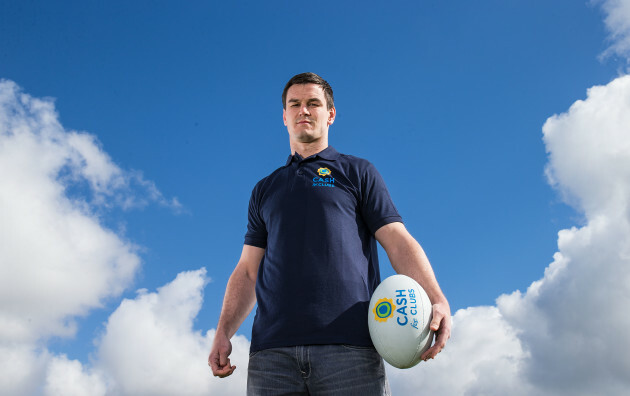 Dan Sheridan / INPHO Johnny Sexton is a Topaz ambassador. Dan Sheridan / INPHO / INPHO
England, Italy and Scotland subsequently looked to ruffle the number 10′s feathers, hardly a surprise given his importance to Joe Schmidt's Ireland.
England coach Eddie Jones took it all too far when he suggested that Sexton's parents should be worried about their son's health.
Though Sexton took issue with one or two of the incidents, and will continue to be picked out for physical intimidation by Leinster's opponents in the coming weeks, he simply accepts that out-halves being targeted is part of the sport.
The Dubliner uses this weekend's Pro12 clash between Leinster and Ulster, where Ireland international Paddy Jackson is almost certain to be at 10 for the northern province, as an example.
"You are going to target the number 10 more than any other player on the pitch but doing it legally is the thing," says Sexton, who has been carrying a "niggle" in his knee since the Six Nations, but hopes he is now through that ahead of Saturday's game.
Look, we are going to go out and try and make Paddy make a lot of tackles this week because he is going to have to make a lot of goal-kicks and it is going to be harder to make a lot of kicks if he is going to have to pick himself up off the ground 20 times in the game.
"That is just good, clever play.
"Yeah, it does happen but some of that stuff can be on the edge as you're passing the ball and get tackled. I don't have a problem with that, it's the stuff that's totally away from the ball that can be tougher to take.
"Look, it's not something I have a problem with, I've never really said that it's been a big problem. It's just part of the game, once the referees are keeping an eye out for it then that's the main thing."
Sexton says the incident he most took issue with this season was the clearout by Alex Dunbar that saw the Scotland centre sin-binned and after which the Ireland out-half faced some criticism for milking the offence.
Dan Sheridan / INPHO Sexton in the wars during the Six Nations. Dan Sheridan / INPHO / INPHO
"The only one that I was a little bit angry about was the Scottish one where I got tipped upside down," says Sexton. "You could see I was angry by my reaction; that was the only one that I felt vulnerable, the rest I felt fine."
As well as being on the end of a large number of hits throughout his time as an international out-half, Sexton has increasingly become known for his excellent defensive game in recent years.
The Leinster man is one of the leading defensive out-halves in rugby, though many pundits have called for him to avoid making so many tackles and therefore putting himself at risk of harm.
"Once upon a time I was criticised that I couldn't tackle; it's funny how things can go from that to people then saying 'Oh, you tackle too much,'" says Sexton. "It's funny the way perceptions can change.
"I don't know, I just go out and try to play my best and give it my all. It's very hard to tell other people to defend if you're not doing it yourself. I like to think I go out and do my best physically.
Exclusive Six
Nations Analysis
Get Murray Kinsella's exclusive analysis of Ireland's Six Nations campaign this spring
Become a Member
"I wouldn't be the most physical guy on the team in terms of my size but once you try your best that's the main thing, that's the way I've always approached the game really. Going out trying not to tackle or staying away from tackles – I couldn't think of playing a rugby match with that in mind and trying to save yourself."
Not only has Sexton's appetite for making tackles come under the microscope, but also his tackle technique.
There have been repeated expressions of concern that the former Racing playmaker goes into contact too high and therefore risks taking blows to the head.
"I can show you me having done chop tackles before," says Sexton pointedly. "Why do I go high? I do it because it stops the opponent from offloading. We did it with Ireland when Les [Kiss] first came in, everyone was doing it.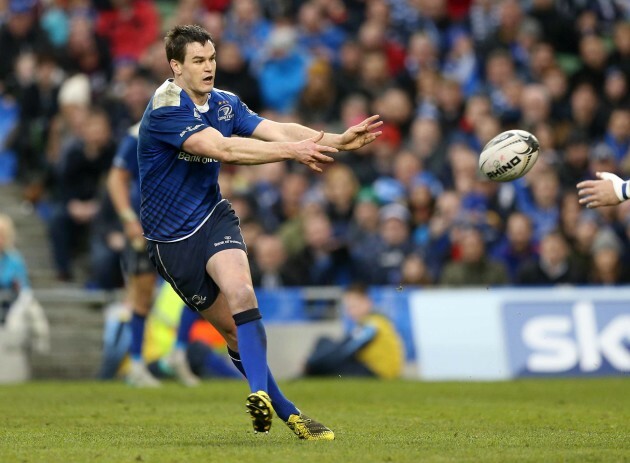 Inpho / Billy Stickland Sexton is expected to wear the 10 shirt for Leinster this weekend. Inpho / Billy Stickland / Billy Stickland
"All of sudden it's become a big issue with me for some reason, people are linking it to head knocks. Crazy talk.
"Surely you've got more chance of being hit in the head if you dive at someone's knees than you do tackling somebody high. As long as one person who never played the game says 'oh, he's more susceptible,' it's gospel.
"It's waffle, tackling high has nothing to do with getting hit in the head. I feel that sometimes I tackle better high, but I can show you times when I have gone low. I can show you times where I've gotten hurt trying to tackle low, I can show you bad examples of me trying to tackle low.
"There are other guys who tackle the exact same way and there's no issue there. It's not something I think about a lot."
All in all, Sexton gets frustrated by the debate and opinion his wellbeing generates in the public sphere, particularly with so much of it being ill-informed and misguided.
The furore over Sexton and concussion during the Six Nations was the latest example of a trend that disappoints the Ireland out-half.
"All the stuff that was reported really wasn't true and it creates a perception about you from a physical [point of view]," says Sexton. "I suppose if I was out of contract, clubs wouldn't even consider talking to me last year with all the stuff that was in the papers.
"They wouldn't have made any offers. The people don't consider that; they just throw out that 'this guy suffers from concussion.' I don't. I had one issue that season and it was put to bed and I haven't had any since.
"It doesn't help that people give an opinion without any expert… and it's not just some media, it's ex-players who don't know. They just jump on the bandwagon. It is frustrating and it is disappointing. They could pick up the phone and ask me."
Topaz announced the return of 'Cash for Clubs', a community initiative which offers clubs of all types across Ireland the chance to win up to €250,000 in cash prizes. On hand to kick off the campaign was Topaz ambassador Johnny Sexton, who has joined Ireland's leading fuel and convenience retailer in encouraging clubs across the country to sign up and get involved.
The42 is on Snapchat! Tap the button below on your phone to add!