EUROPEAN TOUR OFFICIALS have been criticised for not penalising Irish Open winner Jon Rahm for marking his ball incorrectly during yesterday's final round at Portstewart.
The Spaniard romped to a spectacular six-shot victory on Sunday but was then forced to address an incident which took place on the sixth green.
Rahm's ball had ended up in the line of his playing partner Daniel Im and TV coverage showed the 22-year-old move his ball a putter head over and mark it to the right.
After Im had holed out, Rahm then moved his ball a putter head back over but appeared to replace his ball in front of the marker and not to the side of it.
For golf hardos: Jon Rahm marks to the side, moves it a putter head, moves it back, then places ball in front of marker. Penalty or no? pic.twitter.com/da5aJLwq29

— HeavensBarstool (@HeavensHawkeye) July 9, 2017
(If the video doesn't load, click here)
Chief referee Andy McEntee informed Rahm that he could face a two-shot penalty when he arrived onto the 13th tee but it was eventually decided that the rules infringement didn't warrant a punishment.
Speaking in his press conference afterwards, Rahm was handed the microphone and opened up by saying:
"I'm going to do this before you guys ask me because I know it's coming.
"Basically what happened on No. 6, I'm going to tell you guys all I know. Daniel putted it, ended up a foot and a half just right of the hole. I hit my putt, ended up on the same exact ball his ball ended up. So his marker was what I was going to mark it.
"So what I did to make it faster, because it was raining, I put it on the side of my ball, knowingly. I put it on the side of my ball. I know it's a little suspicious sometimes but I knowingly did it. I moved my marker so it was not in the way of Daniel's and put it back, and when I replaced my ball I thought it was in the same exact spot what I had picked it up. I really thought I had put it back on the same spot, and that was it for me. I didn't doubt myself twice.
"Then Andy came and told me on 13 that they had had a couple of complaints that I had put the ball in a different spot, I had improved my lie or something like that. And that's when he told me, listen, this is what we saw. He did tell me, he didn't think I put it on the same exact spot, but he didn't think it was a big enough difference to make a big deal about it, to make anything about it.
Rahm celebrates his big win. Source: Niall Carson
"I just told him my version. I told him, listen, Andy, I know, I did it on purpose. I put it on the side to not bother Daniel and to be able to put my mark as far away from his as possible, put it back and to my eyes, I put it exactly to the same spot it was. To my eyes, it was there, and that was it.
"I told him, listen, if it's a penalty stroke, let me know now, I'll accept it. This is what I did. I did it. If it's not on the right spot, if it's a penalty stroke, let me know. He told me there's been a change in the rules. There's some room for — there's some margins left on the rule now and it was left to interpretation. And that was the decision. I told him, right on the spot if it's a penalty stroke, let me know. But I haven't seen the footage yet, to my eyes, it was pretty much on the same spot what I put it."
US PGA champion Jimmy Walker criticised the European Tour on Twitter for not penalising Rahm for an offence which ultimately cost Lexi Thompson victory at the ANA Inspiration earlier this year.
She was handed a four-shot penalty for replacing her ball in a slightly different place.
Source: Jimmy Walker/Twitter
However, in the wake of the incident involving Thompson in April, the R&A and USGA said that an official can rule that the player did "all that can be reasonably expected" to follow the rules, despite what video evidence shows.
In Sunday's case, the incident was brought to the attention of the rules official and Rahm was given the opportunity to explain and subsequently avoided punishment.
"I mean, when we're talking about putts that are a foot from the hole, it just seems so silly, because it's a put that's going to go in a hundred times out of a hundred," Rahm added.
"I mean, Lexi was leading that major championship and I was playing the way that I was playing. It's not like it's a putt from six feet to win the tournament and you're moving it three feet in front of you, right. It's such a small difference.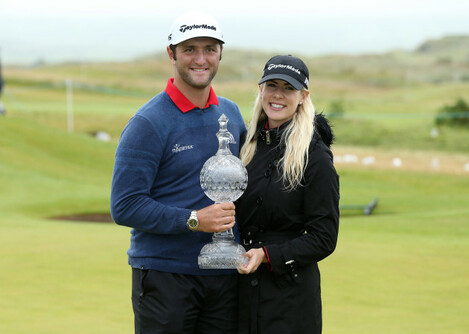 With his partner Kelley Cahill. Source: Presseye/Matt Mackey/INPHO
"What happened with Lexi, it's clearly not intentional. She kind of goes on the side, and it's more sloppy than intentional, right. I'm pretty sure she wasn't trying to do that. She's winning the tournament; she doesn't need any more help. I think she's doing right.
"Well, I know the rules changed, and I do believe that the Rules of Golf should leave a little bit to the interpretation, because it can't be exact every single time. Every situation is different and every moment is different, and the camera angle can always be something that might fool the eye. In my case today, I was aware of what I did, and I thought I put it back in the same spot. It's just golf."
After claiming his maiden European Tour victory, Rahm has moved inside the top 10 of the world rankings for the first time, jumping up to eighth position.
Dustin Johnson remains number one in the world with Hideki Matsuyama, Jordan Spieth, Rory McIlroy and Sergio Garcia making up the top five.
The42 is on Instagram! Tap the button below on your phone to follow us!