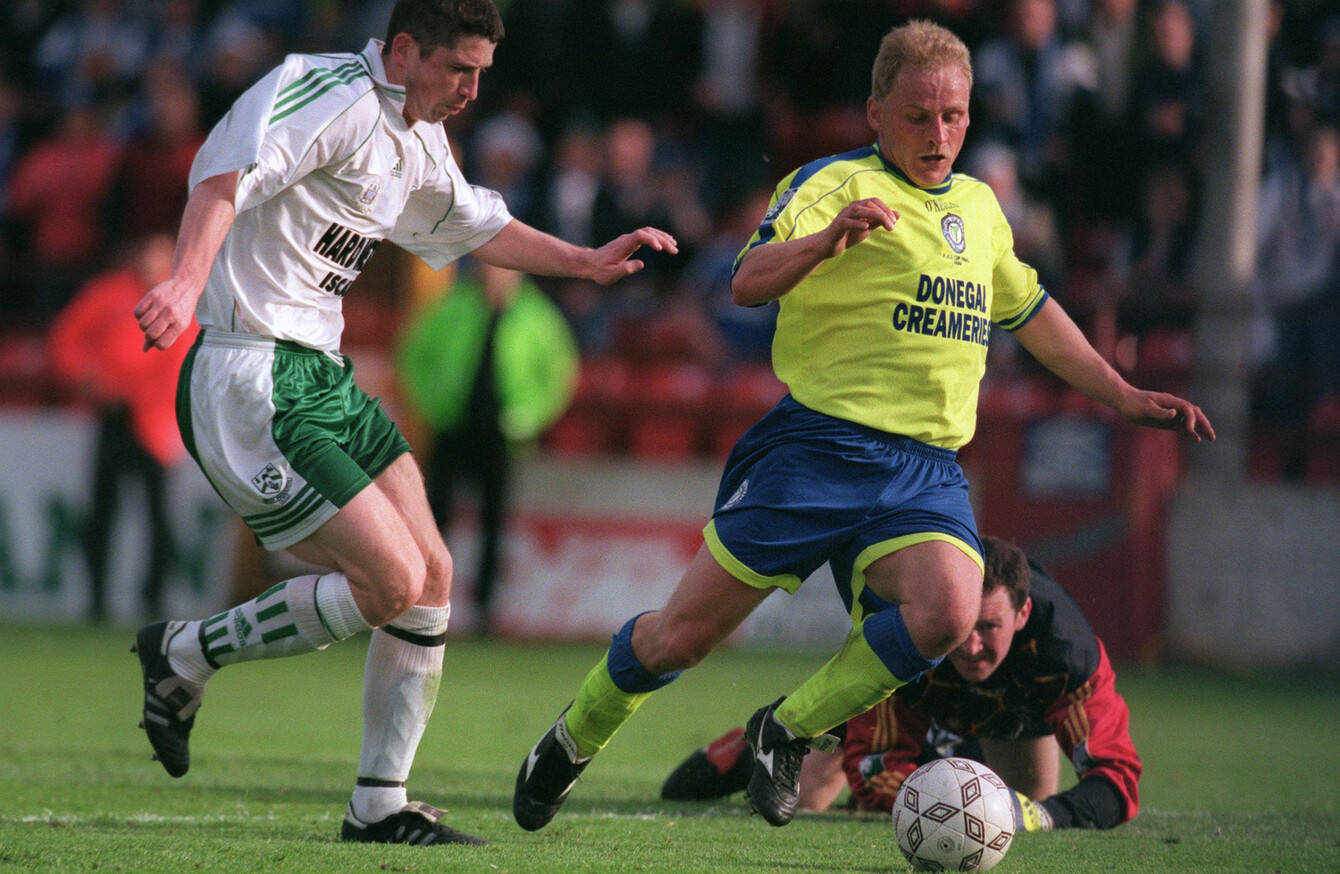 Jonathan Speak scored 135 goals during his time in the League of Ireland.
Image: Damien James/INPHO
Jonathan Speak scored 135 goals during his time in the League of Ireland.
Image: Damien James/INPHO
Updated at 22.58
JONATHAN SPEAK HAS had quite the career in football.
As it stands, he is joint 14th on the list of all-time League of Ireland top goalscorers with 135 goals.
In his debut campaign with Derry City (1987-88), he broke the record for most League of Ireland goals scored in a Premier Division season (24). His achievement stood for more than a decade, and was eventually broken by Glen Crowe, who scored 25 goals in the 2000-01 campaign for Bohemians.
Speak's career has encompassed so much — from the joys of unprecedented success with Derry to the heartbreak of relegation on the final day of the season with Finn Harps.
While the former striker is proud of all he achieved in football, certain memories are tinged with a degree of sadness too, which we will come to in more detail later.
Like many young boys, he dreamed of being a footballer from early on in his life.
He grew up in the 1960s and 70s in Sion Mills, Tyrone. It was a turbulent time for Northern Ireland, as Speak's adolescence coincided with the height of The Troubles.
Yet he feels fortunate to have had a pretty peaceful upbringing, devoid of the shocking violence that was not happening too far away.
"We were nowhere near Derry or Belfast, where the Troubles were really taking a grip," he tells The42. "What we would have seen was on the news and that, we were only three miles from Strabane and there would have been attempted murders, but we wouldn't have seen anything first hand like what was going on in Belfast and Derry.
One thing about Sion Mills was it was mixed Protestant and Catholic. It was always an integrated primary school, so we all grew up together.
"To this day, everybody gets on with each other and there's never a bad word."
Speak picked up an interest in soccer largely due to the influence of his Yorkshire-born father, who was an avid follower of the great Leeds side featuring John Giles and Billy Bremner among others.
He played junior football with Limavady United, before signing with Irish league side Ballymena United in 1982.
A promising striker, the 17-year-old had already been capped by Northern Ireland at youth level by that stage.
"In those days, you had Linfield, who were the Shamrock Rovers of the Irish league, they were just winning everything," he explains.
"Ballymena were one of the mid-table teams who were never going to challenge for honours, but it was a starting point for me."
Initially, Speak played a mixture of youth and reserve-team football with Ballymena, helping the two sides get to cup finals, but losing both games to Linfield and Glentoran respectively.
In January 1983, he made a first-team breakthrough, coming off the bench to score against Larne and rarely looking back from there.
But even more so than his first goal, another memory from that period stands out in particular. In February 1984, he got a chance to play against a childhood idol and one of the most famous footballers of all time.
"We were drawn against Tobermore United in the first round of the Irish Cup," he recalls. "You could actually sign players then for one or two games.
"Tobermore United had signed George Best. He was 38. That was my first year in football and I actually scored a hat-trick in that match, we beat them 7-0.
"The match was called off twice because of the condition of the pitch. It wasn't much better on the third date. It was a bog and there wasn't a speck of dirt on George. He just glided around the pitch, he was amazing. But the team he was playing for, Tobermore United, were a B division club. It was just more of a publicity thing, he didn't have much along with him, and we ended up destroying them.
There was sort of a pitch invasion then, because everyone wanted to get George's autograph and everything else. I just shook his hand after the match and that was it.
"I don't know if it was the agent he had with him or not, but it was out the backdoor and away after the game."
Speak was instrumental as Ballymena United lifted the Irish Cup in 1984, scoring a couple of goals including the winner amid a 2-1 quarter-final victory over Linfield.
His first season at the club had been a resounding success and it was not long before League of Ireland sides took notice.
He played on trial for Jim McLaughlin's famous Shamrock Rovers 'four-in-a-row' team against Dundalk, but it was the Lilywhites who ended up signing him.
Back then in particular, the League of Ireland was not for the faint-hearted.
I would love to be a forward nowadays. In the League of Ireland, we used to get kicked from one end of the pitch to the other. You'd just get up and get on with it, because everybody was doing the same.
"I remember after Noel King left Derry City and he signed for Waterford, he went in for a 50:50 tackle, he broke my shinpad in half, and I got booked.
"Some of the players back then were as cute as foxes. I was the kind of player that would get kicked from one end to the other, but just jumped up and got on with it, whereas the cute players would have rolled about on the ground as if they were shot and they got you booked."
Adapting to the pace and physicality of the League of Ireland was not especially easy for Speak.
"The League of Ireland and the Irish league are two completely different standards," he says. "There were a lot of players [from the Irish league] who struggled in the League of Ireland.
"In the Irish league, you had a lot more time on the ball. Anybody who did well in the League of Ireland could easily play in the Irish league. But very few Irish league players could play in the League of Ireland.
"A League of Ireland match would be like a Rangers-Celtic match — high intensity at 100 miles an hour from start to finish. Whereas, the Irish league, you could probably compare it to an Italian game — slow, quick, slow."
Speak struggled to adapt in the season he spent with Dundalk, scoring just two goals for the club. He was still a teenager and the length of time it took to travel there from his home did not help matters.
"In hindsight, it was probably a mistake, because at that time, I didn't even drive — I was 17, I had no license," he recalls
"[Dundalk] asked me to sign — it wasn't that I was out of favour. Me and the manager at Ballymena weren't seeing eye to eye. I was only an amateur, he was pressurising me to sign professional forms, but I was quite happy to stay as an amateur, because I was still young.
"Basically, it was going to be 'sign these forms or you're going to be left out'. That's why I was able to walk out after the season, because I was an amateur.
I was having to get trains to get down to Dundalk, I wasn't training down there, there were a lot of Dublin-based players, and when you're travelling from the north, it's difficult to fit in.
"There was no bypass round Carrickmacross or Castleblaney, so it was about an hour and 45 minutes [to travel].
"I probably wouldn't signed for Dundalk if the Ballymena manager hadn't asked me to sign a professional contract.
"So I was happy enough – [the move] was bad timing."
After six months with Dundalk, Speak returned to Ballymena, who had appointed a new manager by that stage.
Once back at the Irish league club, Speak more or less picked up where he left off, contributing 22 goals in a two-year spell.
"I did well, but Ballymena were sort of in transition. We were never going to win anything.
"The manager at the time was a guy called Jimmy Brown. Jimmy called me in one day, and because the team weren't going well, he said to me: 'Look, Derry City are making inquiries and to be honest, my time here is short-lived. I think I'm going to be sacked. So how would you fancy a move to Derry if I can swing it?' I said: 'I would love it,' because it was only 15 minutes away from me in Sion Mills."
Speak joined a Noel King-managed Derry City side in August 1987. In his first season there, the team could only finish eighth in the league, but Speak had a memorable campaign from an individual perspective, finishing as the Premier Division top goalscorer with 24 goals. The Candystripes did also get to the FAI Cup final that year, losing 1-0 to a double-winning Dundalk side.
It was a time of significant transition at the Brandywell. Jim McLaughlin, who managed the famous mid-1980s Shamrock Rovers team, replaced King as Derry manager. Amid Shamrock Rovers' financial troubles, five players from the Hoops' history-making side went up North.
As a result, Derry became a formidable force, eventually winning a historic treble in the 1988-89 season, with Speak a key figure. Looking back now, he describes it as the highlight of his career.
"I don't think it's been done before or since. Even with the good Rovers teams who won everything, we were the only ones to win the treble.
"It was fantastic, we were getting crowds of 8-10,000 at home and bringing crowds of 3-4,000 away.
"You had the ex-Shamrock Rovers contingent: Noel Larkin, Paul Doolin, Mick Neville, John Coady and Kevin Brady. So [McLaughlin] brought all those players into the club. I think we had a squad of 17 players that season that we won the treble with.
"With the crowds we were getting and the atmosphere, it was like playing with a top-flight club in England, only on a smaller level. There used to be 40 or 50 people watching training and they'd get autographs.
It was a blend of experience and youth, and because Derry were not long back in the league, [there was] the hunger and expectations of the fans and everything else. It was a great time for the club and the players, and it made everybody want to do so well, probably for Derry.
"There was over 20,000 in the Guildhall Square when we were coming back with the trophy. Even on the journey home I would be three miles from Strabane.
"There was a whole car park in Strabane where the team bus stopped as well. There was a big celebration the whole way on the route home, there were people out and flags and scarves and probably for the whole of the north-west, it was just an amazing time and it was great to be a part of it all."
Speak now looks back on his time with Derry as the best days of his career.
"I absolutely loved it. There was no money. The first three years I was at Derry City, I was on 30 quid a week. I wasn't working and I used to drive down every morning from Sion Mills to train.
"There were three or four full-timers. I used to train with them, because I wasn't doing anything else. The buzz about the whole thing was just fantastic. You wanted to better yourself, so you went in for the extra training, but money didn't come into it. You would have played for nothing."
Even this period was not without disappointment. After their treble triumph, Derry faced Benfica in the European Cup over two legs. They lost 6-1 on aggregate, and Speak didn't play a minute of action
"Aleksandar Krstić actually came back to Derry City [for a second spell]. Jim McLaughlin played him up front in both the Benfica games and he didn't even give me a run out for five or 10 minutes.
"Especially in the Stadium of Light, that would definitely be the lowpoint of my footballing career. We were 4-0 down out there, so if I could have even got 10 minutes, but I didn't. It was a little disappointing. We had only used one sub.
"We got a penalty in the Stadium of Light, Stuart Gauld was our regular penalty taker. Krstić grabbed the ball, wouldn't let Stuart take the penalty, and missed the penalty."
The team could not emulate their success the following season, finishing three points adrift of champions St Patrick's Athletic. The following campaign, they came a disappointing seventh, while they followed that up by an improved second-place finish.
By then, however, Speak had been deemed surplus to requirements, after Roy Coyle replaced Jim McLaughlin as manager in 1991. Much to his dismay, the 26-year-old striker was told he was not part of the club's plans for the future.
Different managers have different ideas," he says. "I was leading goalscorer for the five seasons I was at Derry. I had another year on my contract still to run. I believed in my heart that I would have finished my career with Derry. I never felt I would have left and I had no intention of ever seeking to leave.
"[Roy Coyle] called me in at the end of the season and told me that I wasn't in his plans.
"He signed somebody from St Pat's who I think scored two goals in 40 odd games.
"I thought I would have been there for the rest of my days and I would have been more than happy to stay there.
"There wasn't an explanation given. He just said he was re-building the team and he had got rid of a few players.
"If the manager tells you you're not in his plans, then what's the point of hanging about?
"Hindsight's a wonderful thing. If I stuck to my guns and stayed the year that was still on my contract, I would probably have ended my career at Derry, because he didn't last [as manager]."
After this setback, Speak returned for a third spell at Ballymena. Though he retained a respectable goalscoring record over the next two years there, he had lost his love for the game.
I suppose after the disappointment of leaving Derry, I was totally disillusioned and I was really going through the motions rather than keeping myself right and wanting to play — the hunger wasn't there anymore, if I had given it up at that stage, it wouldn't have bothered me.
"I just fell out of love with the game, but I had spoken to the manager at Ballymena and I made my feelings clear to him. It's over a two-hour drive to Ballymena. I was doing that on a Tuesday and a Thursday and then [driving] wherever we were playing on a Saturday.
"In the winter months, you'd have to go over the Coleraine mountain to get to Ballymena, with the wind and the rain and the snow and the ice. I really didn't want to do it anymore.
"It was [a step down in quality] and you'd go out on a Saturday and play in front 300 or 400 people rather than 7-8,000. The shine had gone out of it."
In August 1994, Speak returned to the League of Ireland after Patsy McGowan's Finn Harps made an approach for him, with the star eventually signing for £14,000.
"They were only 15 minutes up the road from me as well, so I said I'd give it a go, just to see if I could get the hunger back again."
After signing with the Donegal-based club, Speak rediscovered his love for the game.
"For one, it was only 15 minutes away from me, so training was handier. I knew a lot of players at Finn Harps, because of my Derry City days. I started getting the hunger back, and the banter and the craic. It started to become good again."
In the 1995-96 campaign, their star striker inspired the club to promotion to the Premier Division, finishing the season as top scorer with 17 goals.
They flirted with relegation but ultimately survived the next two campaigns, before a memorable 1998-99 season saw them finish fourth in the Premier Division, as well as reaching the FAI Cup final, agonisingly losing to Bray 2-1 after a second replay, with Speak scoring in two of the three matches.
It was a joke to start with. A final should be finished on the day. The first match was an absolute disaster — I felt sorry for anyone that had paid money to come and watch it. Then the second match, we absolutely beat Bray into the goals, but we couldn't kill them off.
"They got an equaliser, a stupid penalty that we gave away. Then they beat us in the second replay — there was nothing we could do about it.
"The only good thing I can take out of it is John Walsh, who was goalkeeper for Bray, had been goalkeeper at Harps most of the years I was there. And if you would ever have wanted a man to win a cup winners' medal, you could never have wanted anybody more than John Walsh to have won one. He was a true gentleman. He was just a totally down-to-earth goalkeeper.
"Because he was playing with Finn Harps and Bray, he was never going to get the accolades and medals he deserved, but he was a fantastic goalkeeper.
"We hated Bray, but John Walsh – that was the only good thing that came out of us getting beaten."
Source: retroloi/YouTube
The following season was less successful, as Harps finished eighth in the league.
In 2000, as Speak was nearing the end of his playing career, Gavin Dykes replaced Charlie McGeever as the club's manager, and appointed the veteran star as his player-assistant boss. Dykes' reign proved ill-fated though, and he stepped down after less than a year in charge. With the team looking odds-on for relegation, Speak became caretaker boss and oversaw a miraculous run.
"Gavin took over and we had an absolutely disastrous time. I think we had 11 points from 20 games, so there were 13 games left in the season. We ended up getting relegated on 36 points — the highest points any team had ever been relegated on [one point behind UCD].
"Our near neighbours [Longford], we blamed them for getting relegated. They were in the cup final and had two backlogged fixtures against UCD and they didn't win either one of them. I think they played the majority of their youth team to save boys for the cup final. If they had won even one of the games, we would have stayed up."
So what did he put the team's significant improvement under him down to?
Sometimes a change in personnel perks everybody up. Once you get that taste of winning, you want to do it more and more. From them 11 games, I think we got 22 or 23 points. We had some great results. We beat Pat's 4-1 down in Inchicore, which was unheard of — it was just a great time. I suppose the pressure was off the players, because nobody expected anything of them. We just wanted to make it enjoyable and it nearly kept us up.
"I don't think it was Gavin Dykes [who was primarily at fault]. The team that nearly stayed up was the team that he built.
"It was probably just the pressure off the players. The last 11 games were just seeing what we could do, getting ready for the following season, but we surprised a few people."
After their near miss and drastic improvement, Speak was appointed as permanent manager for the 2001-02 season. He was paid €275 a week in his new role.
"That's the highest I ever earned weekly in my football career. I just loved playing — money never came into it," he adds.
Despite this incredibly promising start, Speak didn't particularly enjoy life as a manager.
"I wouldn't recommend it to anyone. I definitely wouldn't go back into it, because when you see the other side of it that goes on behind the scenes, you need to be a friend to some players, put an arm around their shoulder and tell them how fantastic they are.
"Other players need a kick up the backside. You have to be a person manager and an agony aunt — then you have boards of directors to contend with, the fans, the press to deal with, it's just 24/7.
"You have to be [a psychologist], because no two players are the same, or no two people are the same — you can't treat everybody the same because you won't get the best out of them.
"Some players think they are the best thing since sliced bread. Other players are great players, but they don't realise it — it's the opposite problem."
Source: FinnHarpsFC/YouTube
The following season saw Finn Harps suffer more bad fortune. Only one team was granted automatic promotion from the First Division, and Drogheda United pipped them to the title on the final day of the season.
They were then put into a promotion-relegation play-off with Longford, and another agonising outcome ensued.
Having lost the away first leg 1-0, Harps fought back and prevailed 3-2 at home. With the scores level on aggregate and no away-goals rule, the game went to extra-time and then penalties, with Longford ultimately triumphing 6-5 and retaining their place in the Premier Division as a result.
And what happened next left an especially sour taste.
"One of the actual board of directors told me a few weeks after that match he was glad that we didn't achieve promotion, because Finn Harps were not financially secure enough to be in the Premier Division.
"I still had a year left on my contract to run and I came to an agreement with him for a payoff. It was the same old story: 'We don't have any money, we can't go forward from here, we don't know what we're going to do,' and then they bring in Noel King as manager. It was cry me a poor mouth
I still have a lot of friends at Finn Harps, but I haven't been back to Finn Park. A couple of weeks after I [effectively] got the sack, the players asked me to come up for the next home match to come out for a drink. So I agreed. The chairman saw me coming up the street, he handed somebody a ticket to give to me to get into the ground — I wasn't even allowed into the club house. That was after nine and a half years I gave to Finn Harps, and every Tom, Dick and Harry was in the club house looking out. I was only allowed enter the ground. So I haven't been back since.
"I was so disillusioned that, believe it or not, I don't even watch football anymore. I don't look for the Finn Harps or Derry City results. I don't even watch Premier Division football anymore.
"I've watched all the rugby matches this year, I watch all the golf, I watch tennis, I watch anything apart from soccer."
It was a sad end for a player who had done so much for the club and another stark example of how cruel football can be. Just a few weeks ago, another League of Ireland legend, Tony Fagan, spoke to us about how he was harshly dispensed with following 20 years at Sligo.
Having left Finn Harps, Speak's management career ended after a brief spell in charge of Omagh Town in 2004.
"It was probably on the rebound from Finn Harps," he says. "I went up to Omagh for six months. They were on their knees, they hadn't a penny, it got to the stage where players were owed nine or 10 weeks' wages. When you'd go to pick a player up, he just wasn't there.
"They ended up going out of business, so it was time for me to go and thankfully, I've stayed well away from it."
Partially as a consequence of how he was treated, nowadays, Speak has little contact with the world of football. There are occasional exceptions though.
"I went to the 25th anniversary dinner of the Derry treble-winning team in 2014. I met a few of the boys and the odd time, I'd be talking to Liam Coyle and I met Peter Hutton one day. From time to time, I would meet them. But to see how people have changed — there was a fella, Paul Carlyle, who was there, they called him 'Storky'. He was like a stick, he played for Shamrock Rovers as well. At the 25th anniversary dinner, I told him to stand beside me, because he made me look skinny.
"It's mad how people change, but all the memories are fantastic to have.
"I still see people from time to time, but not often. I don't go out of my way to see them, because I'm not really football-orientated anymore. I've had my day."
Another reason for Speak's reluctance to engage with the world of football is that he has other priorities now.
"I'll tell you what it is, I have a son and he's 30 this year, my daughter's 27. With working and the football all weekend, I never saw them grow up. I've got two wee grandchildren, a wee granddaughter and a wee grandson. And I spend every weekend with them.
"I'm trying to make up for not being a father and not being there for my own two when they were growing up. And I'm sure there are plenty of players out there that could say the same.
"I just lost my da a couple of months ago, but I remember when I was in the Northern Ireland youth team, he had a wee grey van. He used to take me to Ballymena.
I was playing for Northern Ireland youths. We were up in Seaview one day, there was me and a fella, Kevin O'Neill. My dad brought two sleeping bags in the back of the van to get us sleep before the match and I was only 17.
"They're good memories, but there are more important things [than football]."
Not seeing his children often enough is one of a number of sacrifices Speak had to make in order to become a League of Ireland star.
"The only good thing about the Irish league is that the furthest you have to travel is probably two hours.
"Whereas the League of Ireland was seven or eight hours down to Cobh and Cork, and overnight stays.
"I remember going to play down in Cobh. I was a postman at the time. We played Cobh on the Friday night. In the North, there's post on the Saturday, not like the South where there's no post.
"I can't remember what time we left Cobh. But we started at five in the morning, I took the post officer uniform with me and I was an hour and a half late for work. We got back at half six on the Saturday morning.
"With League of Ireland, the part-time players get time off work, but they don't get reimbursed for it or if you're self-employed, you don't get expenses for taking time off work. So it is a big commitment."
And after a League of Ireland career that spanned three decades, all those tough games against unforgiving opponents have taken a toll on Speak's body.
"When I was at Finn Harps, I was a postman for a few years in Strabane. It was '06 when I left the post.
"I've a license for driving buses, but I'm doing very little of it at the moment. For all my footballing days, I've been crippled with arthritis.
"One thing I will say is we had a three-month pre-season break in the summer, where you just lay about and do nothing. The young fellas of today, they go from soccer to Gaelic and back again. I don't know how they're going to cope in their 40s, because the body needs time to recover."
Speak does acknowledge though that the modern advancements in training methods are likely to leave young athletes in better stead than their predecessors.
"There's so much technology now. We used to do pre-season training and go to forests, beaches and you ran until your arms were moving, but your legs couldn't move.
It was so intense. Boys were throwing up and you trained in the morning and the evening in pre-season. It was cruelty, that's what it was.
"It's all technology now. If you run for a minute, you're supposed to rest for a minute. We ran for an hour and rested for five minutes."
Ultimately though, Speak leaves a proud legacy and feels all these sacrifices were at least somewhat worthwhile. He is grateful for his time in football, but equally happy to be out of it now.
"I can say it now, it is a short career. I still remember every game I've ever played for Derry or Finn Harps, I remember every goal I ever scored like it was yesterday and I'm 53 this year."
The42 is on Instagram! Tap the button below on your phone to follow us!