ENGLAND HAVE NOT accrued the silverware they should have over the past few years and that makes them extra dangerous, according to Ireland fly-half Jonathan Sexton.
The 29-year-old — who made a stunning return to rugby after a 12 week absence with 15 points in Ireland's 18-11 Six Nations victory over France on Saturday — admitted England are a bit of a bogey team of late for his compatriots.
England will arrive in Dublin in two weeks unbeaten, like the Irish, after two matches and having produced perhaps the performance of the tournament so far in a come from behind win over Wales in Cardiff on the opening day of the Six Nations.
"They (England) have won four out of five the last three years in a row," said Sexton of the English record in the Six Nations.
"They probably don't have as much to show for it as they would like. We won the championship with four from five last year and they beat us so it is a strange one.
"It has been a while since we beat them. I don't think we've beaten them in four or five games if you include the World Cup warm-ups and stuff like that so it's a big one.
"They have obviously been very impressive against Wales. I didn't see the (Italy game) but they won so it must have been good."
Ireland coach Joe Schmidt, who has guided Ireland to nine successive Test victories — within one of equalling the present national record of 10 — said the England performance against Wales had been superlative and the young blood introduced into the team had added another dimension.
"I think (George) Ford has played really, really well," said Schmidt of the young England fly-half, who has seamlessly slotted into the playmaking role.
"I thought he defended well in Wales. He's not the biggest man but he's courageous and very correct in his defensive technique. His kicking game is bang on and he's a very astute young player.
"I think the footwork that Jonathan Joseph (centre) has and Anthony Watson (wing), they're very difficult to contain.
"I'd throw some of the guys who've been around a bit longer like Johnny May into that bracket as well. I thought his try against the All Blacks was exceptional in November."
- Baptism of fire -
Sexton was delighted to have emerged relatively unscathed — he had stitches inserted after a clash of heads with Mathieu Bastareaud — after a baptism of fire following his 12 week 'rest' for suffering four concussions last year.
However, he had nothing but disdain for former France prop turned writer Laurent Benezech who voiced his opinion that Schmidt didn't care for the medical welfare of his players.
"One guy says that I shouldn't play because Bastareaud is playing?" said an incredulous Sexton.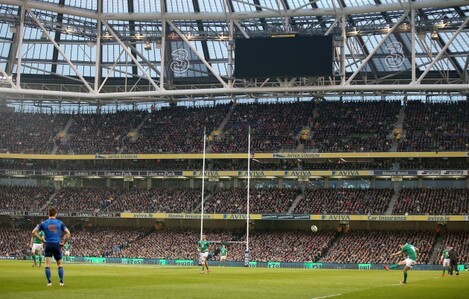 Jonathan Sexton kicks a penalty. Source: Dan Sheridan/INPHO
"Like, well then I can never play because next week I'm going to have to play against Fritz Lee. The week after I'll have to play against (England players) Luther Burrell and Billy Vunipola.
"It's absolute stupidity to say that I shouldn't play because Bastareaud was playing.
"Joe Schmidt gets told by the doctors who is fit and who's not and I don't know why he got brought into it by this fella who seems to have an opinion on everything."
Sexton conceded he could understand parents of young players being concerned at a player of his calibre suffering so many blows to the head.
"Yeah, of course I understand the concern," he said.
"But when you get kept out of the game for 12 weeks and then someone says you shouldn't play because there's one certain player playing against you its just stupid.
"I took 12 weeks off which was the best thing for me as a player and a person and for my health and I was one hundred percent fit today. I proved it with that bang on the head and I felt absolutely fine after it."