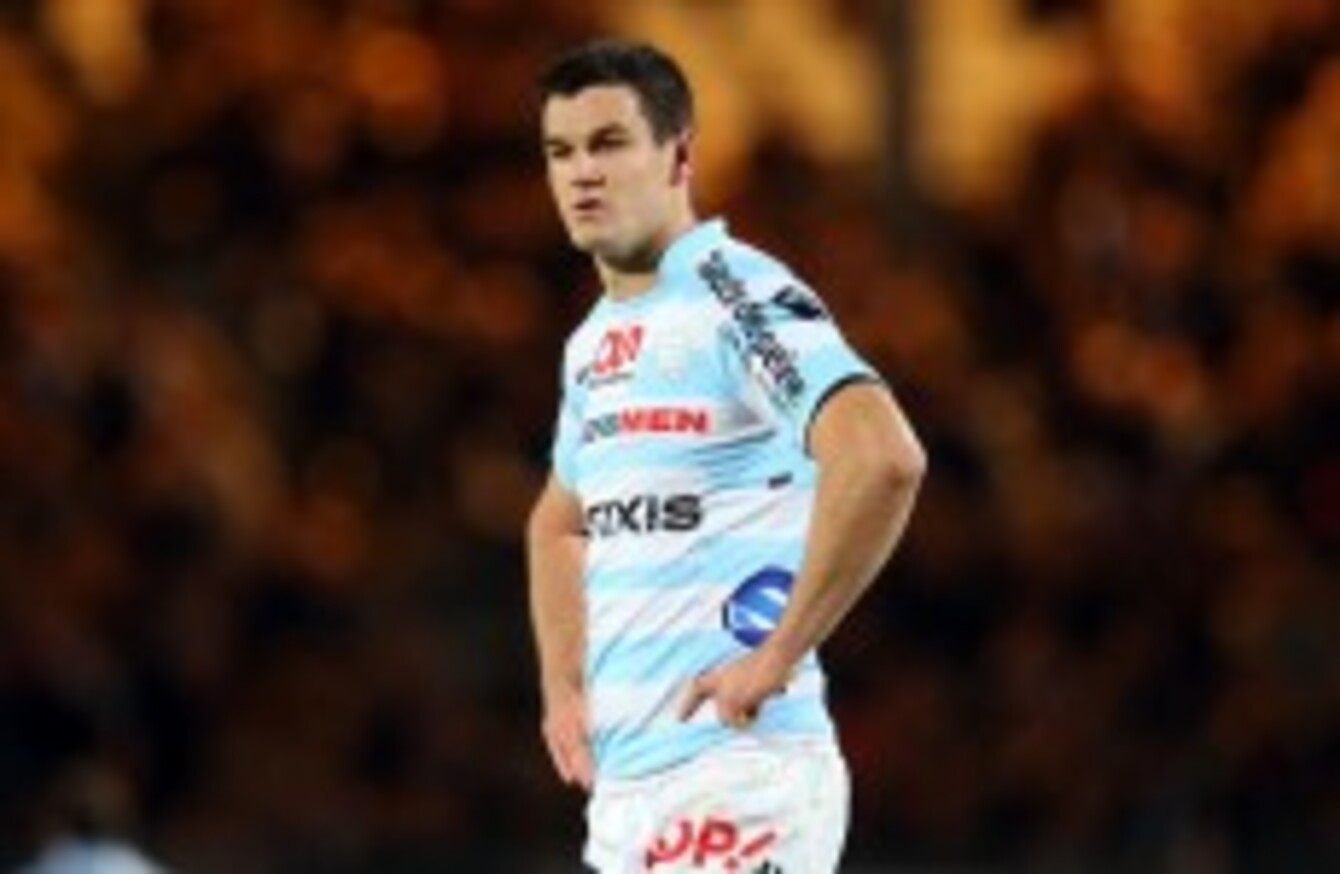 Sexton has been one of Racing's better players this season.
Image: ©INPHO/Dan Sheridan
Sexton has been one of Racing's better players this season.
Image: ©INPHO/Dan Sheridan
HALF A SEASON into the French adventure and things haven't quite gone according to plan for Jonny Sexton just yet.
It's too early to judge whether his time with Racing Métro is ultimately going to be a success, but the early signs are concerning. The Parisian club sit eighth in the Top 14, trailing leaders Clermont by 12 points, but just one point behind Montpellier in sixth [the final play-off spot].
It's far from disastrous, but it's also some distance from where owner Jacky Lorenzetti would have wished for his expensively-assembled team to be at this point of the season. The multi-millionaire founder of estate agency Foncia would surely have been aware that a project such as this takes time to bear fruits, and disjointed performances from a squad with so many new parts had to be expected.
However, no one anticipated the sheer lack of energy that Racing have displayed on the pitch so often this season. There is a growing lethargy around les ciel et blanc and if they cannot arrest it, they may be facing a failure to qualify for next season's Heineken Cup – a competition in which they have already been unsuccessful this year.
Surprisingly, given the quality of some of the back line talent in their squad, Racing Métro have scored the second fewest points and tries of any team in the Top 14. Only Biarritz, the bottom side, have scored less of both – it's that damning. Sexton has looked threatening, but so far hasn't been able to combine with the likes of Jamie Roberts, Benjamin Fall and Marc Andreu.
Sexton makes a line-break against Harlequins in the Heineken Cup. ©INPHO/Andrew Fosker.
Whatever about their attacking bluntness, the most worrying aspect of Racing's performances this season has been an apparent lack of simple effort. The sense is that the players in the capital club just aren't motivated to play for the jersey. We don't need to question Sexton in this regard, his commitment is beyond reproach no matter what colours he wears.
The other players too are obviously desirous of winning games, but there is a lack of focus in their actions, a lack of spring in their step, a failure to get off the ground as quickly as they can to make that extra tackle or to support the attacking player. Rucks are hit hard, but not quite smashed with sheer aggression; kicks are chased, but without the appetite of bloodhounds.
Laurent Labit and Laurent Travers, the highly-rated coaching duo who won the Top 14 with Castres last season, have been unable to work their magic yet, although they have always insisted that this project will take years rather than months to reap rewards. Still, their short-term frustration has been apparent, and they have publicly questioned the desire and work ethic of the Racing squad.
The media have been patient with the Lorenzetti's armada of stars, but that too is beginning to change. This morning's Midi Olympique [the French semi-weekly rugby newspaper] carried an article questioning Racing's foreign imports under the headline 'Sexton: Symbol of Frustration'. Elsewhere, the recent defeat to Harlequins in the Heineken Cup saw the Ireland out-half's kicking game criticised.
Sexton and his fellow high-profile additions are obvious focuses for the negative press, and they are now beginning to attract exactly that. Dan Lydiate has been a shadow of himself since joining from the Dragons. The Welsh flanker looks nowhere near his best physical condition, and is struggling with the increasing ball carrying demands les deux Laurents have placed on him.
Jamie Roberts has come in for some criticism despite an ankle injury. ©INPHO/Andrew Fosker.
It was jarring to see one of the best tacklers in the world missing a one-on-one against Charlie Walker in the defeat in London to 'Quins; Lydiate has made an art form of low tackling, but went in high with his arms and was shrugged off. It's a brief moment, but a genuine glimpse into his time with Racing so far. The club itself must be questioned too; did they actually know what type of player they were signing? Lydiate is no ball carrier.
As for Sexton, he has been cutting an increasingly frustrated figure on the pitch, that exasperated flinging of the arms up into the air becoming a far too common sight. The 28-year-old is at his peak and needs to be provided with quality possession if he is to show his full array of attacking skills. Unfortunately, that has been at a premium with Racing so far this season.
The Ireland international has been spared the ignominy of featuring on Midi Olympique's 'Flops of the Season' list this morning, where Roberts and Lydiate's failures to make an impact have been dissected. Sexton is certainly among the best performers for les Racingmen up to this point, and he is likely to be the driving force if the club is to turn the campaign around.
The former Leinster star must be patient; his agent Fintan Drury had surely researched Racing in great depth and informed his client that there was a lack of existing culture there. It takes time to build that crucial aspect within a group of players, but Racing need to do so urgently.
No matter who is in their starting line-up, no matter the tactics and techniques the two Laurents can bring to the table, if the players are not bursting to get onto the pitch and win, then none of it matters.
Racing need to find a motivating force for their squad; they need to create a unity that is real.
Like rugby? Follow TheScore.ie's dedicated Twitter account @rugby_ie >