A LONG-ANTICIPATED REMATCH between Dublin boxers Jono Carroll and Declan Geraghty has inched closer after Carroll last night confirmed he's willing to face his fistic nemesis four years on from their Irish fight of the year.
Carroll's initial reticence was scarcely born of fear, of course: the pair were originally scheduled to fight on the undercard of Carl Frampton's ring return last November only for Geraghty to withdraw citing a hand injury.
This left Carroll without a fight at short notice and therefore out of pocket in the lead-up to Christmas, an issue he touched upon in his interview with this publication late last year.
Feeling an added resentment toward Geraghty, whom he accused of feigning injury (in one of their famed social media exchanges Carroll labelled his rival 'the biggest wanker I ever met in my life'), 'King Kong' impressed in almost maniacally blowing out late replacement Humberto De Santiago in Belfast, but later claimed that to fight Geraghty in 2018 would be not merely a step backwards, but 'a jog backwards'.
'Pretty Boy', meanwhile, has remained steadfast in his insistence that his injury was legitimate, and in a recent interview with Irish-boxing.com, once more called for the rematch he has craved since suffering a disqualification defeat during the pair's original barnburner in 2014.
The 27-year-old, two years Carroll's senior, mused of his managerial stablemate: "Is he game? You will have to ask him. I have heard some stories saying he is, but then I have heard whispers he doesn't want the fight. All I can say is I said yes and I hope to God it happens this year."
Carroll responded to Geraghty's claims on his personal Facebook account, tagging his 'friend' in the process. (Spelling and punctuation has been amended in the following quotes):
"I could only read clips because I believe I heard it all coming from Declan Geraghty in the past," Carroll wrote.
"This is a fight that only you have called out for. No one asks me about you. If anything they all say, 'don't waste your time with this muppet' (their words not mine).
"You never heard a story that I didn't want this fight because those words never, ever came out of my mouth.
"So unless one of your 'yes men' made a story up to keep you happy you're talking brown once again :).
I'll talk to the team and fling you a bone once AGAIN but you better not pull out or you will never get this again – I promise you that. (AND JUST SAYING, I DON'T NEED YOU BUT YOU NEED ME – HOW DOES THAT FEEL???)
"Haha, oh how the tables have turned. I'm only happy to smash your head in.
"Why don't you tell everyone about you not wanting to spar me? I was willing to pay your flights, food and even give you a wage but you said no :). So when I get offered good money to smash you up, I don't need to think twice about it."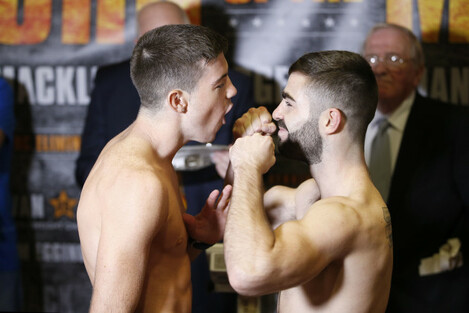 Declan Geraghty and Jono Carroll clash at the weigh-in for their 2014 fight of the year
The Dublin duo – who are both signed to Mack The Knife Global (MTK) – have clashed on Facebook on countless occasions since their original classic on the undercard of founder Matthew Macklin's bout with Jorge Sebastian Heiland at the 3Arena in 2014, their careers inextricably linked.
Since his shock victory in what was a memorable scrap, Carroll remains unbeaten with 15 wins and is targeting world honours within the next 18 months.
Geraghty, meanwhile, was stopped by Belfast's James Tennyson in an Irish super-featherweight title bout last March, but rebounded with a points win over 19-fight unbeaten prospect Michael Roberts in the latter's back yard four months later. His record currently stands at 15-2.
Carroll-Geraghty II has been mooted to The42 by both Eddie Hearn and Brian Peters as an ideal undercard bout for Katie Taylor's homecoming show at the 3Arena, which is nearing confirmation for 14 April.
Geraghty will first return to the ring in Belfast on 10 February, where he'll attempt to rid himself of any rust on Mark Ginley's Danger at the Devenish 3 card.
The42 understands that MTK intend to make the fight in the coming weeks, with confirmation of Taylor's homecoming expected at some stage in the next seven days.