CONOR O'SHEA BURSTS out laughing when he's asked if Jordan Larmour reminds him of a young version of himself.
The 20-year-old Leinster back has been named on Ireland's bench for Saturday's clash with O'Shea's Italy team, with many expecting this to be the start of a long and exciting Test career for Larmour.
Former Ireland fullback O'Shea has been watching on with interest as Larmour has risen swiftly through the ranks and the comparison the Italy coach draws is with an All Blacks legend and one of the greatest players of all time.
"He reminds me of a young Christian Cullen, that's who he reminds me of because I haven't seen someone who can step off both feet like that," said O'Shea this afternoon in Dublin after naming his side to face Ireland.
"I couldn't even step off one foot, I just ran straight the whole time! He's talented and, hopefully, we'll welcome him."
While O'Shea is naturally focused on limiting Ireland's success with ball in hand this weekend, he is also looking forward to seeing Larmour stepping up into the international arena.
"I have to say I personally can't wait to see him up close and personal," said O'Shea. "I hope he doesn't do too well.
"He is box office, isn't he? To have that sort of ability and I'm sure Joe will nurture him through only the way Joe does.
"I'd love to have been a fullback who could step off both feet and gas people from 70 yards every week. It will be fun watching him when he comes on but we will look at him after the game."
O'Shea instead turns attention to Italy's 21-year-old fullback, Matteo Minozzi, who showed his promise against England, with the Azzurri boss calling him "outstanding."
Minozzi will win his fifth cap against Ireland on Saturday, with O'Shea making just three changes to his starting XV.
One man who misses out is Irish out-half Ian McKinley, who made his debut for the Italians last November and is part of their wider Six Nations squad.
Tommaso Allan retains the 10 shirt, with Carlo Canna backing him up, denying McKinley the opportunity to make his Six Nations debut on native soil.
"He was disappointed because he wants to play, that's the bottom line," said O'Shea of McKinley's reaction to missing out. "I knew it would mean a lot to him, so I said as much.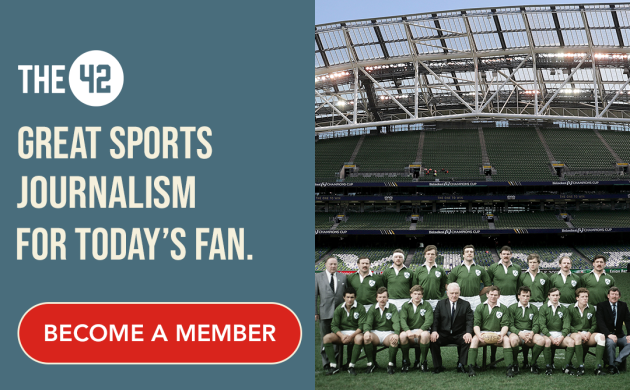 "But Ian's a rugby player, he's not a romantic story. Ian wants to be picked because he is the number one rugby player and has the right to be in this team at the time, not because he's a story.
"Sport is full of romance but the hard-nosed side of it is that at the moment, Tommy Allan had the jersey last week and was outstanding, and Carlo Canna is one of the top points scorers in Pro14 rugby and an exciting attacking talent who brings a different skillset.
"I'd love to have picked Ian, I wanted to pick him in so many ways but how could you say to the other players, 'You're not picked because I want to pick Ian on romance.' Ian is a rugby player and he's a bloody good rugby player.
"He has forced his way from going to junior club rugby, coaching in rugby, going into Zebre on a trial, going over Treviso – by force of nature.
"I'm sure that this setback, in his mind, will only steel him even further to put more pressure on the guys above. That's what he said to me – 'I want to be a headache.'"
The 42 is on Instagram! Tap the button below on your phone to follow us!