Updated at 20.04
MANCHESTER UNITED ARE on course for their most successful season since the Alex Ferguson era ended, yet in some ways, it feels as if they are further away than ever from those halcyon days.
Both the partial cause for their success and a significant reason for the air of disenchantment surrounding Old Trafford is Jose Mourinho.
A key to understanding Mourinho's methods lies in the controversial but respected and widely cited Diego Torres biography of the Portuguese boss.
In the book, Torres outlines Mourinho's seven-point plan for big games:
1. The game is won by the team who commits fewer errors.
2. Football favours whoever provokes more errors in the opposition.
3. Away from home, instead of trying to be superior to the opposition, it's better to encourage their mistakes.
4. Whoever has the ball is more likely to make a mistake.
5. Whoever renounces possession reduces the possibility of making a mistake.
6. Whoever has the ball has fear.
7. Whoever does not have it is thereby stronger.
This supposed philosophy will ring true for anyone who has watched Manchester United this season. The ultra-conservative approach has been consistently apparent. Last November, Mourinho's side's away record against the other 'big six' sides was particularly damning: it read, nine games, no wins, one goal.
Even the more measured critics have expressed some reservations with the team's style. "I think (Mourinho's tactics) are a problem in the long-term, but I think at the moment Manchester United need a cold, hard winner," Gary Neville said last October.
And there is no doubt that Mourinho's system gets results. There are few if any managers you would fancy more to emerge successful from one-off games — of the 14 finals he's been involved in, the Portuguese coach has won 12 (he could make it 13 against Chelsea at Wembley later this month).
An interesting contrast is with Mauricio Pochettino, who in many ways, seems like the polar opposite figure to Mourinho.
Pochettino's Spurs teams have been thrilling to behold more often than not, playing a brand of football that fans enjoy watching.
United are on the brink of finishing second and yet there is still a sense of dissatisfaction at the club. Conversely, when Pochettino guided Spurs to this position last year, he was roundly praised.
There are caveats, of course. United's spending power far exceeds Tottenham's, while the level of expectation at Old Trafford is greater.
The two teams came up against one another in a recent FA Cup semi-final encounter and the coaches in question reverted to their stereotypical image.
Tottenham dominated the ball and played the more attractive football. United sat back, soaked up pressure and waited for their opponents to make a mistake.
Ultimately, Mourinho's seven-point plan worked perfectly. United won 2-1, despite having just 36% possession. Both the Red Devils' goals emanated from Tottenham mistakes. The first stemmed from Mousa Dembele losing possession just outside his own penalty area. The second came about as a result of Davinson Sanchez failing to deal with a long ball.
Source: The Emirates FA Cup/YouTube
This match feels like a fairly typical example of United under Mourinho in a big game, where they are generally happy to cede control of the ball. Consider their possession stats and results against the other 'big six' teams in the Premier League this season: Liverpool away (38%) 0-0, Tottenham home (45%) 1-0 win, Chelsea away (46%) 1-0 loss, Arsenal away (25%) 3-1 win, City home (35%) 2-1 loss, Tottenham away (47%) 2-0 loss, Chelsea home (44%) 2-1 win, Liverpool home (32%) 2-1 win, Man City away (35%) 3-2 win, Arsenal home (59%) 2-1 win (all figures per BBC Sport).
The one anomaly there is the Arsenal game. It should be noted that the Gunners fielded a largely second-string team with an eye on their upcoming Europa League semi-final. Otherwise, though the results vary, the opposition have greater possession in every game. And it seems likely that this outcome is exactly what Mourinho has planned
It also perhaps part of the reason why United, in addition to beating every other 'big six' side at least once, have also experienced a series of underwhelming results, including losses to all three promoted clubs.
Mourinho designs his teams to stop the best sides playing. This philosophy reportedly caused consternation among certain members of the Real Madrid dressing room during his time there.
The problem for the 55-year-old coach, though, is that his United team has not been successful enough for this negative style of football to be unconditionally accepted.
In addition, when the squad lacks an abundance of players with the creativity or attacking instincts of other top teams, you sometimes get results like the 1-0 losses to West Brom, Brighton or Newcastle. Mourinho's Red Devils teams frequently look less comfortable when the opposition sits back and allows them the type of possession they normally shun.
Such a predicament is particularly noticeable in a Premier League season where attacking football is arguably more in vogue than ever. While previous champions Chelsea and Leicester won titles by employing a style that was closer to Mourinho's than Guardiola's, where counter-attacking and defensive organisation were key, City's free-flowing football this year has proven that Premier League poets can sometimes thrive.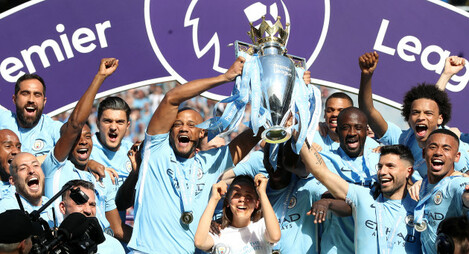 Manchester City's Vincent Kompany (left), Yaya Toure (second right) and Sergio Aguero lift the Premier League trophy. Source: Martin Rickett
The type of possession-based football that City employ, as Liverpool and Tottenham do to an extent, feels very much in sync with the times.
The level of interest in and financial power of football clubs is at an all-time high, but we are also living in an era where there are more distractions than ever.
Falling footballing TV viewing figures in recent years have indicated that supporters' diminishing attention spans are an issue. The average young fan is perhaps more likely to view an internet goals compilation than a 90-minute game.
As a consequence, to keep people interested, winning with style seems more important now than it did when Mourinho came of age as a manager in the early-to-mid '00s.
Granted, in the early years of his first Premier League spell, it was hardly boring witnessing Mourinho's three-pronged Chelsea attack consisting of Damien Duff, Arjen Robben and Didier Drogba. But only the latter was signed under his watch, and by the end of his tenure, Duff was sporadically played at left-back before being sold and the coach had overseen the infamous 'shit on a stick' Champions League semi-final against Liverpool, which was in almost every way the antithesis of the Reds' recent clash at the same stage of the competition against Roma.
Football, more than ever, has become aligned with entertainment. In reaction to the Real Madrid-PSG Champions League last-16 clash, Jonathan Wilson wrote in The Guardian: "This was a film executive's idea of football, a game that called to mind the fact Real Madrid's director general, José Angel Sánchez, has said the club sees Disney as its model."
Man United, despite the big-money signings of players like Paul Pogba and Romelu Lukaku, are not a club whose style of football prioritises pleasure over pragmatism. If Jose Mourinho was a Disney character, he would undoubtedly be a villain. The Portuguese being the face of one of the biggest clubs in the world (Real Madrid) never sat right and it also seems imperfect, particularly in this YouTube era, for him to be leading a team with the traditions of Manchester United.
Mourinho has famously never lasted more than three seasons as manager of a single club. Next year will be his third campaign in charge of the Red Devils. During both stints at Chelsea and amid his Real tenure, the sides peaked in the second season, before going downhill in the third. Unless he reverses the trend at United next year, a feeling of déjà vu awaits the under-fire manager.
Originally published at 19.00
The42 is on Instagram! Tap the button below on your phone to follow us!