THIS IS WHERE it all started for Josh van der Flier. This is where the journey began.
Tucked away on a meandering country road flanked by fields and farmland, Wicklow Rugby Club's towering floodlights stand tall over the surrounding lands.
The entrance is concealed, only distinguishable by the brown road sign outside, and as the drive-way widens you're greeted by an alluring old-school clubhouse and three pitches. It could, in truth, be any rugby club in the country.
Inside, the walls are steeped in history. 53 years of it as photos of teams line the corridors and bar and silverware is proudly displayed for any member, and visitor, to admire.
Wicklow's second team have just beaten Tullow in Division 1B and there is a good crowd inside celebrating the result. A visit from van der Flier may also have contributed to the healthy turnout on a Sunday evening so close to Christmas.
Coming back to familiar surroundings is still a little bit surreal for the 23-year-old. A few short years ago, he was the kid with the red scrum cap playing on these very pitches harbouring dreams of becoming a professional rugby player.
Now, he returns as the pride of the club and an inspiration to those looking to follow in his footsteps.
"A few people have been coming over to say congrats," he says. "They would have been guys I played with at underage or people who coached me at U8s or whatever. It's a bit weird."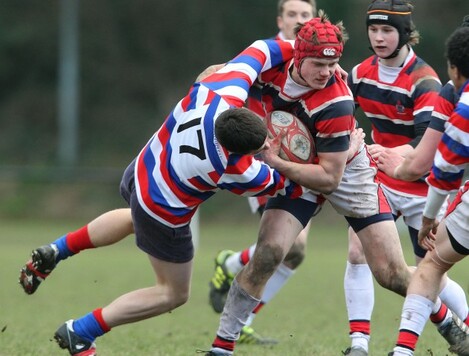 In action against Templeogue in the Vinnie Murray Cup back in 2011. Source: Lorraine O'Sullivan/INPHO
He takes it all in his stride. Photos and autographs, van der Flier happily obliges and does so with a smile on his face. He's still in that pinch-me-I-must-be-dreaming stage.
His development and progression through the ranks has been such that it's difficult to take stock of it all. Meteoric is a bit of a cliche, but it's applicable. Leinster Young Player of the Year, IRUPA Young Player of the Year, Pro12 Team of the Season; and then there's an international debut at Twickenham. What has happened since has elevated his stature further.
"It's still very surreal to be honest," he tells The42. "Even coming down to Wicklow again, it's difficult to kind of get your head around.
"The odd time I'd go into the Ireland or Leinster changing room and see the likes of Jamie Heaslip or someone you looked up to for so long and then you're playing with him. Even though I've played with all the lads a few times now, it's still a very strange experience."
A dream, that became a reality and now an experience he's savouring every single second of.
"I always wanted to be a professional rugby player," he continues. "I was small in school until maybe Sixth Year and I started doing a good bit of training from Fourth Year onwards. But I was always real small.
"I thought I would have to wait until I was like 27 or so by the time I was big enough or good enough to become a professional. I just tried to work as hard as I could and it went quite quick from there.
"I've been very fortunate and blessed really that it just kind of clicked for me. A few trials went my way, got the bounce of the ball a few times in games that helped me being picked for other games. It just went well from then on."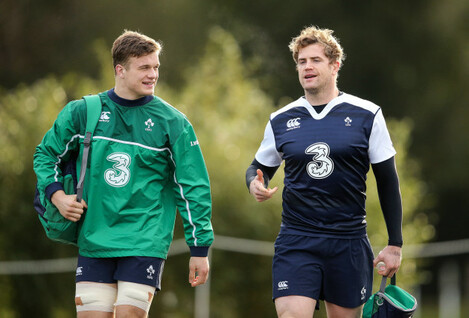 Once a hero, now a team-mate. Source: Cathal Noonan/INPHO
To say it has gone well since then is putting it lightly; but then again modesty is part of van der Flier's DNA.
The former Wesley schoolboy has emerged as one of the most exciting young flankers in world rugby and further demonstrated his prodigious talent with impressive displays against the All Blacks in both Chicago and Dublin and then a man-of-the-match display against Australia.
His path to the top has been sensational. Introduced to the game by his father, Dirk, who was also his first coach, at the age of eight, van der Flier always showed great energy and potential in anything he did.
As a boarder at Wesley, he threw himself into a variety of sports and was a promising cricketer with YMCA in Sandymount before turning his attention to rugby in his late teenage years.
"The hard work didn't pay off as well for me in cricket unfortunately," he jokes.
By the time he had started his Leaving Cert years in Wesley, van der Flier's focus was on doing everything he could to realise his ambition of playing rugby professionally.
That involved hitting the gym over the summer months and an unflinching work-rate and insatiable appetite for improvement and betterment has, in his own words, been a contributing factor in getting him to where he is now.
"I always tried to work as hard as I can and I'm sure there's lads who work harder in that kind of thing," he explains, typically unassuming.
"I suppose your talents only take you so far and then the rest is just hard work. You might be talented enough to get onto an AIL side or get into the Leinster U20s or whatever but then it takes a bit of hard work to get further. Just trying to work harder and improve and that's the biggest thing.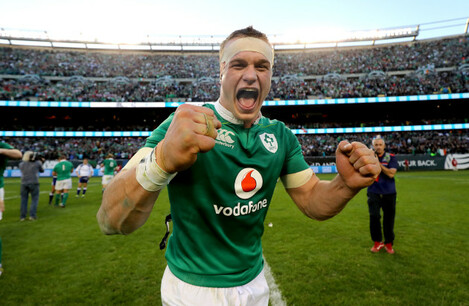 Celebrating victory over the All Blacks in Chicago. Source: Dan Sheridan/INPHO
"But it's also down to the coaching too. The coaches have been brilliant with me. The Leinster Academy ones, the Leinster senior coaches and then the Ireland coaches. The other players as well have been really, really helpful with advice and I've tried hard to take that advice on board. It's just about learning and not standing still."
Still learning, but van der Flier had to do plenty of that as he progressed through the ranks. Playing for one of the smaller rugby schools was never going to work in his favour when it came to recognition and trials but he put forward such a case that the provincial coaches couldn't ignore what he was doing.
Success never came with Wesley in the Vinnie Murray Cup or Senior Cup, with all too memorable defeats to Newpark, CUS and High School during his time at senior level, but his individual performances drew attention.
"Sometimes I do have to pinch myself a bit," he says looking back on it all.
From the Leinster sub-academy, to the full academy, to Ireland U20s honours and the Leinster senior team. It has been a whirlwind four years.
Last month, his reputation was enhanced further with colossal displays against two southern hemisphere heavyweights, including the world champions. We know all about Josh van der Flier in this country, and now his talents are known around the world.
"It's been good, a couple of strange ones coming off the bench early and getting a lot of game time," he recalls.
"It's great to get that experience because you never really know how you'll go against the best teams in the world, whether you'll be good enough or not. It was good to be able to put in a bit of a performance against New Zealand and Australia."
And then that humility.
"Obviously I learned a lot from those games and there were a few things I didn't do so well. Watching Sam Cane and Ardie Savea the way they work around the ruck. I just noticed that when they make a tackle they're straight back up trying to barge and make a messier ruck.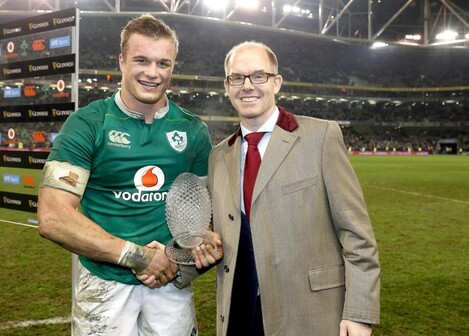 Receiving the MOTM award after victory over Australia. Source: Dan Sheridan/INPHO
"Although on TV it might not look like much but when you're playing against them, I noticed it's really frustrating to play against. I suppose that's something I can add to my game and make it harder to play against.
"Against the likes of David Pocock and Michael Hooper, they're exactly the same as you have to be at your best and if you make a mistake they're going to turn over pretty much. It's having that consistency and be harder to play against."
Honesty, attention to deal and a willingness to study and pick apart his own game. Van der Flier's work ethic means he's on a relentless pursuit of becoming the complete player. He is never happy to bask in the glow of praise.
"I do still keep the notebook," he adds. "Obviously if something goes badly in a game I get pretty frustrated [laughs]. A lot of the lads will be like that, no matter how well they play if something goes wrong it's pretty frustrating.
"I've just been trying to learn as much as I can. The good culture in Leinster, lads trying to learn and get better and the coaches and senior players really drive that. If they see me doing something wrong, they'd be quick to tell me how I can improve or what I could be doing to do better. Being in that environment is pretty good.
"You can't really just relax and try and cruise through it. You really have to be playing well every week. I think there's eight international back rows at Leinster now so if you have one bad game you could be out of the squad for a while. That's just the way it is so you have to be playing at your best at the whole time really.
"I suppose if I was playing at another club with less competition it wouldn't be quite the same. I don't think I would have been playing as well as I have been.
"I suppose I've got in a good rhythm in terms of preparing for games, I've pretty much done the same thing before every game for the last 12 months, two years nearly and you just get in a good rhythm by preparing for a game and if that game goes well you stick to that and do the same thing next week and keep trying to improve."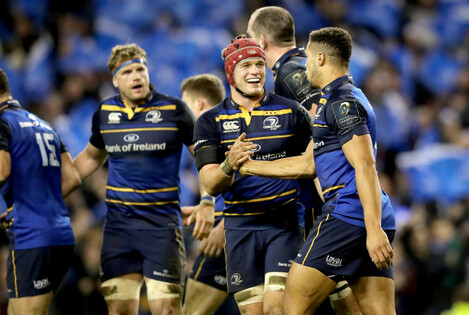 It has been a truly memorable year for the flanker. Source: Ryan Byrne/INPHO
A straightforward, but highly-effective approach — and certainly there's no need to change it.
He won't be part of the Leinster side heading down to Limerick to face Munster on St Stephen's Day and while it gives him the chance to return home and enjoy Christmas a bit more, the type of person he is means he would love to be involved.
"As nice as it is to get a weekend off….come game day you want to be in the dressing room. I'll be desperate to get back out there again."
Van der Flier will, along with a host of other internationals, likely be restored for the visit of Ulster to the RDS on New Year's Eve for the final game of a memorable year for the UCD student; he's still studying Sports Management after splitting his three-year course over six years.
All going well, he'll graduate in 2017 but his final exams may have to be moved if he maintains this level of performance into the new year.
From the red of Wicklow, to the red of Wesley, to the red of the Lions?
His response is initially laughter.
"I don't know, it's a long way off," he says. "There's a lot of brilliant back rows. I haven't really thought about it at all to be honest. It's hard enough to get on the Leinster team, let alone the Lions. Just focus on each game and if everything goes well, everyone wants to play in the Lions. Hopefully."
You wouldn't rule it out. The boy in the red scrum cap's career knows no bounds. The best is yet to come.
The42 is on Instagram! Tap the button below on your phone to follow us!