IT'S BEEN AN EVENTFUL few weeks for Karl Lacey.
His partner Ciara gave birth to their first child nine days before Donegal completed an incredible win over Dublin to book their place in the All-Ireland final.
Add to that Lacey's college commitments in the University of Limerick, studying a Master's Degree in Sports Studies, and his ongoing injury troubles and you being to understand how much of his life the 2012 Footballer of the Year devotes to the game.
Lacey missed the first three days of Donegal's training camp in the Johnstown House Hotel the week before they took on Dublin, but he linked up with the squad the day after his son Noah was born.
"The boys were actually away on camp. My partner Ciara went into hospital on the Wednesday and we had the baby on Friday and the boys were away so it was kind of hard juggling both.
"'Should I go down to the boys or should I stay around the hospital' and in fairness to Jim (McGuinness) and Paul McGonigle they were great support and they told me to stay where I was. There are other things more important at the moment and Ciara had the baby on Friday night. I went down and joined the boys on Saturday morning for training.
"Baby was born at 11pm so I drove down to  the boys in Johnstown House throughout the night and trained on Saturday morning. I suppose you are on a high and things are good. It kept me going all week."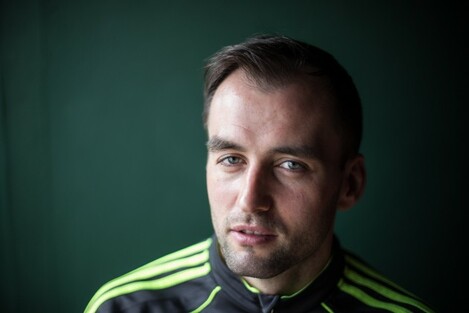 Source: Cathal Noonan/INPHO
"I suppose in my own head if I miss training I'm thinking about it and putting doubts into my head. I was tired training that Saturday morning but I had the whole day to lie around and catch up on my sleep. It was a good weekend overall the way things went."
He began his studies in UL last January and the four and a half hour trips back to Donegal became a necessary part of his week. Once April came around, those grueling journeys home on bad roads for training increased to twice during the week. Donegal's sub keeper Michael Boyle is in the same course and Lacey was glad with his company.
Be part
of the team
Access exclusive podcasts, interviews and analysis with a monthly or annual membership.
Become a Member
"Earlier on I the season I would come up on a Thursday. Once we hit April/May I had to try and get up for as many sessions as I could. There is no other way around it. I spoke to lecturers in UL, it's a sports course and they understand what it takes.
"This year, Michael Boyle, our sub goalkeeper, he's doing it as well. I had a bit of company and he can fairly chat as well. The two of us travelled together and took it in turns.
"I have a thesis to write up now. I have to have it in by December. It's all just a balancing act trying to fit it around football."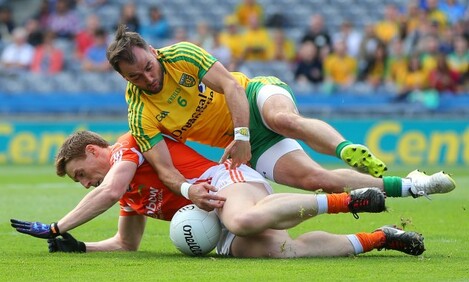 Source: Cathal Noonan/INPHO
Last year Lacey was badly hampered with injury, and it hasn't be all plain sailing for him this season either. He felt a slight tear in his hamstring during the early stages of the Armagh game, but chose to play through it.
"I had a wee niggle going into that game, I chanced it and I lasted about 10 minutes. I had a light wee tear in the hamstring again and I was playing a sweeper role anyway so it's a role that I could get away with it.
"I didn't have to do any full out sprints so I could have got away with it. I recovered again and felt good against Dublin.
"We had a discussion with the medical team at half-time and I told them I was about 70 or 80 per cent here. It's up to them to make the decision so they said they would give me 10 minutes in the second half. I don't know what happened then."