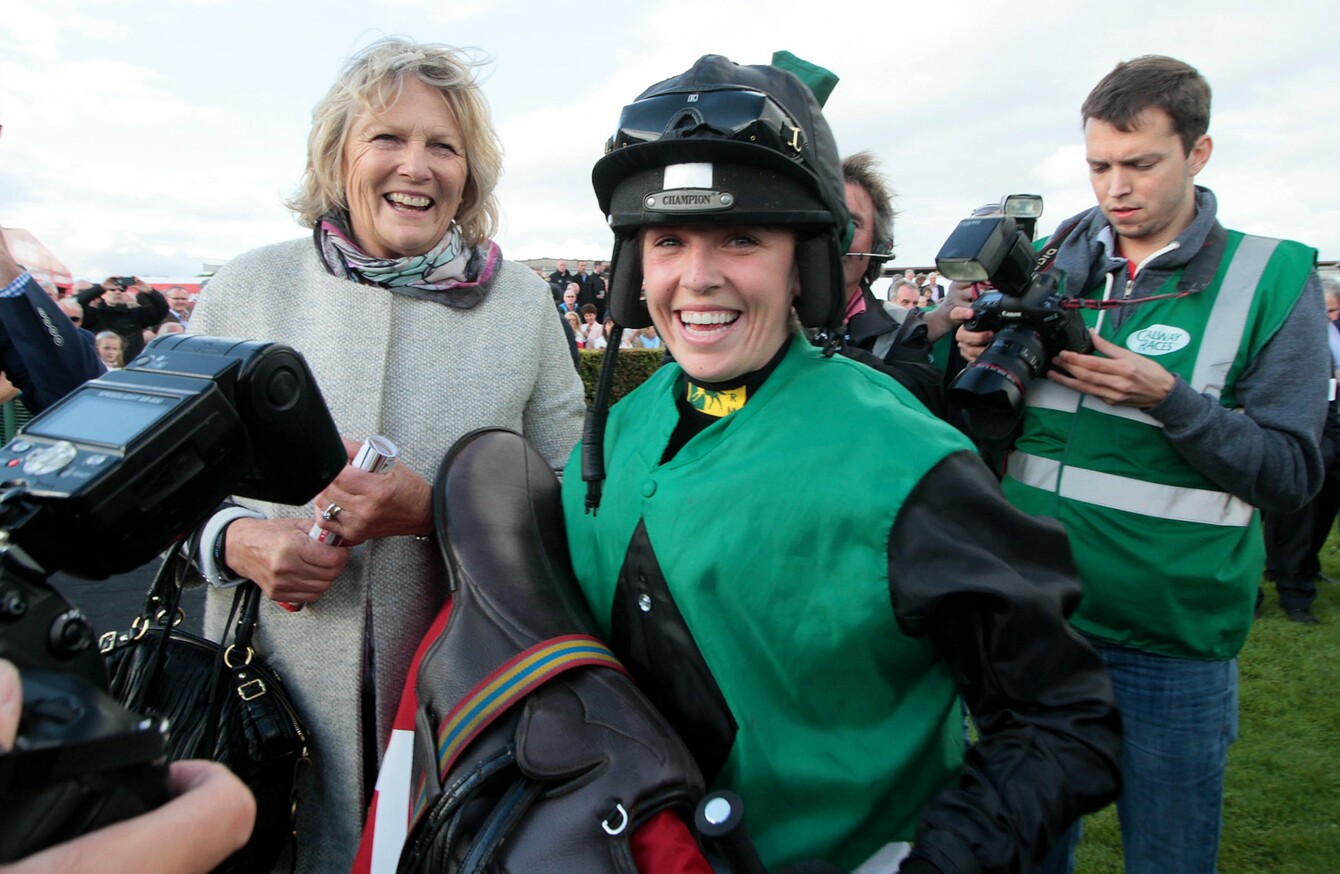 Kate Harrington celebrates a win in Galway with her mother.
Image: Mike Shaughnessy
Kate Harrington celebrates a win in Galway with her mother.
Image: Mike Shaughnessy
THE IRISH TRANSLATION of the village of Moone in county Kildare is Maen Colmcille.
It's old Irish, so it's difficult to find an exact meaning but Colmcille's land is close.
After the national hunt season they've just had, it might be time to rename it Maen Harrington after the town's most famous family.
Their Commonstown yard skirts the village and is home to Cheltenham, Punchestown and Leopardstown Gold Cup hero Sizing John, as well as Irish Grand National winner Our Duke.
And while Willie Mullins and Gordon Elliott were battling it out to be the leading National Hunt Trainer, there was just as compelling a tussle for third place, with Mrs John Harrington — the name Jessica trains under — finishing just €124,698 short of Henry de Bromhead, despite having 74 less runners.
All told, Commonstown had 48 winners in Ireland last season, just one more than the previous year, but it was the quality of the wins that really caught the eye.
It's something Kate Harrington — heir apparent to the Commonstown throne — is immensely proud of.
"Our spring campaign with our national hunt horses was just amazing," she told The42 this week.
"For Sizing John to win the three Gold Cups, Our Duke to win the National and then the other five winners at Punchestown, it was amazing.
"When I look back, I have to pinch myself and ask if all that really happened?
"We had a bit of dry autumn and Willie (Mullins) wasn't running horses at the start of the season because he was waiting for the soft ground and we were all saying that 'the Willie dominance will be back, it'll be back' but it didn't come back in the force it had in the two previous years.
"Now, he did round it off at the Punchestown festival by still winning the trainer's title. You can just never write him off."
While everyone expects Kate to take the training reins when Jessica eventually retires, the very notion of her mother ever slowing down prompts a chuckle.
"She'll still be going around with her zimmerframe in 20 years time.
"Mum is nowhere near retirement yet, she still has a few big races in her and definitely wants to win a few more Gold Cups yet. She'd love to get a classic on the board too."
For the moment, Kate's main role is as an assistant trainer and rider in national hunt flat races. Both of these jobs give her a feel for which horses might become superstars.
"Whenever we enter a horse into a bumper it will have done a lot of work at home first but they might show a bit of speed or a bit of class.
"I'll always remember when I won on Our Duke in Punchestown first time out. I think he went off 16/1 or something.
"We didn't really fancy him because he seemed a little bit slow at home and there was an odds-on runner of Willie's called Avenir D'Une Vie.
"We thought to ourselves 'if he runs into a place' we'd be delighted.
"I remember I turned out the back and he was still tanking so I let him roll along and then we turned into the straight and I was still in front so I gave him a little squeeze.
"Then I looked around at the furlong pole and I was about 15 lengths clear of everyone else.
"With other horses, it's not necessarily the ones who will light up the gallops at home that will be good on the track. Our Duke didn't really show that much at home but when they go to the track and do that, well then you know you've got a good one."
Off the track, Kate admits that looking after the horses in the yard takes a lot of work, and not just physical. Getting to know their personalities is just as important.
"I'm very lucky, I get to feed them early in the morning when there's nobody else in the yard and it's just you and them. You really get to know their temperament, you get to know the ones you can go in with and the ones that might try kick you.
"They're all so unique but, as important as it is to get to know their temperaments, you have to train them in a way that matches that too.
"You'll have some, for example, that might not eat up every night and are a bit more fragile so you won't be able to train them as hard as others.
"I love dealing with the horse care side of things and that interacts a lot with how mum will train them."
Source: At The Races/YouTube
And for anyone looking to get into horse racing, she has a few pieces of advice.
"You've got to be passionate about it. It is 365 days a year and you can't close up the horses at 5.30 on a Friday evening.
"You have to be willing to put the head down and work too, you're only ever as good as your last winner in this game and you've got to love it.
"Look at Robbie Power. He didn't get all the breaks he would have wanted to at a young age but look at him now, he's in his 30s and he's had his best year ever.
"Racing is quite fickle, especially with jockeys. I think Robert was talking about it before that a lot of times he was available but owners would ask for other riders.
"A lot of the time he had to bite his lip because, at the end of the day, the owners do pay the bills and so they get the final say.
"But mum always stuck by him and would say 'I want Robert but, if you don't want him, fair enough' and I think it's the same as me, there are a few owners that would prefer Paddy Mullins or Nina (Carberry) to ride the bumper horses.
"That's fine, it's just the way it is, you've got to be tough and have a stiff upper lip, taking the good with the bad."
While Harrington may have had to watch other jockeys take her rides, she certainly doesn't believe being a woman played any part in that.
"It's only over the last few years that people are talking 'female this, female that'. When I went into it, there were a lot less women, but we were still on the same playing field.
"The lads treat us the exact same way as they treat the other guys.
"And I think it's great that we are all treated the same. It is male dominated but there are a lot more women coming through and I've never seen any difference between us. Katie and I have tried to show that over the past years and now we've got Rachel and Lisa O'Neill as well.
"It's great that there are more women coming through and you're seeing people training like Ellmarie Holden who is only 27 or 28 and that's great to see.
"Mum has obviously been to the forefront of it on the training side of things but there are definitely a lot more women coming through which is brilliant.
Harrington will put her experience as a woman at the top of her game to good use when she speaks alongside Caroline Keeling — CEO of Keelings Fruit — and Linda Thomas — co- founder of Pure Results Bootcamp Fitness — on a mentoring panel at Leopardstown racecourse on Friday, 26 May.
The event, Ladies Evening in association with Breast Cancer Ireland, will take place in conjunction with a race fixture at the venue in a move away from a best dressed competition.
"It should be a good experience for any aspiring business women looking to get some tips from a variety of women who've experienced the ups and downs of that world," says Harrington, noting that the association with Breast Cancer Ireland makes it that much more important.
"It's very close to my heart because my dad obviously passed away three years ago from liver cancer and cancer is something that touches every family so this is a great evening to help raise awareness of breast cancer."
The42 is on Instagram! Tap the button below on your phone to follow us!