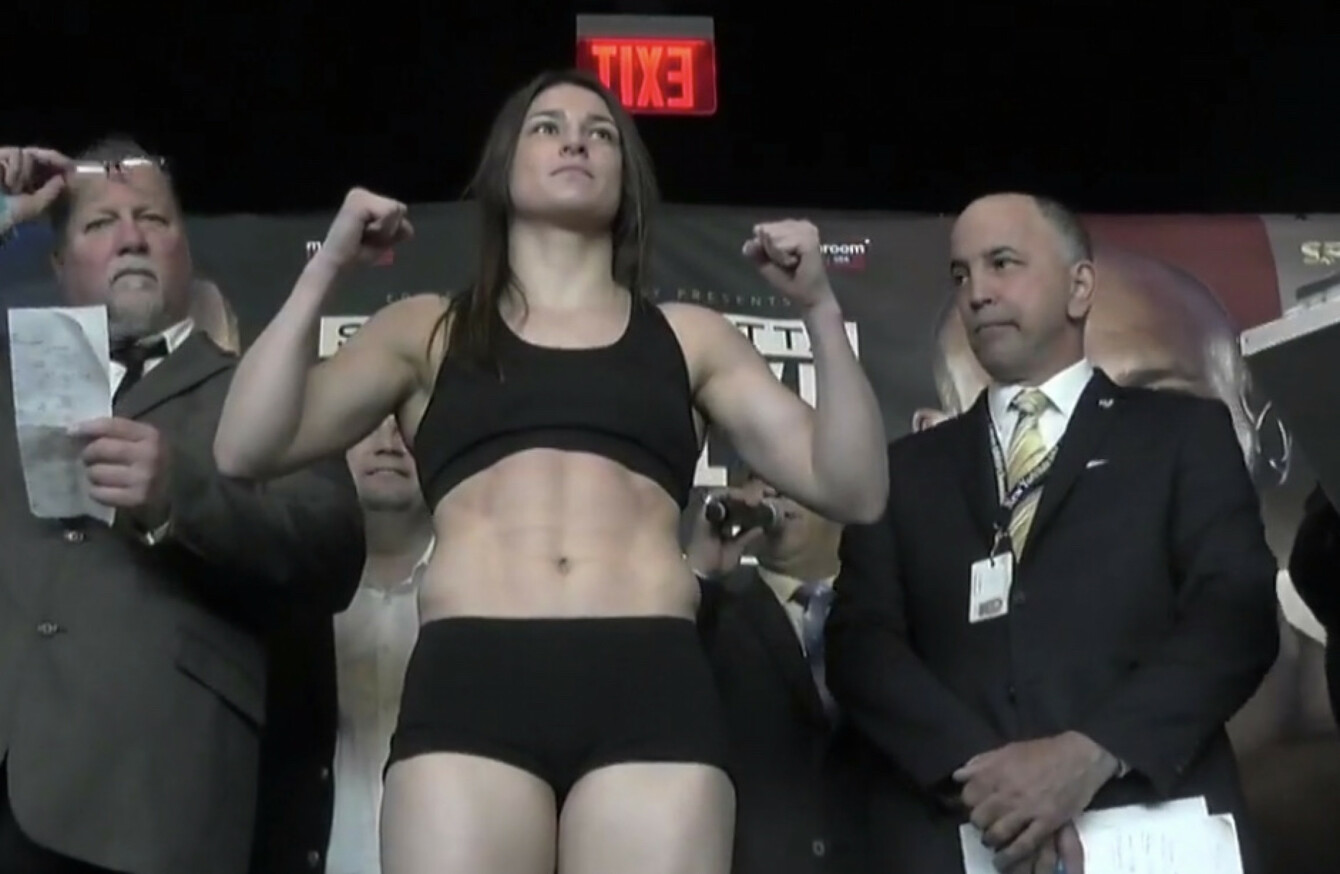 THERE WAS TUMULT onstage the last time Katie Taylor weighed in versus an Argentine, but there were no such troubles tonight as Ireland's WBA World lightweight champion and her IBF equivalent, Victoria Bustos, made weight ahead of their world-title unification clash in Brooklyn on Saturday night.
2012 Olympic gold medalist Taylor tipped the scales at 134.4 pounds – six-tenths of a pound under the lightweight limit – while Bustos, two years Taylor's junior at 29, came in even lighter at 134.2.
Taylor [8-0, 4KOs] is aiming to become just the third ever fighter from the island of Ireland – after Carl Frampton and her former sparring partner Ryan Burnett – to unify world titles. Bustos [18-4, no KOs], meanwhile, has her eye on a division-shaking upset as well as Taylor's WBA strap.
The Rosario, Santa Fe native will earn a career-highest purse for putting her own IBF bauble on the line at Barclays Center.
The pair's bout will be broadcast live on Sky Sports, with ringwalks expected at roughly 1:30 on Sunday morning (Irish time).
Also featuring on the Matchroom USA bill is Monaghan light-welterweight Larry Fryers [6-0, 2KOs], who currently fights out of New York. The 27-year-old faces Nikolay Buzolin [5-3, 1KO] of Russia earlier on the bill, and is believed to have shipped over 300 tickets in his adopted hometown.
In a recent interview with Joe O'Neill of Irish-boxing.com, Fryers recalled how he once escaped sparring Katie Taylor by the skin of his teeth – and to much relief:
"The guy I was supposed to be sparring hadn't shown up, so the coach said: 'Okay, you're going into Ring Two' – and who was there only Katie Taylor and some other guy," Fryers recalled.
"I remember shitting myself because I knew she would have busted me up as she busted all the lads up.
"I was never so glad as when, at the last minute as I was about to get in the ring, the coach said: 'Wait, go to Ring One' – as my guy had shown up. Talk about relief!"