Image: Matt Heasley/INPHO
Image: Matt Heasley/INPHO
AN ELDERLY GENTLEMAN sums it up best when he pushes open the doors of The County Club, Dunshaughlin, Co. Meath, and spots Katie Taylor sat on his immediate right alongside her mother, Bridget, and her manager, Brian Peters.
"Ah, Katie!" he says. "Well done, well done, well done, well done, well done… Again!"
The operative word is 'again', of course, for Katie Taylor was at it for the umpteenth time on Saturday night in Brooklyn, slinging a second punch-for-pay world title strap over her shoulder. Her latest procurement saw her become only the third Irish fighter in history – after Carl Frampton and Ryan Burnett – to unify world titles.
Her next might be to join 'Bold' Mike McTighe of Kilnamona, Co. Clare, who ruled the light-heavyweight division between 1923 and 1925; there was only one world championship in those days, but should Taylor add baubles WBO and WBC to her collection, she'll equally be recognised as the world champion at lightweight – a feat not replicated by any fighter from the Republic in the 93 years since McTighe's 'undisputed' reign.
Saturday's victory over the adamantine Argentine Victoria Bustos transpired to be a belting contest, with HBO Boxing anchor Jim Lampley – scarcely a patron of the women's game – and his co-commentator, boxing great Roy Jones Jr, both labeling Taylor's triumph as the best female prizefight they had ever seen.
The latter, a six-time world champion in four weight classes and former pound-for-pound kingpin, stood up during Taylor and Bustos' rock-'em-sock-'em final round to capture the moment on his phone.
He could afford to do so because he wasn't scheduled to take the mic until later that night: though Irish fans watched it on Sky Sports from across the Atlantic, Taylor's fight didn't cut the mustard for HBO's top brass.
Their sole coverage of the bout amounted to no more than a minute, with Lampley and Jones waxing lyrical over a short compilation of moments (which somehow omitted the combustible late exchanges that dragged Barclays Center to its feet).
"Yeah, a 10-second highlight reel!" laughs Taylor, making light of her being snubbed.
"No, the fight was shown on Sky Sports anyway. I think there's been a step forward in America, and even just the reaction from the U.S. journalists was very positive after the fight, as well.
"Even the fact that they're showing a few highlights is a step forward, I guess."
HBO's decision was met with much scorn – not least by promoter Eddie Hearn and Taylor's manager, Brian Peters. The Home Box Office had its reasons, though: a week after Taylor's domination of Bustos, HBO broke its own duck by showing live Cecilia Brækhus's defence of her linear World welterweight title – this as part of their Golovkin-Martirosyan broadcast.
Undisputed champion Brækhus had long been pencilled in for a prime time TV slot on the network – a statement of intent by HBO and a seminal moment for the women's game. Taylor's fight simply landed a week too soon for HBO's best laid plans on this occasion, but she's unlikely to miss out on screen time when she next takes to the ring on US soil.
"That's it in a nutshell," says her manager, Peters. "There was a little bit of politics, like, which boxing is good for.
"Now, look, Cecilia is a great fighter, and certainly she's been great for boxing.
"But look, it's great: the important thing is that it [women's boxing] is being shown. That's a step forward. All boats rise with the incoming tide.
"Obviously it would have been nice to have Katie on it, but she will be on it [U.S. TV in future]."
HBO Sport's executive vice president, Peter Nelson, got an earful when he visited Taylor's dressing room post-fight.
He remains a good friend of Peters', but the Meath farmer and businessman is reticent to reveal too much of a conversation which sounds like it might have been curt.
There are no hard feelings on his behalf, though. Peters knows the sport too well to take such let-downs personally.
"Well, I can't say what he [Nelson] said", declares the former promoter with a smirk, "but he probably admits…he admits he messed up.
"But I suppose, look, you've a lot of stuff going on in boxing: Canelo, the Golovkin fight; Cecilia Brækhus is part of the Tom Loeffler [fight bill] with 'Triple G', so it was really… It was all kind of… Something was going down, anyway.
I'm so proud to be part of the FIRST women's telecast in history @HBOboxing. Never give up on your dreams !! 😃 #womenpower #BraekhusReis pic.twitter.com/qgsiU6s1ly

— Cecilia Brækhus (@1LadyCecilia) May 2, 2018
Of course, TV exposure across the Atlantic will further imbue Taylor's march to a new stardom: a testament to her having already turned heads across the pond was the fact that last night, after defending her crown, Brækhus was asked by HBO's Max Kellerman about potential superfights with two prospective opponents: Katie Taylor and two-time Olympic champion Clarissa Shields, who currently holds two world title belts up at super-middleweight.
Though Taylor will fight next in the UK this coming July, it's America where her future lies – and Brooklyn in particular, where Hearn's marquee U.S. signing Danny Jacobs remains a decent draw as he attempts to wrestle a championship belt or three from the middleweight division's key players.
It's not much of a departure for the 2012 Olympic champion, either: seven respective fight weeks aside, the bones of Taylor's 18-month professional career has been spent with trainer Ross Enamait in Connecticut where, granted, she misses family and friends, but can also embrace a newly-discovered anonymity without so much as putting her hood up.
"There's definitely times when it has been lonely", she says, "but I am loving it out there.
"I know it's part of the sacrifice and it is only going to be a short-term sacrifice: I know I'm not going to be over there forever. I'm over there preparing for big fights. I'm definitely living the dream over there."
This is in stark contrast to her home in Ireland where, after her shock Rio 2016 exit, the back-pats weren't long becoming burdensome – through no fault of their well-meaning couriers.
"It was very nice and everyone was very positive, but I guess at times it could get overwhelming for me as well. I do love being anonymous out there.
"I'm just completely focused on my training out there. There are no distractions at all, really.
"I live a very quiet life over here as well. It's not as if it's… It is very positive. Any time I'm here, it's lovely, really, and it's very heartwarming.
"But I love that when I'm in America, I'm there to train.
Whatever about a base camp, a Taylor fight card in Ireland – long-touted, anticipated, and once all but confirmed – now seems further away than ever.
The42 reported back in January that a 3Arena show slated for April had been shelved indefinitely, with Taylor's journey to becoming undisputed world champion instead being diverted through Brooklyn where she beat Victoria Bustos last Saturday night.
Promoter Eddie Hearn was the easy target for disgruntled fans: the Matchroom chief had made the promise and failed to deliver. Some – clearly unfamiliar with the Irish sporting icon's values – pointed the finger at Taylor for abandoning her native support in pursuit of brighter lights and greener grass, while others lauded her for the same.
The truth was far more complex: neither Taylor nor Hearn nor Brian Peters were to blame for the fall-through. Rather, in another black eye for the professional sport in the Irish capital, it was the ghosts of Dublin boxing events past which haunted Taylor's homecoming dream.
"I mean, I'd obviously I'd love to fight in Ireland," she begins to explain, "but… It just…"
Peters picks up at Taylor's pause: "Katie would love to fight in Ireland, Eddie would love it, and I'd love to have a fight here.
We've had talks, really, with the powers-that-be, and they've kind of advised us the climate is not conducive to having a big fight night [in Dublin].
"It's very tricky, really, to get into it. We still hope to fight here. We've had ongoing talks with them, we've looked at it, and we've been close.
Really, they just advise us that the climate… If you want to run a show, you have to go ring a few…[organisations]. There are certainly sanctioning bodies, there's certainly the gardaí – you know what I mean? There's a whole load of different boxes that have to be ticked to put on a show.
To be clear, these phonecalls are not required as a result of the Regency weigh-in shooting in 2016 or the cloud that hangs spectre-like over big-time professional boxing in Dublin, nor are they exclusive to Irish boxing matchmakers: most large, ticketed public events – be they concerts, stand-up comedy gigs, fight cards or otherwise – need garda clearance and cooperation, security, insurance, and in pro boxing's case, sanctioning.
All of this costs a lot of money, even if each pertinent party agrees to play ball – as well they might for Michael McIntyre or Kings of Leon or BAMMA. The trouble is that it would cost a lot more where pro boxing at the 3Arena is concerned, and, in any case, the ball has been booted about 160km up the M1.
And so, for now, it's more trouble than it's worth – particularly when the prestige of America and its accompanying TV dosh have already entered the equation.
"We'd definitely love to fight here," Peters reiterates. "The powers that be… There are just a whole load of bodies that have to be…
Taylor returns the favour and takes the baton from her manager: "I have been very lucky that when I have boxed, there have been a whole load of Irish people there.
"It's been brilliant," she adds, confirming that she heard the choruses of 'Olé Olé' at Barclays Center last Saturday: "Yeah! Definitely: the atmosphere was great, really. I have been very lucky in that the Irish are great supporters.
"It was very close. I was very close to boxing in Ireland a couple of weeks ago, but…"
"And without being disingenuous", says Peters as he draws the line, "America is a big market, too. And if there are opportunities there, you've got to get the consistency [of fighting there]."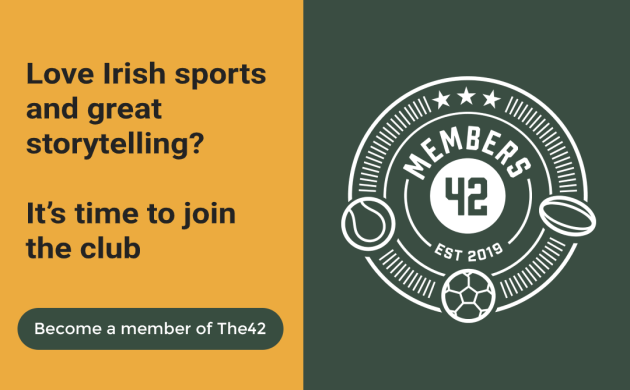 The aim is for Taylor to fight in America twice more before the year is out, but London is calling for July, firstly, and more pertinently so too might Brazil's custodian of the WBO World lightweight title – one of two major belts not currently adorning Taylor's mantelpiece.
"Rose Valente would be our preferred opponent," says Peters.
"We've had talks. If you're looking after her, she's just become champion – she wants to get a few quid yet. It's a big fight with Katie so she'd probably like a few defences first.
"We're still trying. She would certainly be our first choice. Does she take it or not? We're not sure.
And a lot of these fighters, you can't blame them. If they get the title, they're going to try and get a bit of mileage out of it. Fighting Katie is going to be their biggest purse, but it also means they have a better chance of losing, doesn't it?
At the same time, they're going to get paid five or six times more than they've ever got paid. They're going to get big exposure. They're going to get on big shows.
"The problems are the mandatories they [the sanctioning bodies] are going to impose on us," Peters says. "And that has started already. So there's a lot of talking.
"Politics comes in. Some of the bodies want to keep the belts active, they want to keep sanctioning… But it's all just politics.
At the end of the day, they're going to have to fight Katie; they're all going to get beat; they're all going to get well paid and they're all going to have to step up whatever way they want to come. Once in a lifetime an athlete like Katie Taylor comes along.
"I'd love to unify the division," adds Taylor. "That's my ambition.
I'm not sure if it's going to happen this year or what. The politics of the whole thing, as well… I would love to have the fights made a lot easier, all right, but I don't hear too much about it, really. I just get told who I'm fighting.
"And I focus on the fights: I don't want to hear or talk about that."
Money will always talk in boxing, though, and politics can only delay an ascent for so long: the sanctioning bodies are known to veto mandatory title defences for unification fights, for example, and so Taylor's bid to become the undisputed queen of the lightweight division will come to fruition before long.
She has no set date in mind for retirement, and so she does match Mike McTigue's legendary feat while she's still young, there are naturally tentative plans that extend beyond the 135-pound limit, if not beneath it.
"I could definitely go up a weight," Taylor says. "I wouldn't be able to go down a weight, but I could definitely go up.
"I think I'm fairly comfortable at 135 pounds. There was talk of me going to 130 pounds at the start of my professional career, but I feel really, really strong at 135.
"I walk around at 140 or 142 pounds. I don't have to lose a lot of weight before these fights.
"Definitely, there's no shortage of fights out there. There's some great fights out there."
One of these fights was mooted on The42 last weekend: Katie Taylor versus another women's boxing trailblazer, Amanda Serrano.
The Puerto Rican is currently considering a world title fight in a sixth weight class – 140 pounds – having captured world honours in five other divisions. Were Taylor versus Serrano to happen, theirs would be a seminal fight for women's boxing: the crowning moment of a new era, and a battle to rule the roost.
It would likely be a battle for Brooklyn, too, where Serrano has amassed a large following and fought five of her last nine contests, and where Taylor recently unified the lightweight division.
The Irish icon did so cognisant of the fact that she was, in a sense, invading another female fistic great's adopted turf. She'll fight there again plenty, and as she sees it, if there's room for only one of them, they can settle it in the ring:
Yeah, I was definitely aware of Serrano when I went into the pro game. She was the one to beat in the women's division. I was aware of her, but she has to step up and take the fight as well. It's a huge, huge fight. She's a great fighter – fantastic fighter – and it's a fight I would absolutely love as well.
"Ireland against Puerto Rico!" Taylor laughs.
"You want to maximise a fight like that," says Peters, who has a solid relationship with Serrano's promoter, Lou DiBella (who also promotes WBC World heavyweight champion Deontay Wilder).
It is worthy of a Wilder or a Joshua undercard – or a headliner in Barclays [Center]. What would be wrong with that? Hopefully Barclays could become Katie's home – fantastic crowd. You walk into Junior's [restaurant] in Brooklyn and you have Errol Spence Jr there… Katie walks in the other night and she gets a standing ovation!
"We'd take it tomorrow. It will happen. I've no doubt it will happen.
"Plus, Katie is going to get very well paid for that kind of fight. Everyone will get well paid. It is a superfight, which is what you want. It changes people's perception of female fighting, which is what we want.
"It's boxing. Forget about the whole male-female thing. Katie is in the top 5% of boxers in the world."