KATIE TAYLOR IS still the undisputed lightweight champion after edging out Natasha Jonas in a modern-classic installment of their decade-long rivalry.
After a pulsating, see-sawing battle, the judges at ringside at the Manchester Arena scored the contest 96-94, 96-95 and 96-95 in favour of the Irish icon, a unanimous decision which was applauded even in the defeated Jonas' corner.
Taylor summoned a hair-raising late rally to retain her WBC, WBA, IBF, WBO and Ring Magazine lightweight titles, and her undisputed status, as she earned the hard way her 18th professional victory (6KOs). Jonas, who in her own right produced a remarkable display, fell to 9-2 (7KOs) on paper but in truth lost little; her stock continues to rise, and there may yet be further chapters to her and Taylor's story.
👏 #TaylorJonas pic.twitter.com/58EfZXRCs6

— Matchroom Boxing (@MatchroomBoxing) May 1, 2021
"What a fight," said Taylor as she caught her breath in front of Sky Sports' cameras. "Every time me and Tasha have fought, it's been like that. Thankfully, I came out of it with a great win.
"I knew that the rounds were close. I had to dig deep for those championship rounds."
Jonas, who was extremely magnanimous in her close but fair defeat, said: "When she's ready, when's she's willing, when the team's ready, I will do a trilogy.
"I feel I belong at this level. I want to stay at this level. I want to win belts. I want to win championships."
Their last amateur clash nine years ago, an Olympic quarter-final at London's Excel Arena, was immortalised for its action and its atmosphere.
Nearly a decade on, both women's propensity for creating excitement remained unfettered, though in a closed-off arena on this occasion, the external noise mostly came from their extremely vocal corners. And there was a lot of it — so much so that, at one point, referee Marcus McDonnell paused the bout and ordered Jonas' chief second, Joe Gallagher, to tone it down a bit.
Challenger Jonas emerged to 'Extraordinary Being' by Emeli Sandé, beginning her march to the ring as the ballad segued, fittingly for the occasion, into Beyoncé's 'Run The World (Girls)'. Taylor, whose brother Peter tends to choose her entrance songs because she simply doesn't care, walked out to the equally on-the-nose 'Champion' by Bethel Music and Dante Bowe.
Taylor swallowed a stern Jonas jab early. However, despite spending most of the opening round establishing her range, she nicked it on this writer's unofficial card with a couple of sharp right hands down the pipe in the second minute.
Southpaw Jonas had moved up in weight from 130 to 135 pounds but once upon a time as an amateur campaigned at higher weights still, and so tonight she looked like the naturally larger, stronger lightweight.
Taylor was, as expected, the more mobile fighter early, her hand speed giving Jonas plenty to think about in the second. The Liverpudlian landed a couple more jabs but the champion's combinations likely sufficed to put her two up.
Jonas made the better start to an entertaining third, finding a home for a couple of tidy power shots. Mind you, no sooner than her trainer, Joe Gallagher, shouted from the challenger's corner, 'She doesn't like it to the body', did Taylor land a couple of hurtful body shots of her own on the Briton. Another Jonas left hand might have been enough to take her first round; it was certainly enough for Gallagher to proclaim, 'She's all over the place, Tash!' seconds before the bell.
Taylor, far from it, exerted more control in the fourth, causing Jonas to briefly lose her balance on the receiving end of a neat overhand right from the Irishwoman. It was a quieter round but undeniably a Taylor round, punctuated by a counter left landed by the woman in black as Jonas missed with her right.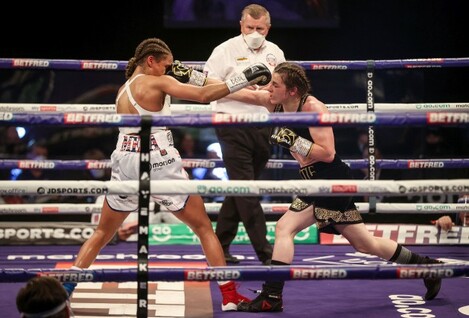 Taylor lands a right. Source: Matchroom Boxing/Dave Thompson/INPHO
An entertaining exchange in the first minute of the fifth saw Jonas momentarily back Taylor up but the former Olympic champion fired back with a couple of sharp rights off the ropes. Taylor also sneaked a couple of right uppercuts through in a clinch, throwing and landing more overall to build on her lead as the fight reached its halfway mark.
The sixth exploded into life after a minute, Jonas landing a couple of hard shots to both body and head. Taylor did her best to retain her composure as she had her chin tested; her legs appeared to wobble momentarily after a powerful Jonas left hand upstairs but, upon consultation with a replay, they had become almost entangled as she floundered in an awkward position. Nonetheless, for the final minute, Jonas was all over her, conclusively clawing a round back.
The seventh, too, became a barn-burner, both women exchanging at centre-ring: Jonas' shots were the harder and though Taylor found plenty of skin in a close round, there was no doubt 'Miss GB' was gaining momentum.
Jonas lands a left hand. Source: Matchroom Boxing/Dave Thompson/INPHO
A war had broken out by the eighth, both women going to the trenches. During a close-quarters back and forth, Taylor briefly rocked Jonas with her best right hand of the fight to that point, but she also absorbed plenty — including a couple of thudding left hooks to the midriff which gave her cause for concern. Again, Jonas probably did enough overall to nick another 10-9 in her favour.
Be part
of the team
Access exclusive podcasts, interviews and analysis with a monthly or annual membership.
Become a Member
The fight appeared to be up for grabs entering the championship rounds, the challenger having powered her way back to parity — or near enough — on the scorecards. Crucially, Jonas also seemed to be in the ascendancy, both physically and psychologically.
But Taylor stepped on the gas at a time when she badly needed to, landing some picturesque right hands and a number of throwaway combinations in the ninth which were effective in keeping Jonas at bay for most of the round. She won it clearly.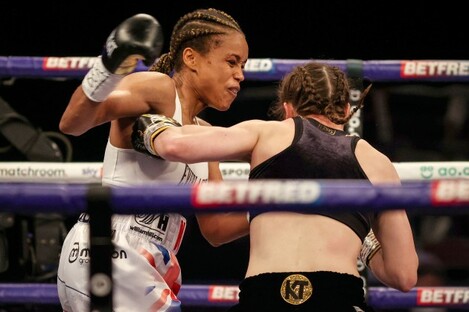 War. Source: Matchroom Boxing/Dave Thompson/INPHO
Still, it was all too close to call ahead of the 10th and final entry, which became its own epic.
As Taylor rose from her stool, her trainer, Ross Enamait, roared: "Close the show!" However, it was Jonas who answered the bell like a woman possessed, marauding forward and landing bombs, disheveling Taylor and walking through the Irishwoman's own efforts which were beginning to look somewhat laboured as she shipped heavy shots from the Englishwoman.
Jonas suspected she needed the round and consequently poured every remaining ounce of herself into it — but in the final minute, the champion flipped the round on its head with an even more emphatic spell of dominance.
From the brink of exhaustion and perhaps, to her mind, the precipice of defeat, Taylor summoned an extraordinary late rally, marching Jonas backwards with five, six sustained bursts of lightning-quick, heavy fire.
The Bray woman bullied Jonas towards the ropes, ridding her of the energy to respond. She ripped the round from the challenger's grasp, closing the show as ordered.
It was about the most clutch final stretch of championship boxing as you'll ever see, and it ultimately proved decisive as Taylor held onto all the marbles and the '0′ on her CV.