EDDIE HEARN SAYS a homecoming fight for Katie Taylor next year is 'a priority', but isn't overlooking the challenge posed by Chicago's Jessica McCaskill when the Irish sporting icon defends her WBA World lightweight title belt on Wednesday night.
Indeed, speaking to The42 following the Taylor-McCaskill weigh-in in London, the Matchroom chief admitted to feeling a couple of butterflies ahead of Taylor's showdown with the heavy-handed 'CasKILLA' at York Hall – particularly in light of the Bray woman's last performance, which though offensively stunning, was a touch too cavalier for Taylor's promoter.
"This is probably the first time I've been…not concerned for Katie going into a big fight, but actually a bit nervous," Hearn said.
"I look at this girl, McCaskill… See, with Anahi Sanchez, the body language was more like [pulls forlorn face, drops shoulders], whereas McCaskill is like [stands up straight, puffs out chest]. I know how much her and her team want to win.
"I don't know. I just think, 'don't do anything silly', because she got hit a lot, Katie, in her last fight. She's got to box more in this fight, which I think she will.
"I think – I know – that this is by far her toughest test. It's the most dangerous fight of her career, without a doubt."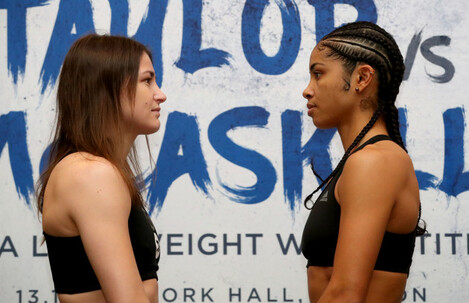 Source: James Crombie/INPHO
After rhetoric and anticipation which have both built to no solid conclusion for the bones of a year, Hearn assures, too, that should Taylor see out her task at the iconic Bethnall Green venue, Dublin will beckon in the new year.
The 38-year-old promoter insists that it's not merely Taylor who wants to traverse the Irish Sea for a major fight bill, but Hearn himself, who hasn't promoted a scrap in the capital since an ill-fated return for Matthew Macklin versus Jorge Sebastian Heiland just over three years ago.
"We have to go to Ireland," he tells The42. "I mean, we'd be mad not to. Katie wants to. We want to.
I think in Ireland we can create an atmosphere that's going to be incredible. All being well tomorrow night, we want to go back there in April. And we want to do a unification fight, not just a voluntary defence. It's not going to be an exhibition, d'you know what I mean? It's going to be against a champion.
"I think it'll be huge."
Hearn already has a couple of tantalising all-Irish scraps earmarked for a prospective Taylor undercard in Dublin – one of which was originally scheduled to take place on Frank Warren's Frampton Reborn bill in Belfast three weeks ago.
He has a venue in mind, too – the obvious choice, perhaps – despite recent suggestions that the RDS might be in play for a Taylor homecoming.
I think there's some great match-ups that can be made as well in Dublin with other Irish fighters: Deco [Geraghty] and Jono [Carroll], [Luke] Keeler against [Conrad] Cummings – all those guys. And obviously we'd bring over some of our own talent as well.
"I think it could do really, really well.
"There's no secret: I'm probably the biggest Katie Taylor fan in the world. I just… There's something about her that just… I've never met anyone with so much desire and drive in anything – forget boxing, but in any walk of life.
"She's a joy to represent, because she gets on with it, she works hard, she's all about achieving, she's all about breaking down barriers.
She wants to go to Dublin, but she just gets on with it and goes where the schedule goes. But I know deep down she would love to walk out at that 3Arena.
Be part
of the team
Access exclusive podcasts, interviews and analysis with a monthly or annual membership.
Become a Member
"And the 3Arena is the perfect size," adds Hearn. "People talk about Croke Park, but that's another level.
"But making sure she goes to Dublin is definitely a priority for 2018."
During 2014′s Return of the Mack card at the same venue – a night of mixed fortunes given it played host to the memorable original encounter between Carroll and Geraghty as well as a one-round grudge match between Spike O'Sullivan and Anthony Fitzgerald before Matthew Macklin was stopped in the headliner – it had been mooted that Hearn and Matchroom had found the logistics of bringing the show across the water unnecessarily complicated.
Hearn, however, doesn't see such issues arising again in 2018, and maintains Dublin is the ideal location to step Taylor up to 'the next level' – both in terms of opponent and exposure – due to the fervent backing she's likely to receive just 20 kilometres from her hometown.
"Nah, there's not really too much to worry about. The main logistics are just that it's a different area and we haven't done a show there in a long time – since the Macklin fight.
"But the Irish love their boxing. You see it in Belfast – it's one of my favourite places to go. And they'd love it in Dublin.
I mean, you could imagine the atmosphere that will be created when Katie walks out in Dublin. I think that's where we take things to the next level, because people will tune in and go, 'wow'. They will go, 'wow' – literally – and that's what we want.
"When we did the Millennium Stadium, that was – for me – a 'wow' moment: the whole place was up for her. She got the best reception outside of Anthony Joshua.
"Dublin would be another level again."
And should the 31-year-old lightweight world champion land a unification bout – be it in Dublin or elsewhere – Hearn foresees major interest from a broadcasting goliath across the Atlantic.
"We're on Wednesday night here [for Taylor-McCaskill]", he says.
Had it been on a Saturday, I think it would have been on in America. But if there's a unification fight with Katie next year, it'll definitely be on Showtime.
"They love Katie Taylor: whenever she's been on a Joshua card, they've made sure that she – out of all of the undercard fights – is the one that they show."
The42 has just published its first book, Behind The Lines, a collection of some of the year's best sports stories. Pick up your copy in Eason's, or order it here today (€10):