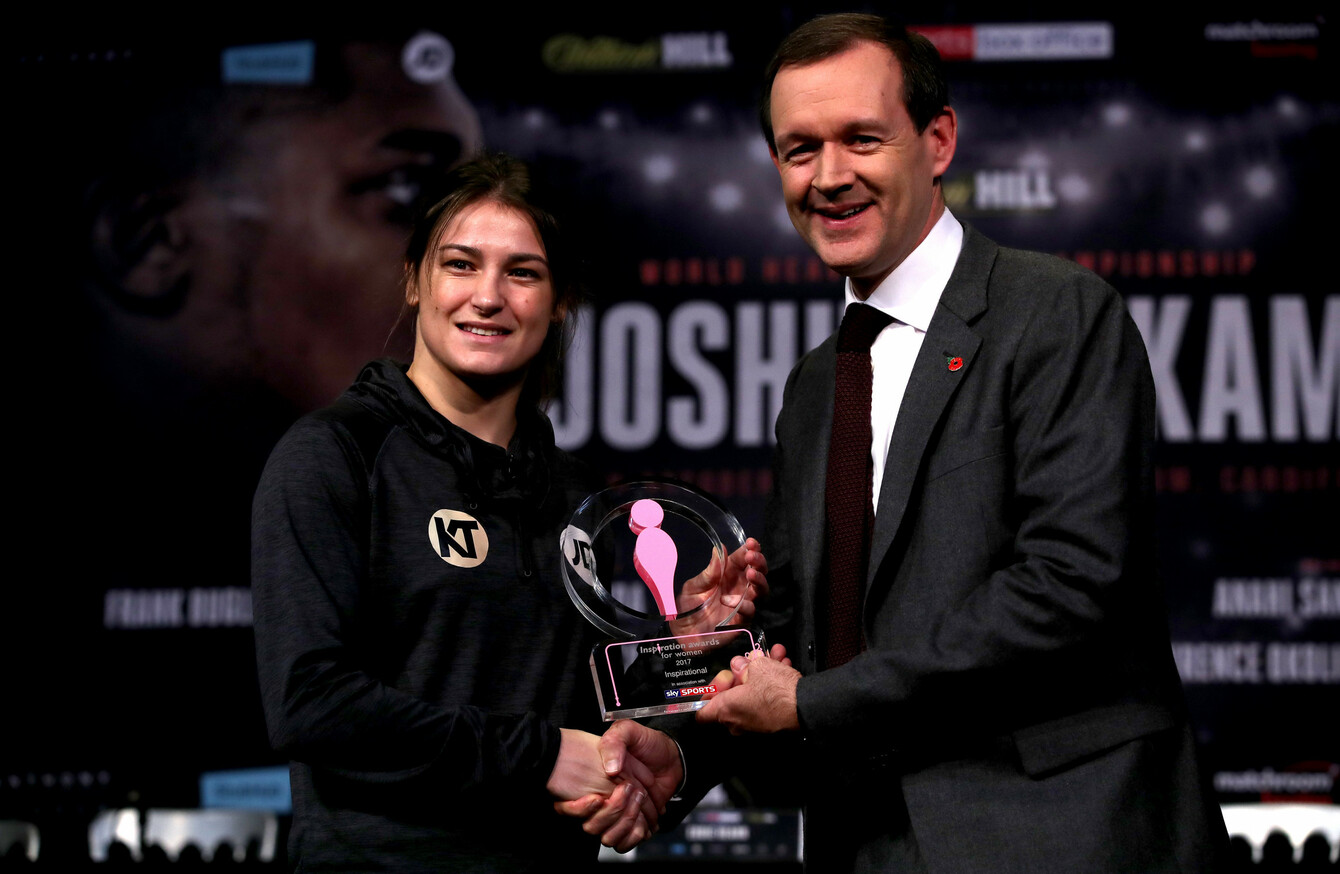 Katie Taylor and Adam Smith
Image: Nick Potts
Katie Taylor and Adam Smith
Image: Nick Potts
IT COMES AS no major surprise that Sky Sports' head of boxing, Adam Smith, is "about six or seven miles outside Clonakilty" when he phones for a prearranged chat.
His wife's grandmother, Mary Walsh, hailed from Lahana, a small townland near the village of Drinagh, West Cork. She eventually crossed the Irish Sea and married an Englishman, but their summer cottage still stands by Curraghlickely Lake on her native soil. It remains in the family a couple of generations later.
Smith, his wife and their children spend a few weeks there every summer: no phone reception, no TV, no WiFi.
No bother.
"We love it," he says. "The kids love it. They have an acre of space to run around in and a farm across the road so they can see the cows being milked and all that – they love it.
"The west Cork countryside is just fantastic. We really enjoy going on little day trips; we go down, obviously, to Skibbereen, Glandore, Union Hall, Clonakilty and even over to Kinsale – all around.
"It's really important to us as a family. It's just a nice little haven away from the hustle and bustle of London and, obviously, what I'm doing with the boxing.
Life is certainly lived at a different tempo in West Cork! Everyone is just really pleasant, there's great craic around. It's a place which isn't really known about back home where I'm from, so while I show people the pictures and give them the stories, I also tell them not to tell too many people about it!
After 13 years, he knows the scéal.
The greater surprise is that Smith's vocal chords are even functional considering the strain he put them under on Saturday night at London's O2 Arena.
Sat ringside for Sky Sports, his employers of 24 years, the London native called every blow of a magical fight night, the thrills and spills of which will live long in the memories even of those who were sceptical as to the validity of the bill's paywall on Sky Sports Box Office – this writer included.
Indeed, when you take into consideration the breathless final 20 seconds of the headline scrap, during which Dillian Whyte clung to consciousness as an exhausted Joseph Parker flumped forward in search of a Hail-Mary comeback stoppage, it's little wonder Smith headed wesht as soon as he dropped the mic.
"It exceeded all expectations," says Smith. "It was one of those where we didn't have a star name like Anthony Joshua or Tony Bellew and David Haye – it was based on what was a really, really good heavyweight fight between Dillian Whyte and Joseph Parker.
It was one of the most fabulous, enjoyable nights that we've had on Sky for a long time. I think from start to finish, there was something for everybody. The fighters were just — it was almost like they were all on a different plain that night. There was something in the air, you know? Everybody gave everything, whether they were young prospects or ageing warriors.
"From an Irish point of view", he continues, "you had Katie Taylor in sizzling form – I thought she was absolutely superb again: her 10th fight – I think she's a phenomenal talent both in and out of the ring. She's a wonderful ambassador, great for women's sport.
She's a terrific role model for kids but she's frightening inside a ring; she can box and outclass her opponents but she can also get right up close and personal and land those body shots.
"She reminds me very much of a female version of Ricky Hatton at times, and that's why the fans love watching her. As great as she was as an amateur, I believe she's becoming as great as a pro."
Especially pertinent within his Hatton comparison is the allusion to fans' gravitation towards Taylor: where only two years ago the very idea of women's boxing would have been alien to many of the thousands of event-goers who have observed her live in British arenas and stadiums over the last 18 months, the sheer volume with which she was received by the 15-odd-thousand who had taken their seats ahead of her world-title defence against Kimberly Connor on Saturday was part of a growing trend.
Even as far back as last October, when Taylor won the WBA World lightweight title in Cardiff, it was notable that she was welcomed to the ring with more fervour than any fighter other than headliner Anthony Joshua.
Such acceptance is sure to morph into transcendence before long – if it hasn't already.
"Well this is it!" says Smith.
She sizzled in Brooklyn when unifying the world titles. When she won the first (WBA) title, she stole the show in Cardiff on the AJ-Takam bill. And the reception she gets – it's not unlike Anthony Joshua in the men's world; the casuals have broken through and they're getting behind AJ, but I really think they're getting behind Katie as well. You can hear that in the arenas.
"I've been a massive admirer or Katie's all through the amateurs, obviously: five Worlds, six Europeans, Olympic gold – I've known about her for a long time. But when Eddie [Hearn] and I talked and he mentioned that there was a possibility of signing her, I thought, 'This is great; not only is it fantastic for women's sport, but it's great for boxing."
A September 2015 interview with the West Cork People in which he declared Taylor "a shining star, a hero for the Irish people" gives further indication of Smith's long-held admiration for the Braywoman.
In his role as the network's boxing chief, it was he who last December facilitated Taylor's headline slot on Sky Sports: her victory over Chicago's Jessica McCaskill was the first women's fight ever to top a bill on the broadcasting goliath, and he gave the go-ahead in a heartbeat.
"There was no doubt at all from my perspective," he says.
"Obviously, I remember Jane Couch and the women's boxers, the likes of Mia St. John who was on Bob Arum's cards, and, you know, it was a sport that wasn't really taken too seriously.
"Jane did a load for it and tried to push it, but I don't think it was the right time. I think the right time came probably after the 2012 Olympics.
"Boxing has experienced a massive resurgence – a boom time – since then. I think the money that was spent on both the Irish and British squads – Team GB was hugely successful with Anthony Joshua alongside Luke Campbell and Nicola Adams, and one of our old scholars at Sky, Savannah Marshall – and suddenly for both men and women, things started happening.
Katie and Anthony Joshua emerged from those 2012 Games as massive role models for youngsters, and I had no trepidation whatsoever when it came to Katie Taylor because I knew how good she is, and I know the type of person she is. I was 100% behind it.
"In fact, when the topic of her joining Matchroom and fighting on Sky first arose, I was absolutely convinced that this was the right time for her. She was unbeaten for five years but then had a little bit of a sticky patch; she didn't medal in Rio which was a disappointment, and I think she needed a boost in her career. And that was it – turning pro.
Be part
of the team
Access exclusive podcasts, interviews and analysis with a monthly or annual membership.
Become a Member
"Now, she turned pro and Claressa Shields came through too in America, and suddenly there was a real boost to women's professional boxing. And you'll see, now, that there will be some fantastic fights. There's just a huge amount of potential in the women's game.
"There's Amanda Serrano in the States – Katie will obviously be fighting her sister Cindy first, probably in Boston."
Taylor's bout versus the elder Serrano sister, Cindy, a former WBO World featherweight champion, had originally been slated for Chicago on 6 October, but Smith explains that there may yet be a change of plan which would see her instead fight on the undercard of Billy Joe Saunders' WBO World middleweight title scrap with her new Matchroom stablemate Demetrius Andrade.
This is likely to take place in Boston a fortnight later.
"Well, we've heard either the 6th of October in Chicago or the 20th of October on the east coast", he says, "and the latter will probably happen in Boston.
"And Boston, of course, would be fantastic: I actually know it well because as well as West Cork, my family and I holiday in Cape Cod, and Boston is obviously just full, wall-to-wall, with Irish people. Katie would go down a storm there.
"But as well, I really want her to come back to Ireland at some point – I'm really keen on that," Smith continues. "Obviously, she's got to have a homecoming. She's got to fight in Ireland."
Taylor's long-promised Irish debut was nearly heaved over the line in April, but the hum of past criminal interference – which still hangs spectre-like over the prospect of a major Dublin fight night – saw her dream dissipate.
Security costs, insurance premiums and other logistical sticking points ultimately rendered the climate unconducive to a capital coronation for the Irish sporting icon.
Smith, however, remains steadfast in his stance that Taylor must step through the ropes as a professional in her homeland at least once, and he has already proposed to Eddie Hearn and Matchroom not only an alternative location to Dublin, but a novel concept entirely:
I'm trying to push Eddie, if it can't happen in Dublin, to maybe go back to somewhere like Millstreet and have a kind of festival next summer. You know, we'd have music and things to do for the family as well as Katie fighting.
"I think it will be an amazing event; I think thousands and thousands of people would come to the Irish countryside if we could do something like that.
"Of course, it is more difficult logistically, and it's a big cost for us at Sky, as well, from a production point of view, to come to Ireland.
"It costs Eddie if he's to take a risk on something like that, a festival as I mentioned. Obviously, he's got to think very carefully about whether it works.
"But there is no question that Katie Taylor should come back to Ireland. She is so popular, whether we're down in West Cork or in Dublin or even up in Northern Ireland, in Belfast, she is massively popular here.
Yes, she's been in the States. Yes, she's been in Britain. But I think she really needs to come home to Ireland. I'm really going to work hard – and I know Brian [Peters] will as well, and the whole team – to try and sway Eddie to come to Ireland.
"And maybe it'll take a while! Maybe she should fight in America, unify the titles first. But I'm looking at summer 2019."
"You know, I was there when Noel C. Duggan had Millstreet, when Steve Collins and Chris Eubank fought there," Smith continues. "And then there was the second one at Páirc Uí Chaoimh. We've had some great nights in Cork, in Dublin, up in Belfast. Special nights.
And I really believe we can make something special happen for Katie's first professional fight in Ireland – maybe bring all the belts home and, as I said, have some sort of two or three-day festival, get music – a few bands – and things like that. That's what I mentioned to Matchroom, and we work very closely together. If it's financially viable, I'm sure it can happen.
"One thing is for sure: Katie is going to go from success to success," he says.
I have no doubt that she's going to unify the whole lightweight division and become one of the greatest boxers, full stop – not just women's boxers, let's make that clear, but boxers – that's ever lived.
It was Millstreet, and not Drinagh, where Smith first became acquainted with Cork.
Steve Collins' double-header with Chris Eubank takes up special residence in boxing folkore on either side of the Irish Sea, and it afflicted upon one young boxing reporter from London a grá for a land with which he had no real prior connection (though he does point out that one of his paternal great-grandmothers hailed from "somewhere around Dublin").
"It was the end of my first year at Sky, actually," Smith recalls. "I started in '94, and in '95 we went to Millstreet for Collins-Eubank I.
"I was just a young pup, a keen reporter, but I just had a fantastic time there. That started my love affair with Ireland.
"I got to know Noel C. pretty well: it was fantastic having him on his tractor going through the streets of Millstreet.
"Of course, you'd had the Eurovision Song Contest there a couple of times, so to bring boxing there was phenomenal. I mean, the whole story: Eubank was unbeaten, Steve Collins got the doctor [Tony Quinn] on board and faked the hypnosis which spooked Chris. The whole thing was just a terrific event.
"The second fight in Páirc Uí Chaoimh, very different: Collins rushed him from the beginning, changed his tactics, and he managed to get the better of him again. It was more of a rainy night in the open air in Cork the second time – it wasn't quite as memorable, I don't think, as the first one. But it was still great.
I went back to Millstreet with Steve, actually, some 19 or 20 years later. And it was funny – I saw Noel C. Duggan's boy, and I was telling him: 'Oh, it was great. I remember your father well.' And he just goes, 'Nah, Dad's around the corner on the tractor!' I couldn't believe he was still alive – he must have been about a hundred!
"It was a fantastic time for boxing in Ireland.
But it also shows that anything can happen. So I believe we can do the same for Katie some, what, 20 or 25 years on.
"I've always really enjoyed coming back to Ireland", Smith says, "not just socially in the summer but any time we've had boxing on there; Matt Macklin's obviously fought in Dublin, we've had some great nights with Lennox Lewis there, Prince Naseem Hamed when he fought Manuel Medina – they've all been a bit special.
"I think it's just the passion of the people: everybody seems to love their sport, whether it's GAA or boxing or football or whatever it is. I'm a big Liverpool fan and I tend to find plenty of those around as well!
All in all, Ireland is just a great place to come for a sporting event. I'll do everything I can to get Eddie Hearn to come back with Katie.