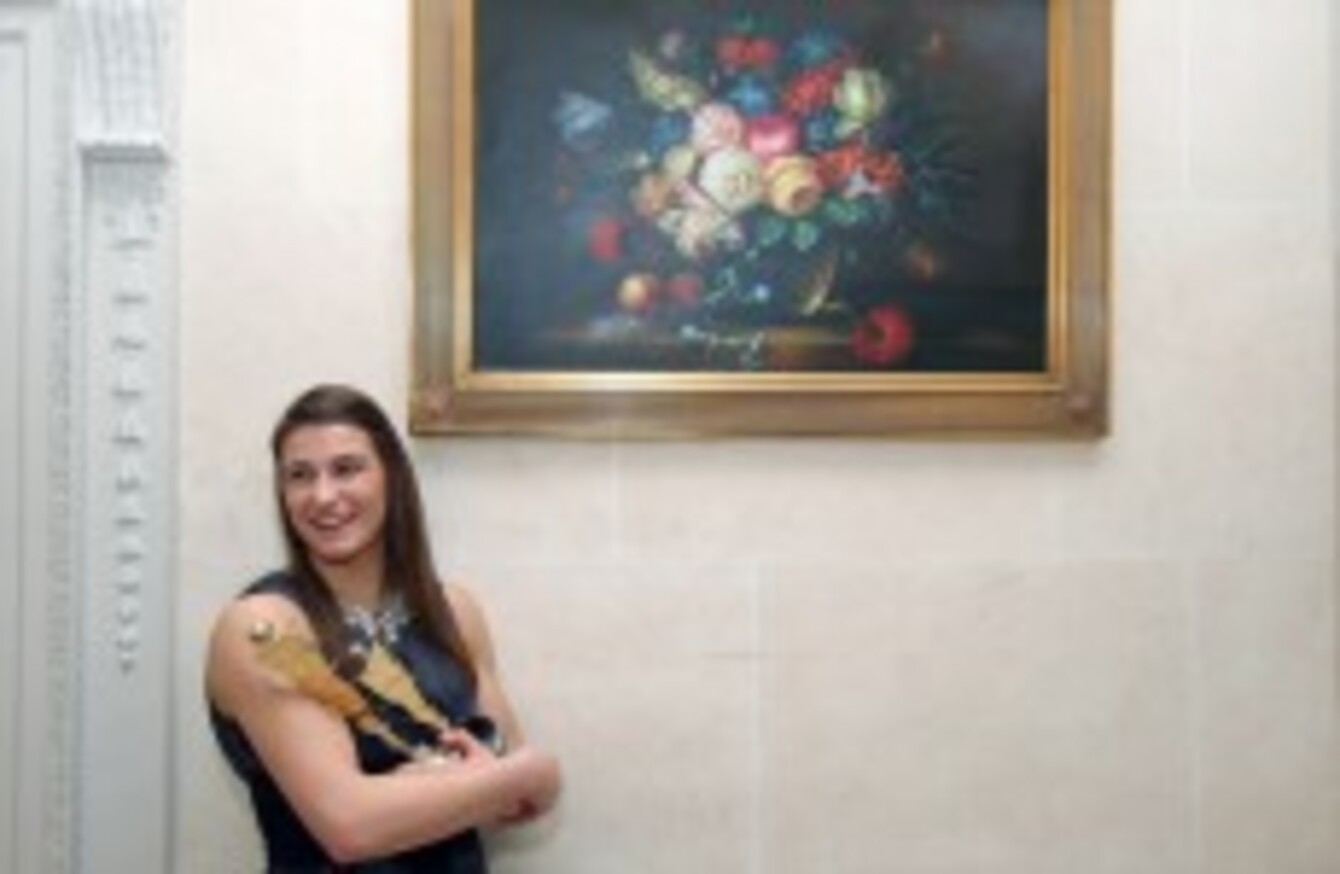 Katie Taylorat the Shelbourne Hotel earlier.
Image: INPHO/Cathal Noonan
Katie Taylorat the Shelbourne Hotel earlier.
Image: INPHO/Cathal Noonan
KATIE TAYLOR WAS today named The Irish Times/Irish Sports Council 'Sportswoman of the Year 2012' for her exceptional sporting achievements throughout the year.
Following an outstanding year for Irish women in sport, Taylor was presented with her award by An Taoiseach Enda Kenny at an awards ceremony in Dublin.
The Bray–born lightweight boxer won the Sportswoman of the Month award in May after securing her fourth consecutive World title, beating Russian Southpaw Sofya Ochigava 11-7 in a tense technical final in Qinhuangdao, northern China.
Taylor then represented Ireland in the London 2012 Olympic Games, where she won the country's only gold medal.
After her win, Taylor said: "I'm honoured and delighted to be named the Sportswoman of the Year. This has been an amazing year for me and for Irish women in sport and I would like to congratulate all the finalists in their respective fields who have excelled at major sporting events such as the 2012 London Olympics, the All Ireland Finals and The Grand National."
Speaking at the event, Enda Kenny said: "Irish sportswomen have excelled both nationally and internationally.  Today we recognise their enormous achievements in a range of sports – from boxing and swimming to sailing and rugby.  Their success is a result of unstinting commitment, dedication, training and hard work.
Irish Olympic athlete and hockey player Maeve Kyle was presented with the Lifetime Achievement Award. In 1956, Kyle competed in the 100m and 200m in the Melbourne Olympics and subsequently in the Rome Olympics (1960) and Tokyo Olympics (1964) where she reached the semi-finals of both the 400m and 800m.
She had a very successful career in Hockey, gaining 58 Irish caps as well as representing three of the four Irish provinces (Leinster, Munster and Ulster) at different stages of her career. She was named in the World All Star team in 1953 and 1959.
Other sportswomen acknowledged at the awards were Fiona Coghlan, Audrey O'Flynn, Stephanie Meadow, Ursula Jacobs, Rena Buckley and Sycerika McMahon who won after breaking nine Irish Records at the European Short Course Championships in France and winning a total of eight national titles at the Irish Short Course Swimming Championships in Lisburn.