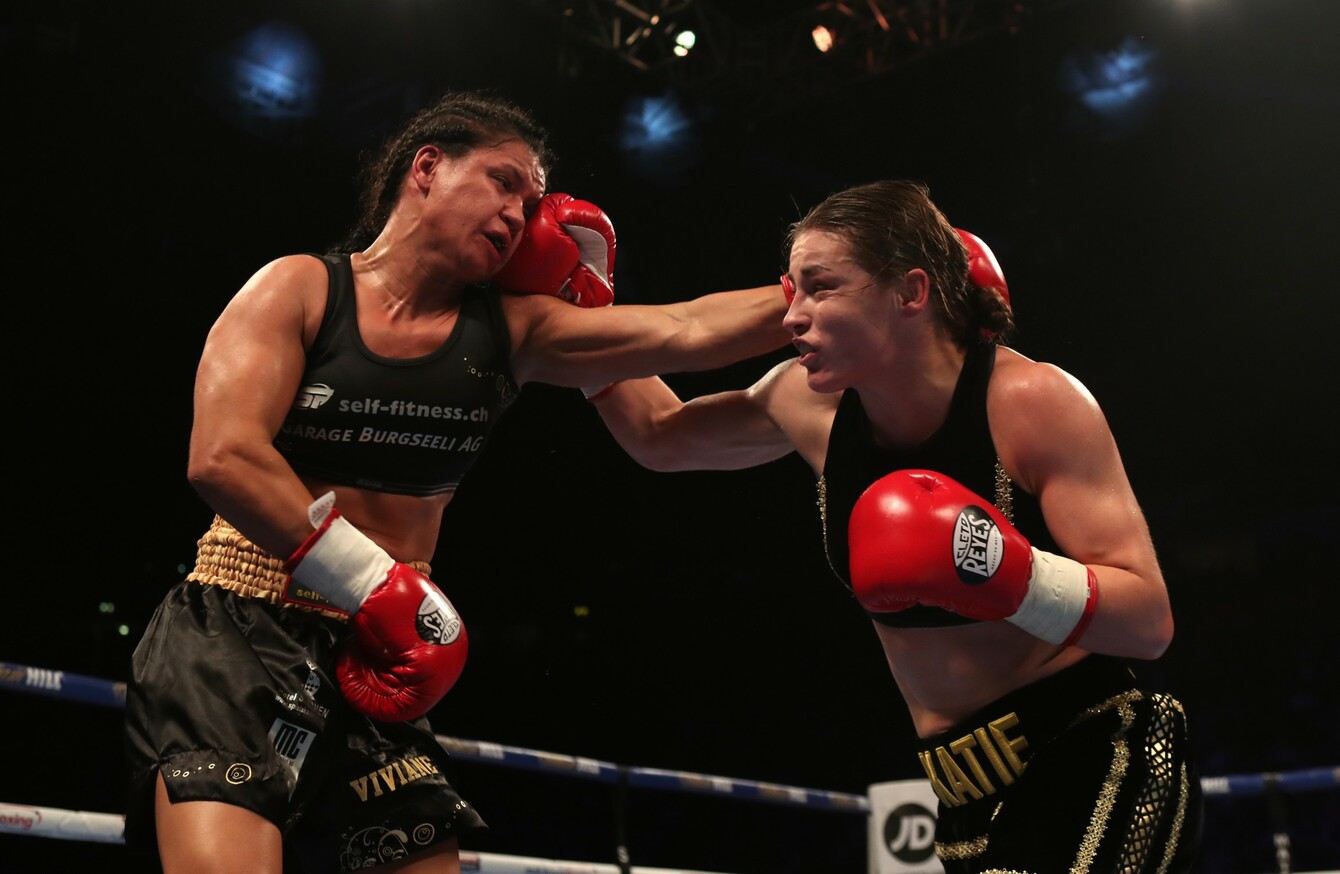 Taylor: "It was a bit of a flat performance."
Image: Peter Byrne
Taylor: "It was a bit of a flat performance."
Image: Peter Byrne
– Ciarán Gallagher reports from Manchester Arena
KATIE TAYLOR REFUSED to blame her relatively late ring entry for what she described as a "flat" performance on Saturday night.
The Bray native recorded her second paid victory in the Manchester Arena, dominating Swiss-based Brazilian Viviane Obenauf over six rounds.
The win came only a fortnight after Taylor's debut success in London where she stopped Polish journeywoman Karina Kopinska in three rounds.
Obenauf, who entered the fight with a winning 9-1 record, proved to be a more durable foe with the 30-year-old lasting the six-round distance with a determined albeit unpolished display from the underdog.
The fight was billed fairly high up on the Sky Box Office pay-per-view TV fight card as her promoters, Eddie Hearn's Matchroom Sports, and manager Brian Peters were keen on raising Taylor's profile outside of Ireland with her inclusion on the sold-out 21,000 capacity show, which was headlined by Anthony Joshua's successful defence of his IBF heavyweight title with a third-round knockout win over Texan Eric Molina.
The Bray native had been expected to be in action sometime after 8pm on Saturday, but she did not enter the ring until around 10.30pm on a busy fight night in Manchester.
Taylor did not blame the delay on what she felt was a flat performance, but the 30-year-old did admit that she was tired after a quick start to her pro career following the disappointment of losing her Olympic crown in Rio just four months ago.
"I think I was well prepared. I wouldn't say that [delay] was an issue for me," said Taylor.
"I've had nights where I've been waiting around for a long time as well.
"I wouldn't use that as any sort of excuse. We were well prepared coming in. we roughly knew what time we were on, so it was fine.
"I was a bit tired there tonight. It was so warm in there. You get days like that, don't you?
"But the most important thing is I was able to push it out and win the six rounds," added Taylor, who will now take a break over Christmas before returning to the ring in the new year.
"It was a bit of a flat performance," said Taylor, who claimed every round on referee Darren Sarginson's 60-53 scorecard. "But it was great to get the six rounds, it was a good experience for me.
"A win is a win, I suppose, and that is the most important thing," continued the five-time amateur world champion.
"She [Obenauf] was a tough girl, she was obviously durable. She was coming with a good record, a winning record, so I knew it was going to be tough but I just felt a bit flat in there.
"It was obviously a quick turnover from the last fight as well," added Taylor.
A fight date at New York's Madison Square Garden on St Patrick's weekend looks likely, while an earlier bout in January or February is a possibility.
The London 2012 Olympic champion may also fight again in the English capital in 2017 as Matchroom have confirmed that Joshua will fight against former heavyweight champion Wladimir Klitshcko at Wembley Stadium on April 29 and Taylor could feature on the undercard to that big showdown.
"It was a great fight for me to have and obviously if they're thinking about world titles and stuff next year, it was definitely a good step up for me. It was the right fight for me," said Taylor, reviewing her latest win.
The42 is on Instagram! Tap the button below on your phone to follow us!