The 110% Commitments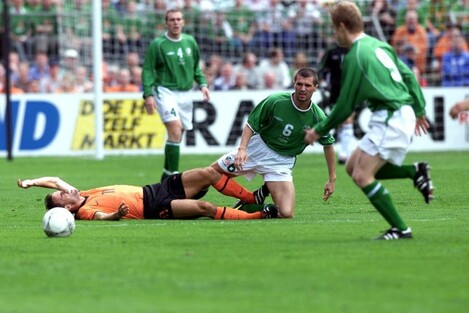 Source: INPHO
DISGUSTED WITH THE type of music he was hearing in Ireland, Jimmy Rabbitte set about creating his own group to raise the standards and bring soul to the people. Sound familiar?
Railing against the perceived failings around him with Ireland and United, the working-class boy from the northside of Cork, Keano brought his own brand of rock'n'roll to football. The Commitments disbanded because of a clash of egos. When Keane was in charge of his own teams, there was only room for one. Now he's hoping to make sweet music with Martin O'Neill.
Clive Clarke Ha Ha Ha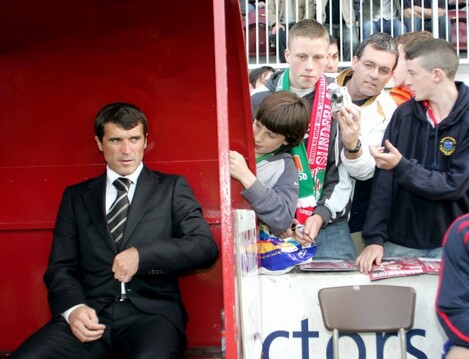 Source: Morgan Treacy/INPHO
When the former Sunderland defender spoke out following Keane's departure from the Stadium of Light, the ex-manager hit back in extraordinary fashion. Dubliner Clarke had suffered cardiac arrest in the dressing room at Notts Forest while on loan at Leicester City and was forced to retire from the game on health grounds soon after.
Clarke claimed Keane had lost the dressing room at Sunderland and in an outburst following his exit from the Black Cats, Keane retorted:
"The staff came in and said, 'Clive Clarke had a heart attack at Leicester'. I said, 'Is he OK? I'm shocked they found one, you could never tell by the way he plays'."
The Van
It was the MUTV interview that saw him shoved out the door of Old Trafford. The 2005 footage, allegedly ordered to be destroyed by the club, signalled the end of Roy Keane's career at Old Trafford.
The release of Alex Ferguson's latest book, however, gave us new insight into the infamous interrogation.
As Ruud Van Nistelrooy prepared for a TV interview by combing his hair, Keano is reported to have told him he should be more concerned with scoring goals than his appearance. When Keane reacted furiously to the withdrawal of the United channel piece, Fergie claims the Dutch striker stormed out of the room.
Having said all that, Keane did pick Van Nistelrooy in his all-time United XI in the recent documentary with Patrick Viera. Ferguson's autobiography also gave us this rather unfortunate quote.
"The hardest part of Roy's body is his tongue. He has the most savage tongue you can imagine."
Source: TeleFunkSports/YouTube
A Star Called Henry
While Irish fans plumbed the depths of despair following that handball, there was little sympathy from our former captain. Still bitter following his treatment by the FAI, Keane responded to the controversy by saying: "what goes around comes around."
"They can complain all they want but France are going to the World Cup – get over it," he said.
It also led to a ferocious tongue-lashing for his new found friend John Delaney.
"People seem to forget what was going on in that World Cup, and that man is on about honesty. I was one of the players and he didn't have the courtesy to ring me."
"I'd focus on why they didn't clear it. I'd be more annoyed with my defenders and my goalkeeper than Thierry Henry. How can you let the ball bounce in your six-yard box? How can you let Thierry Henry get goal-side of you? If the ball goes into the six-yard box, where the hell is my goalkeeper?"
Harsh Roy. Harsh.
Source: worldfootballbook/YouTube
The Snapper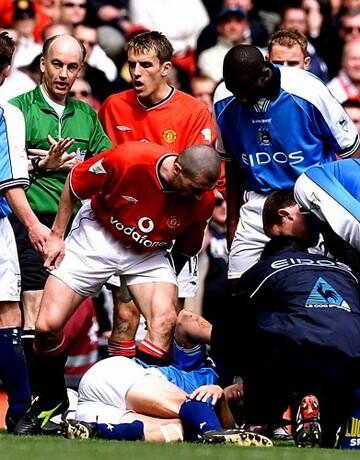 Source: NOBLE PHIL NOBLE
Fairly self-explanatory.
What have we missed?