THE DROP GOAL will always be remembered but if Ireland go on to win the Six Nations this year, Johnny Sexton's kick pass to Keith Earls against France will take a place in the hall of fame too.
On phase 24 of Ireland's 41-phase attack, the Ireland out-half stroked his kick perfectly across towards Earls on the right, finally taking Joe Schmidt's side into the French half.
Dan Sheridan / INPHO Earls rises to gather Sexton's kick. Dan Sheridan / INPHO / INPHO
"It was actually a perfect kick because it made me come in off the touchline," says Earls. "If it was any closer to the touchline, it probably could have been easier to knock me into touch. It wasn't over my head, I was able to come at it at an angle."
30-year-old Earls was pleased with himself for putting his hand up to signal the space for a kick in this instance, particularly after Nigel Owens had pinged him for a knock-on only minutes before, a decision the Ireland wing felt was "a bit harsh."
A more inexperienced wing might have gone into his shell, but Earls wanted another involvement and knew his forwards needed a dig out.
Rolling back through the match tape, it's clear that Earls had his hand up signalling the space for at least six phases before Sexton found him, although he explains that he couldn't afford to be screaming inside for the ball.
"It's hard enough to communicate in because if you're roaring and shouting then their winger looks up and sees you and they start fanning out," says the Munster man. "So I suppose it's a telepathic thing with all 10s – you hold your width and if they see a hand out, it's on.
"Sometimes there mightn't be a hand out, I might just have to go off his body language if he sees the space."
That intuition and feel for the game is something that clearly comes with experience – Conor Murray said all he needed was a flick of the eyebrows from Sexton to know it was time for the drop goal attempt.
As soon as Sexton cross-kicked the ball, Earls showed the explosiveness of a young man.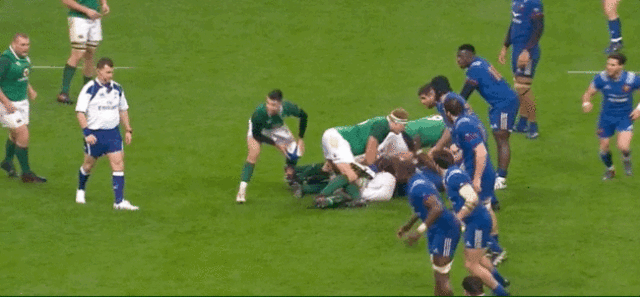 Click here if you can't view the clip above
His leap off the ground and over Virimi Vakatawa's head was startling, while his rapid footwork upon landing to step inside the covering Henry Chavancy and then sprint forward was also impressive.
"Felix [Jones] has a good saying in Munster for the lads out wide – 'if you're stuck out wide on your own you have to fight like a rat in a corner.' That stuck out in my head as I was waiting for support to come," says Earls.
"I suppose it all depends on the space, but I think especially if there's only one or two fellas around me to try and make my way in towards them, especially at that time in the game as well.
"The height of the ball forced me to come in, which was good."
The rest is history, although it took another two agonising minutes for the finishing touch from Sexton to arrive.
Earls' involvement was pivotal for Ireland, and the circumstances of the victory have left the Limerick man feeling that last weekend's game, his 63rd for Ireland, was the proudest achievement of his time as an international.
"That game was definitely my proudest moment in Irish rugby for me in my playing career because I haven't won a championship or anything like that," says Earls.
"That was my first win in Paris and I suppose the way the game went, the last kick of the game, it was definitely my proudest moment, my biggest moment."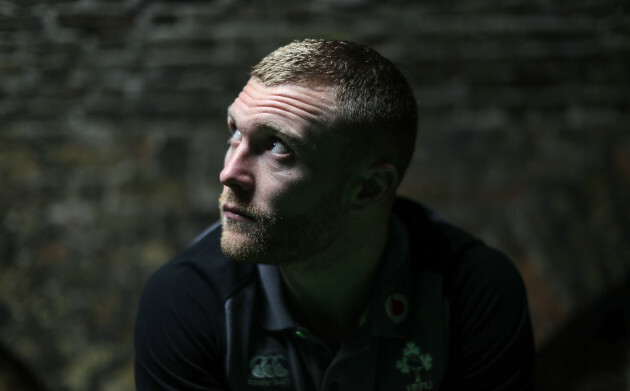 Dan Sheridan / INPHO Earls is comfortable in his own skin these days. Dan Sheridan / INPHO / INPHO
While Earls feels that Ireland's confidence has been greatly boosted by the win in France – "teams will find it hard to see us off" – he underlines the strides Schmidt's team need to make in the coming weeks, beginning with Saturday's home clash against Italy.
Playing on the right wing, Earls found himself in space twice in the opening quarter of the game in Paris but opportunities to get up to full speed were few and far between thereafter.
"We started both halves well and in the first couple of minutes we did get down the outside but as the game went on the ball started getting slower and slower, and I suppose we lost shape a small bit for bits and pieces.
"It comes down to small things, someone getting dominated in a carry and we might have to send in an extra cleaner or someone gets injured like Josh [van der Flier], or fellas are just generally tired or communication.
"There are a lot of things which can go wrong and I suppose fellas in a high-pressure environment mightn't do their role perfectly. Rugby is never perfect but we try to get there at the best of times."
Earls will be hoping to see much more of the ball in Dublin this weekend, and he may benefit from a slightly altered Ireland team.
Exciting Leinster back Jordan Larmour is expected to feature in some capacity for Ireland and Earls says he has been impressed with what he's seen of the 20-year-old in camp at Carton House.
"He's been flying it in training. He's a really nice kid as well. I've spent a bit of time with him playing darts and cards.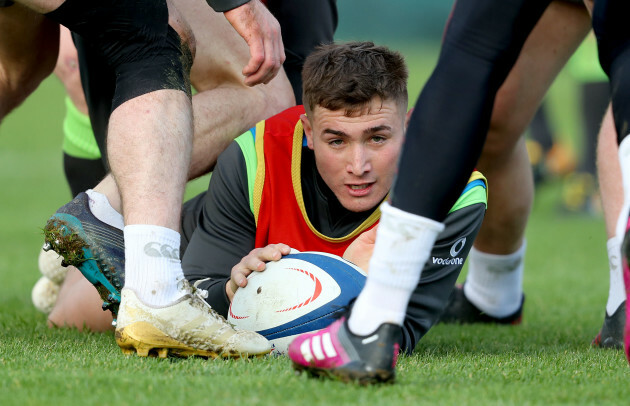 Dan Sheridan / INPHO Larmour could make his debut this weekend. Dan Sheridan / INPHO / INPHO
"He's had a phenomenal start and he fits in perfectly. For a young lad who has just come onto the scene this season, he seems like he's been around for a long time.
"I envy all of those young lads, they're incredible. I suppose when I came in first it was all about playing for Munster and the fear, with Paulie and Rog and all them. I suppose you drive yourself mad."
Earls laughs and shakes his head when he is asked to consider what the 20-year-old version of himself was like in comparison to Larmour now.
"I probably took it for granted, I probably thought my talent would get me there alone. I found out from harsh lessons you need to keep working every day. That's what I do now, constantly looking for an extra 1%. That's a 24/7 pursuit.
"I'm a lot lighter, I was a lot chubbier back then, I didn't really look after myself back then. I'm faster and more agile now than I was then.
"I had bad habits from my parents eating Chinese on a Sunday night. It was changing all the time back then with diets. I got obsessed with trying to be heavy, then I got obsessed with trying to be skinny.
"I've just found myself now, thank God."
The 42 is on Instagram! Tap the button below on your phone to follow us!