THE DECISION BY Keith Higgins to concentrate on football this year and not line out for the Mayo hurlers was entirely his own call.
That's according to Mayo joint manager Noel Connelly, speaking at yesterday's 2015 Connacht championship launch.
Connelly, who is in charge of the Mayo footballers along with Pat Holmes, said an ultimatum was not handed to the captain to choose football over hurling this year.
Higgins didn't play for the Mayo hurlers last weekend in their Christy Ring Cup opener, but Connelly said the Mayo management had no involvement in that decision.
Connelly, himself a former Mayo skipper, said he would never stand in the way of anyone wanting to represent their county, but that playing both codes is next to impossible these days.
Higgins was handed the captaincy this year for the first time and Connelly thinks that added responsibility, along with Higgins turning 30 earlier this year, meant he reached the decision off his own bat.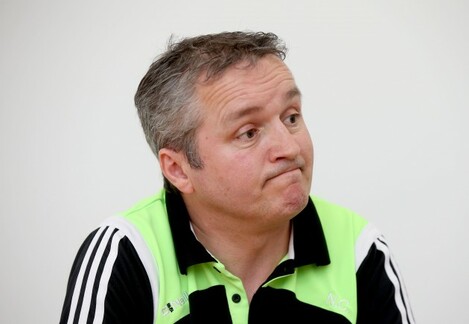 Mayo's joint manager Noel Connelly. Source: James Crombie/INPHO
"To be fair, while we are not disappointed he is not playing both codes, we would not stop a player from playing for their county," said Connelly.
"We would say at this stage of his life a weekend of two codes was too much for him. The decision was his. He could play if he had the desire, but he is now captain of our team I think he feels one code is maybe enough for him at this time.
Players at yesterday's Connacht GAA football championship launch. Source: James Crombie/INPHO
"Keith is 30 years of age and captain of our team and instrumental to our plans. (In the past) he could play two games, hurling one day and club football the next day and come back.
"Keith at this stage in his career has managed to do that quite well but in the last couple of years I think Keith probably realised that one code is enough for him."
Originally published at 11.45