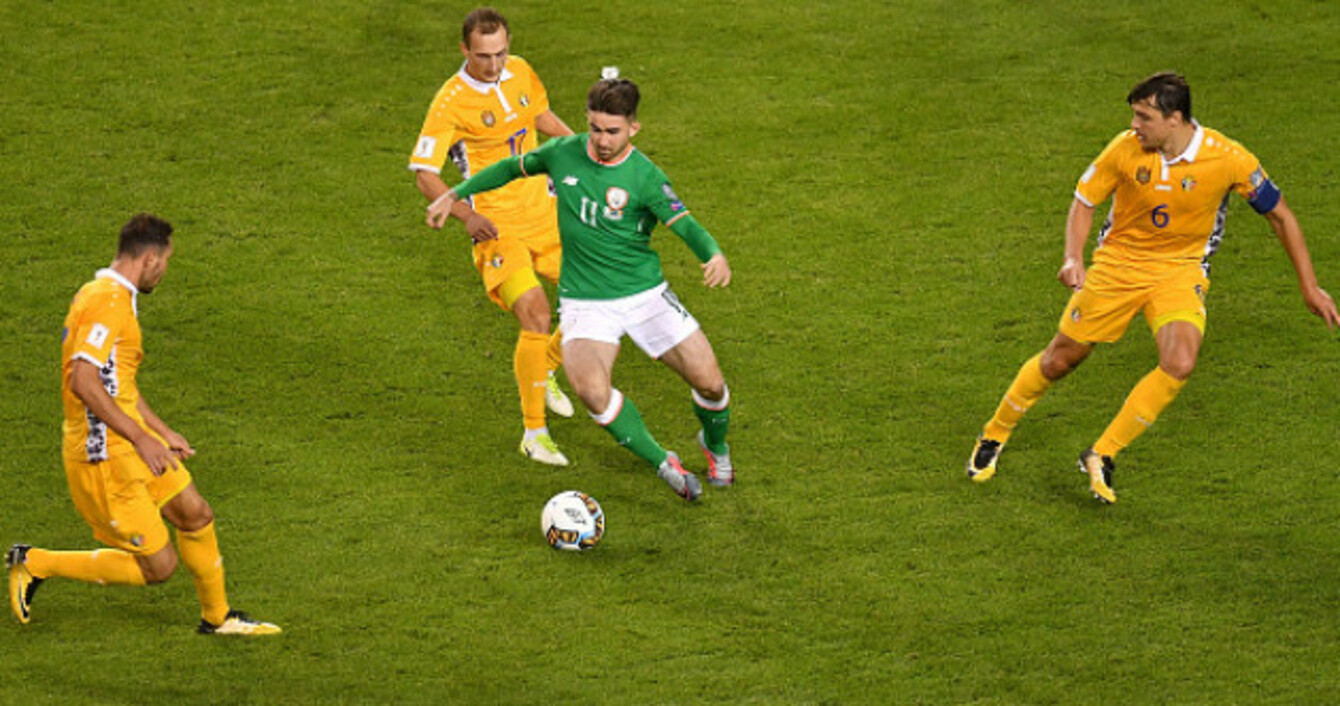 Maguire during his Ireland debut against Moldova.
Image: Sportsfile via Getty Images
Maguire during his Ireland debut against Moldova.
Image: Sportsfile via Getty Images
MARTIN O'NEILL IS expected to ring in a new era for Ireland's senior men's team when he takes a youthful group to Antalya next week.
Of the 30-strong provisional squad named last Thursday, eight players are uncapped and five were earning call-ups for the very first time.
Having made his international debut at home to Moldova back in October, Sean Maguire is likely to get another chance to impress in a green shirt against Turkey.
The ex-Cork City striker has been in fabulous form for Preston North End since returning from a four-month injury lay-off. In 134 minutes of football, the 23-year-old has bagged himself four goals in recent weeks.
Kevin Kilbane, the former ireland international who began professional career at the Championship club, has high hopes that now is the time for Maguire to become a regular fixture for the Boys in Green.
"Speaking to him at Preston a couple of weeks ago, just before he was coming back from injury, you get that sense that he's got that little bit of steel about him," Kilbane said at the launch of the Affidea Rock 'n' Roll Half Marathon yesterday.
I think he has a steeliness about him that's probably been built up from having his confidence knocked in the past. He's been quite open about the fact that it was knocked at West Ham and even when he first came back home. I think he feels that little bit of rejection has helped him further down the line.
"He's at the stage where he's not 17 or 18, he's had that little bit of negative feel around him, but now he looks fully confident and ready to keep going."
Ireland have lacked a regular goalscorer since all-time record holder Robbie Keane retired from international duty in 2016. It would be hugely unfair to even compare Maguire with the finest finisher the country has ever produced, but Kilbane is optimistic he can deal with any pressure that comes his way.
"He seems to thrive on it, that's the thing," the pundit added. "I was looking at his record for Preston and his goal-scoring ratio for starts and games is phenomenal, given it's his first season.
"For him, that expectation on him is almost as if it's like water off a duck's back. He's had that setback in his career and I think now the realism is with him that 'I am good enough'.
If I'm looking at it from Preston North End's point of view. Whatever they paid to Cork, they're sitting on a two million pound player as it stands now.
"The way things are going in his career, he doesn't need to be intimidated coming in. He's almost at the level now where he can come in and feel 'Yeah, I'm good enough. This is me'.
"Even when Robbie was around the squad in his last year but wasn't necessarily getting the starts, the worry was 'Where is the next Robbie going to come from?'
"Shane Long has got so many different attributes but in fairness, his goal-scoring record is not at the level of Robbie Keane so we've wanted a player who can do it.
Be part
of the team
Access exclusive podcasts, interviews and analysis with a monthly or annual membership.
Become a Member
"I think he [Maguire] be confident in himself that he can do it. He's a long way to go before he reaches that level and the expectation on him is great, but, in his head, he will certainly feel like he can take this mantle now, go forward and score goals for us."
West Ham teenager Declan Rice is one of the few young Irish players currently plying their trade in England's top flight, and the U21 international could earn his first senior cap against Turkey.
But Kilbane has pleaded with fans and the media to give him time.
"We don't have anyone of that age, but I don't think many national teams have a player of his age playing in the Premier League, so there will be a certain amount of pressure on him." he says.
"But we have to be patient with him. He's played a lot of games this season and playing around some of the better players at West Ham is going to help him.
In the last 20 years since I've been around the squad, we've hyped up every new player who's come in. 17, 18, 19, 20, 21… it's not a great thing hyping them, if they are to fail it's held against them. It's so difficult.
"He's at the age where he might not go on and have a full career, who's to say he can't, but there's a lot of stats to say he simply won't. He's doing all the right things, and he's showing a lot of people he's got the right mentality to have a great career at the top level."
O'Neill warned last week that, even if Rice does make his debut on 23 March, he would theoretically still be eligible to switch allegiance to his birth country England as it's only a friendly game.
"I didn't read it like that, he [O'Neill] is quite right to be cautious," Kilbane added. "I don't think he wants to get his fingers burnt. I don't think he wants to get hurt. It's in all our minds when we talk about English-born players who've played well at a certain level, and underage for us. We've had it before with [Jack] Grealish, and Michael Keane is another – he changed.
"I don't agree with it whatsoever. I'd be strongly against it, but Martin has to be careful in how he goes about it because he knows full well what can happen."
When asked what he hopes to see in the upcoming game, the regular Match of the Day guest and member of the Off The Ball team, replied:
"I think it's about getting as many of the players integrated. More game time for the likes of Sean Maguire, Alan Browne and [some for] Declan Rice. Get them on the pitch and let's see.
"As much as we'd love to see a winning Irish side, I think it is irrelevant. It's about giving players the game time, getting them on the pitch and getting them feeling fully confident around the squad, with what Martin O'Neill wants from them and what the other players are going to be demanding from them as well."
The Affidea Rock 'n' Roll Dublin Half Marathon, was launched yesterday by former Ireland footballer Kevin Kilbane. This unique running event returns to the streets of Dublin on Sunday, 12 August 2018 for the sixth time. With four distances to choose from, bespoke "must have" medals, music acts at each mile and a finish line concert it has become an annual summertime running tradition offering; Music, Moments, Medals and Miles. To register for the event, go to www.runrocknroll.com/dublin/register/