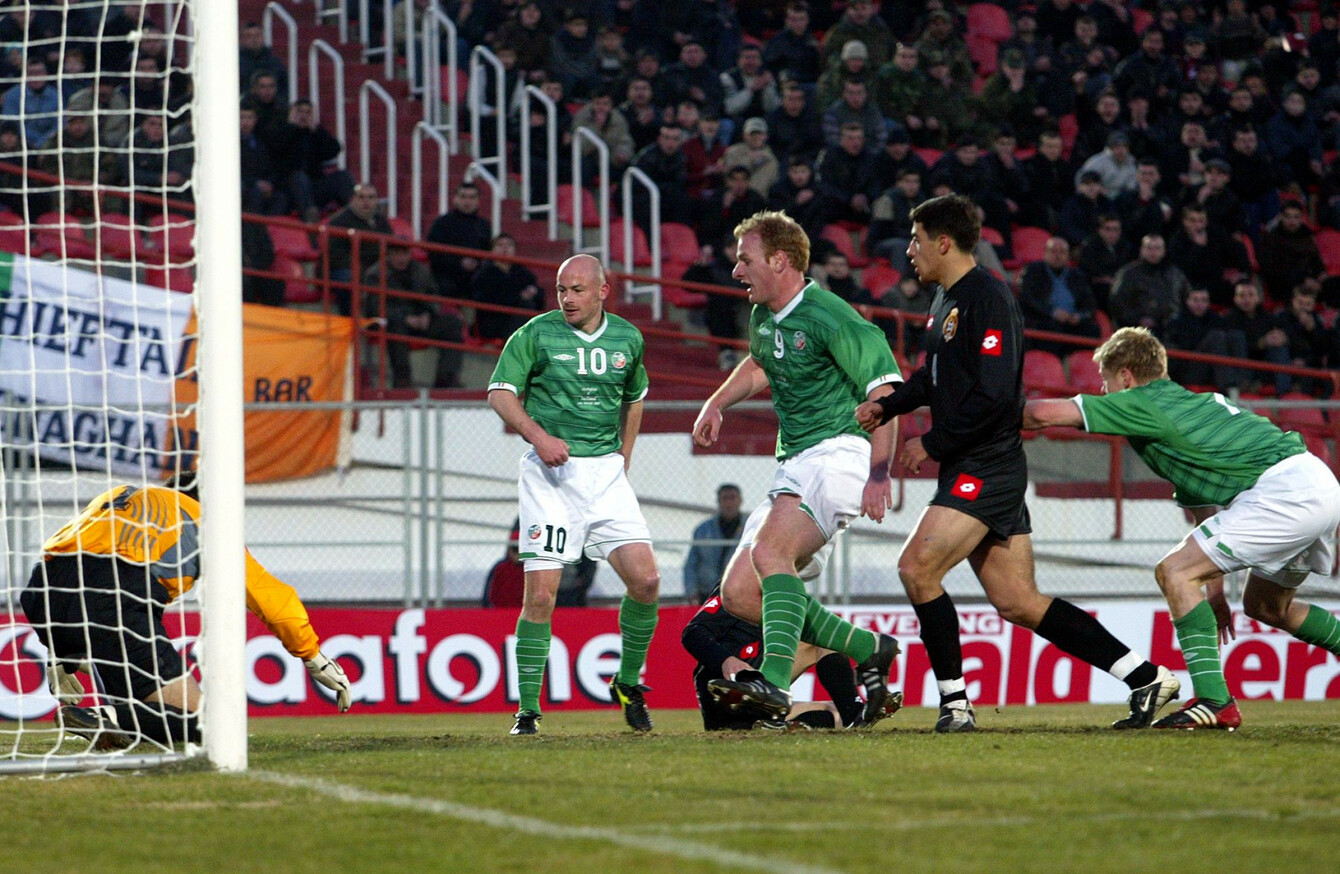 Damien Duff scores a goal for Ireland against Georgia in the infamous 2003 match between the sides.
Damien Duff scores a goal for Ireland against Georgia in the infamous 2003 match between the sides.
Updated at 21:30
SATURDAY'S MATCH BETWEEN Georgia and Ireland will be the ninth time the sides have met in total.
Ireland may have won the previous eight games between the teams, however their memories haven't always been entirely happy ones.
Another consistent theme in these matches has been Ireland having to work hard for the victory — in the seven competitive fixtures the two sides have played, Ireland have never managed to score more than twice, and all bar one of these matches have been won by a single goal (as in either 2-1 or 1-0).
The very first match between the sides stands out in the memory, not just because it was Brian Kerr's first competitive game in charge of the Irish team, but also on account of the intimidating atmosphere at the Mikheil Meskhi Stadium (Saturday's game will be played in the much bigger Boris Paichadze Stadium).
I was hit with a knife — it was funny at the time," former Ireland international Kevin Kilbane recalls. "Something just hit me on the shoulder — I looked down and it was an open flick knife."
And the ex-Sunderland and Everton winger was not the only one on the receiving end of the home fans' ire that day.
The Guardian's report of the game describes how: "Lee Carsley and Damien Duff were caught on the head by plastic bottles and Gary Breen was hit by a ball bearing. Glass smashed against the frame of Shay Given's goal and a bottle narrowly missed Gary Doherty after his late winner."
Going into the game, it was hostile," Kilbane says. "We'd rarely go away and experience bad atmospheres, and hostility towards the Irish fans, but I believe a lot of the Irish fans felt intimidated when they were there themselves, going into the ground, getting a load of gestures that they never normally would have got.
"It was very different, and it was Brian Kerr's first (competitive) game as manager, so it was a new era for us at the time."
As is always the case against Georgia, the Irish team were made to work hard for the victory. After Lee Carsley had hit the post from a Kilbane cross, Damien Duff slid home the opening goal on the rebound to give Ireland a deserved first-half lead.
Nevertheless, Levan Kobiashvili beat Shay Given at his near post with a free kick in the 61st minute to equalise and prompt a Georgian rally in the second half.
However, Gary Doherty's header with seven minutes of normal time remaining, after Gary Breen had headed a Damien Duff cross into his path, saw Ireland emerge with a hard-earned three points ultimately.
We managed to ride out the first half hour of the game under a bit of pressure, as I think the team's going to find this weekend," Kilbane says.
"If you can get a goal before half-time, it's ideal.
We ended up winning that game quite comfortably — it was 2-1 in the end. It was one of those that was a tough match, but we managed to see certain rough spells through in the game.
"We always knew we had enough, and I think that will be the case now."
Source: Dato/YouTube
On the other two occasions when Ireland have met Georgia away from home, the scoreline has been the same, though the atmosphere hasn't been quite as hostile.
In Giovanni Trapattoni's first competitive match in charge in 2008, the teams met at the neutral venue of Mainz in Germany due to the Russian invasion of Georgia happening around this time. On that occasion, a rare Glenn Whelan pot shot helped Ireland claim a 2-1 win over the Georgians.
Moreover, in Martin O'Neill's first competitive match in charge (notice another pattern emerging here?), Ireland again prevailed 2-1, with Aiden McGeady registering a brace that included a brilliant last-gasp wonderstrike.
More recently, the Boys in Green have found the Georgians probably more difficult than ever to overcome, as Kilbane acknowledges.
Look back to the game early on in qualifying — Georgia outplayed us. And they should have taken something from the game — at least a point, probably three — yet they lost and Seamus Coleman scored. So it's a toughie.
"Even in the last qualifying campaign — Aiden McGeady scored the two goals out there. We were outplayed for long spells in that game as well.
So Martin O'Neill's quite right to be cautious ahead of the game, but if I'm looking at it man for man, we should have too much for them."
Kilbane, however, believes Ireland cannot afford to approach the fixture in an overly adventurous manner. Decent sides, including Euro 2016 semi-finalists Wales and Scotland, have discovered the hard way how potent the Georgians can be on the counter-attack.
"I think it's more difficult when you go away, no matter who it is, no matter who you play against," Kilbane adds.
The Moldova game had a similar sort of feel to it. And Georgia are probably a better side than Moldova.
"You're going to get spells when you're under pressure, particularly with the one or two good players that Georgia do have.
(You need to) just be solid and compact, not necessarily open and adventurous, because you don't need to be.
"I think we all underestimate (how difficult it is). When we're watching games, you think 'let the shackles off,' but it's easier said than done.
In your mind, if you think 'we're going to go outplay them,' you leave yourself open and vulnerable. You always want to have that little cautious thing in the back of your mind that you just can't slip-up, because these two (upcoming World Cup qualifying) games are vital for us."
Another potential problem could be scoring goals. At the moment, Ireland don't have a striker that could be regarded as a natural in this regard.
Physically, when he first came in the squad with us, you wouldn't see someone that's more of a natural athlete than him — strong, quick, good in the air," Kilbane says of Shane Long.
"He wouldn't be a 6ft-plus player, he's around 5'11, but he's got attributes to go and score more goals. He's probably had that throughout his career.
"(But) he's not a natural goalscorer — it doesn't come to him like a Robbie Keane. In one-on-one positions, you'd bank on Robbie to score the goals. But he's a player that we have relied upon to do dirty work, do the other side of a striker's role.
It surprises me that he doesn't get more game time (at Southampton). I think he's an 8-12 goals a season man.
"I think he's a very good striker, he's just not going to get you 20 goals (in the Premier League), that's not him.
Daryl Murphy's started off scoring goals (in the Championship), so has David McGoldrick. We're all looking at Sean Maguire — it didn't surprise me Martin O'Neill left him out, he hasn't been scoring and he's still relatively inexperienced at that level.
"(But) we have to look to a Sean Maguire or Scott Hogan now to get goals, because there's no one in the squad at the moment (who can do that regularly enough). We've not got a 20-goal-a-season striker."
With Chelsea, Tottenham, Man City, Man United, Liverpool and Celtic all battling it out in the UEFA Champions League Group Stage, Tuesday nights will be bigger than ever.  TV3 will have the pick of Tuesday's live game as well as comprehensive highlights and analysis.
Subscribe to The42 podcasts here: