Kevin O'Brien reports from Croke Park
ROSCOMMON CLAIMED A second piece of silverware under Kevin McStay yesterday, adding a Division 2 league crown to the Connacht title they delivered last July.
McStay admitted under the Cusack Stand afterwards that his team were in bonus territory with a return to the top flight already guaranteed.
Source: Bryan Keane/INPHO
With a likely Connacht final coming up against the winners of Mayo and Galway, the Rossies manager didn't want to give his future opponents an early look at the gameplan he hopes to employ later in the summer.
"Today wasn't championship, we weren't going to be showing our hand too much," he said.
"Cavan were never going to set up to close it down and we weren't either. It's the league, it's a kind of a bonus game and nobody is going to show their hand too much up here.
"It's quite different to what's going to go on in the next few minutes. We've a big, big match that qualifies us for Connacht if we can beat Leitrim or New York.
"It's a win, we got promoted and we got the cup as well. We're in Division 1, as we hoped to be and I don't think anybody is getting carried away with the type of match out there.
"It's good that we don't show our hand too much at this stage of the year either."
That accounted for the extremely open game that took place, with Roscommon conceding three first-half goals, including two inside the first eight minutes. Dara McVeety did serious damage early on for Cavan, as did Conor Bradley.
After the second goal went in, Niall Kilroy resumed his usual sweeping role from centre-forward and it steadied the ship at the back for the Rossies.
"We made a mistake in the management," McStay explained. "We didn't want to give them the overlap out around the 50 so we pushed up Niall (Kilroy), we didn't play a sweeper for the first quarter and we paid a heavy price for it.
Source: Bryan Keane/INPHO
"There's nobody infallible around here. We made an error but in hindsight our tackling wasn't good enough. People fell off tackles and didn't stand up to tackles and they got clean through so we'd be disappointed with that. We had the insurance policy of Niall and we didn't use it but after the second goal we had to cash in our chips.
"What had they, 3-2 at half-time? Five scores, one of them is a free so they'd only got one point from play and we'd done all the scoring and here we are chasing the game. The goals were the difference.
Flash Sale
50% OFF
Use promo code: FLASH50 at checkout to access exclusive analysis, insight and debate for only €21.
Become a Member
"It was a risk and we discussed it, that we could get caught for a goal early on. We just wanted to play loose today and bring the game to Cavan and just have a cut, we didn't want to get too tactical about it. That was a mistake and thankfully we got ourselves out of it."
At the far end, the Roscommon forwards were in irresistible form. This was their highest tally of 2018, with Niall Kilroy, David Murray and sub Cathal Cregg – who netted 2-1 – among the goals.
Donie Smith, Diarmuid Murtagh, Ciaráin Murtagh and Conor Devaney all linked up brilliantly. Their angles of running, kickpassing and quality of shooting were extremely impressive, while Enda Smith, Cregg and Ian Kilbride are formidable players to bring in off the bench.
"The manner of their scoretaking was very good, a lot of unselfish play, the best man was getting it. I thought our finishing was way ahead of what it had been in the earlier rounds.
"We had threatened to score four or five goals all year but we kept missing them. Cathal Cregg made a big impact obviously and got to the tempo of the game fairly quickly, which was great, but the lads were passing the ball around very well up front."
Source: Bryan Keane/INPHO
Last month it emerged that St Brigid's defender Niall McInerney would miss the remainder of the league due to his medicine exams. McInerney returned to the squad time for yesterday's final and McStay called for him at half-time. He had a big impact in the second-half and broke forward to kick a good score.
"We were in trouble, brought on a few lads off the bench. Big call on Niall McInerney, obviously, and we went for it because he's a very fine player. He's one of our best players over the last number of years, he made a big contribution, there's no doubt that about.
"And then Cathal, Enda, they're all making a contribution, Ian Kilbride comes on a minute later he's punching the ball over the bar, that's what it's all about.
"It's a culture thing for Roscommon that we have to buy into. We're day by day trying to get that into them that it's about minutes, making a contribution during those minutes and banging that home. Some fellas can buy into it a bit better. You have to park your ego, just do it solely for the team. If we win, we win together, if we lose…I know it's cliche but that's the truth of it."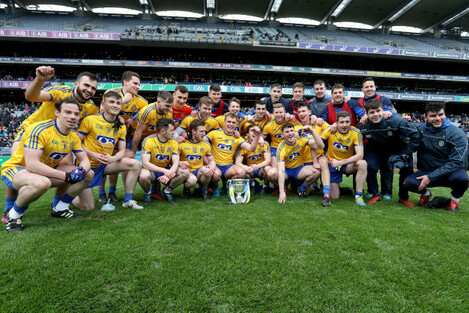 Source: Bryan Keane/INPHO
It might have been bonus territory for Roscommon, but when those players look back on their inter-county careers they'll fondly remember nights like last night.
"I'm really happy for the lads, showed great fighting spirit, could have walked away from the match a few times, looked like we were beaten and then we had it won a few times and started helping Cavan get back into it.
"Overall, it's a happy dressing-room, they'll have their league party tonight so I'd say they're in fairly good form for it."
The42 is on Instagram! Tap the button below on your phone to follow us!