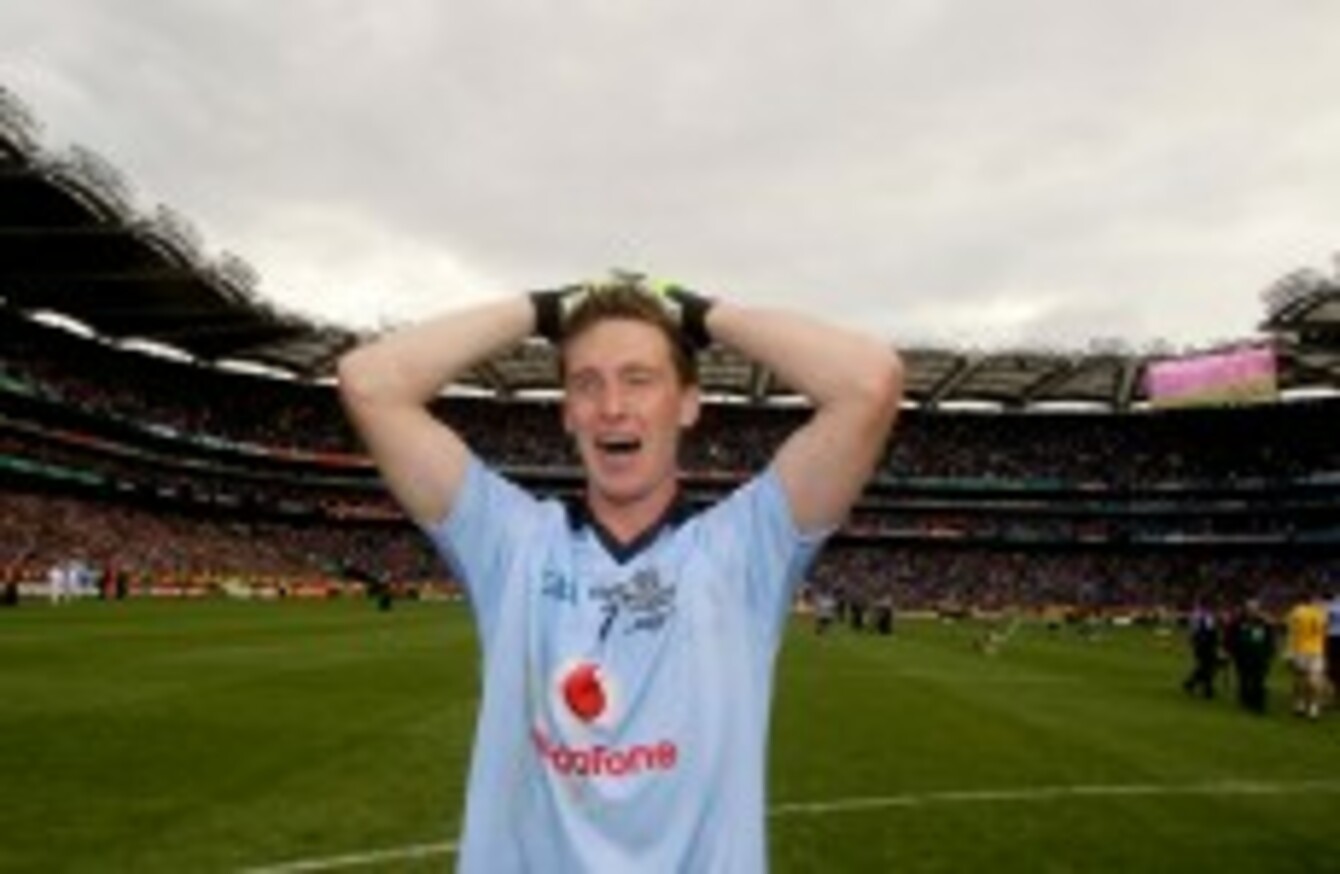 Dublin's Kevin Nolan after the 2011 All-Ireland final.
Image: INPHO/James Crombie
Dublin's Kevin Nolan after the 2011 All-Ireland final.
Image: INPHO/James Crombie
DUBLIN PLAYER KEVIN Nolan has spoken out about the challenges of playing inter-county football while being a coeliac and having Type 1 diabetes.
Nolan was man-of-the-match when Dublin won the All-Ireland senior football final against Kerry in 2011 and is part of the squad that face the Kingdom in next Sunday's All-Ireland semi-final in Croke Park.
Nolan is no longer a regular starter in the Dublin defence and has revealed it has been a challenge to adjust as he continues to play elite sport.
"It was three days after the All-Ireland when I was diagnosed as being a coeliac," Nolan writes on the Hill 16 Dublin Facebook page.
"I think the doctors knew a week earlier but waited until after the final to tell me. It was the following December then when I was diagnosed with diabetes.
"For about two and a half weeks I'd found myself waking up to go to the toilet at 2 am and needing to go again at 3am and so on.
"I lost two and a half stone and got checked out and it was confirmed as Type 1 diabetes. It was a real shock to the system at first and getting used to the insulin injections."
Nolan praised the staff in Beaumount Hopsital in Dublin for their help.
"Initially when I was told I wasn't sure what to expect and what it meant for my sporting career. The backroom staff in Dublin have been a huge help and working with David Hickey and the staff in Beaumont Hospital was brilliant.
"They were never negative. I can overcome this and still be the best I can be as an athlete. Last year I was learning how to cope with being an inter county player and having Type 1 diabetes. I researched other athletes who have had the condition like former Spurs captain Gary Mabbutt.
"Dublin hurler Stephen Hiney is also diabetic and it was good to be able to talk to him and he said I was better off to learn from my mistakes because everyone's body is different.
"Pat Gilroy was very understanding. It does leave you drained but activity actually helps the body and means you don't need as much insulin if you are training.
"But definitely when I go in after training I take time out to sit down and relax when other lads are rushing off."
Dublin hurler Stephen Hiney
Pic: INPHO/Cathal Noonan
Nolan opted to take a break from football at the end of last season.
"I had had a long year last year and after Kilmacud Crokes lost to Ballymun in the county final, Jim Gavin was very understanding and he told me to take a break and recharge myself physically and mentally.
"I took a break for November and December but in hindsight this didn't work out well because when I came back in the lads were already flying and it has been tough trying to get back into the team.
"I've gone from being a regular to getting limited game time. It's been tough and it means you never take a Dublin jersey for granted. But you have to keep the head up and we are all in this together for the goal of winning an All-Ireland medal with Dublin.
"I'm 24 going on 25 and was asked to become an ambassador for Diabetes Ireland which I am happy to do.
"I can hopefully show other young people that it's still possible to be involved in sport and have a full and active lifestyle living with diabetes. Just look at the brilliant season Stephen Hiney had with the Dublin hurlers this year too."