CONOR McGREGOR HAS gained a lot of new fans since he joined Ultimate Fighting Championship in 2013, and an Irish Olympian is one of them.
Kieran Behan, who became the second Irish Olympic gymnast in history at London 2012, is full of admiration for the 26-year-old mixed martial arts fighter.
"I find Conor McGregor very inspiring," Behan told The42. "I think he's a phenomenal athlete. I'm a big fan of his, he's pretty special. His mentality, his training, I find it very good for motivating me."
McGregor has incorporated gymnastics and yoga into his training, and Behan has been very impressed by what he's seen from the Dublin MMA star's approach to preparation.
He said: "Conor is tapping into things that I think other athletes should do. You see a lot of crossfit now and things like that, and they're using gymnastics-based strength work. It's all power and you can see that he's using things like that. He's doing muscle-ups, he's using rings and he's got a lot of flexibility into his training as well.
"I think other athletes in other sports should try and tap into that too. I think they'd notice a massive difference. People in other sports can use gymnastics to their benefit and I'd recommend it a lot.
"Conor McGregor is using a lot of gymnastics and yoga and you can see what it's doing, because he's an extremely explosive fighter. He's powerful, and gymnastics is all about being explosive and powerful at the right times.
"Gymnasts' bodies are built for power geared towards timing and technique; knowing how and when to use it, and Conor seems to have a lot of that. That's one of the reasons why he's such a brilliant athlete."
McGregor will aim to become a UFC world champion in Las Vegas on 11 July when he takes on reigning featherweight title-holder Jose Aldo at UFC 189. Behan will be watching and he fancies McGregor's chances.
"I think McGregor will win, for sure," Behan said. "Aldo's on his way out and I think it'll take someone like Conor to capitalise on that. He's got the right mentality in the way he goes about what he does.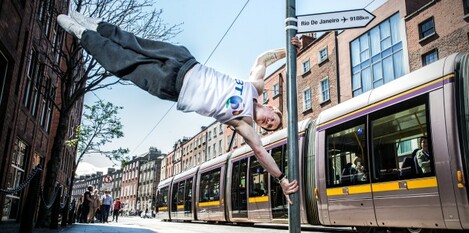 Kieran Behan was in Dublin as BT Ireland announced the renewal of their sponsorship of the Irish gymnast. Source: Billy Stickland/INPHO
"You can see that he trains extremely hard and I'm sure he's supremely confident because of the amount of hours he's putting in. I think that will take him to the next level.
"He knows that he's done the hard graft and his skillset is always going to be there. It's just about continuing to enhance it and that's exactly what he's doing when he's training. I believe he can do it. I really hope he does."
Kieran Behan will fly out to Baku today for the 2015 European Games. We'll bring you an in-depth interview with the Irish gymnast this weekend.
BT Ireland has announced the renewal of their partnership with Irish Olympic gymnast Kieran Behan for a further two years as he continues on the road to Rio 2016. Kieran competes in the 2015 European Games in Baku, starting on 12 June, which is available to view on BT Sport. 
– First published at 06.00