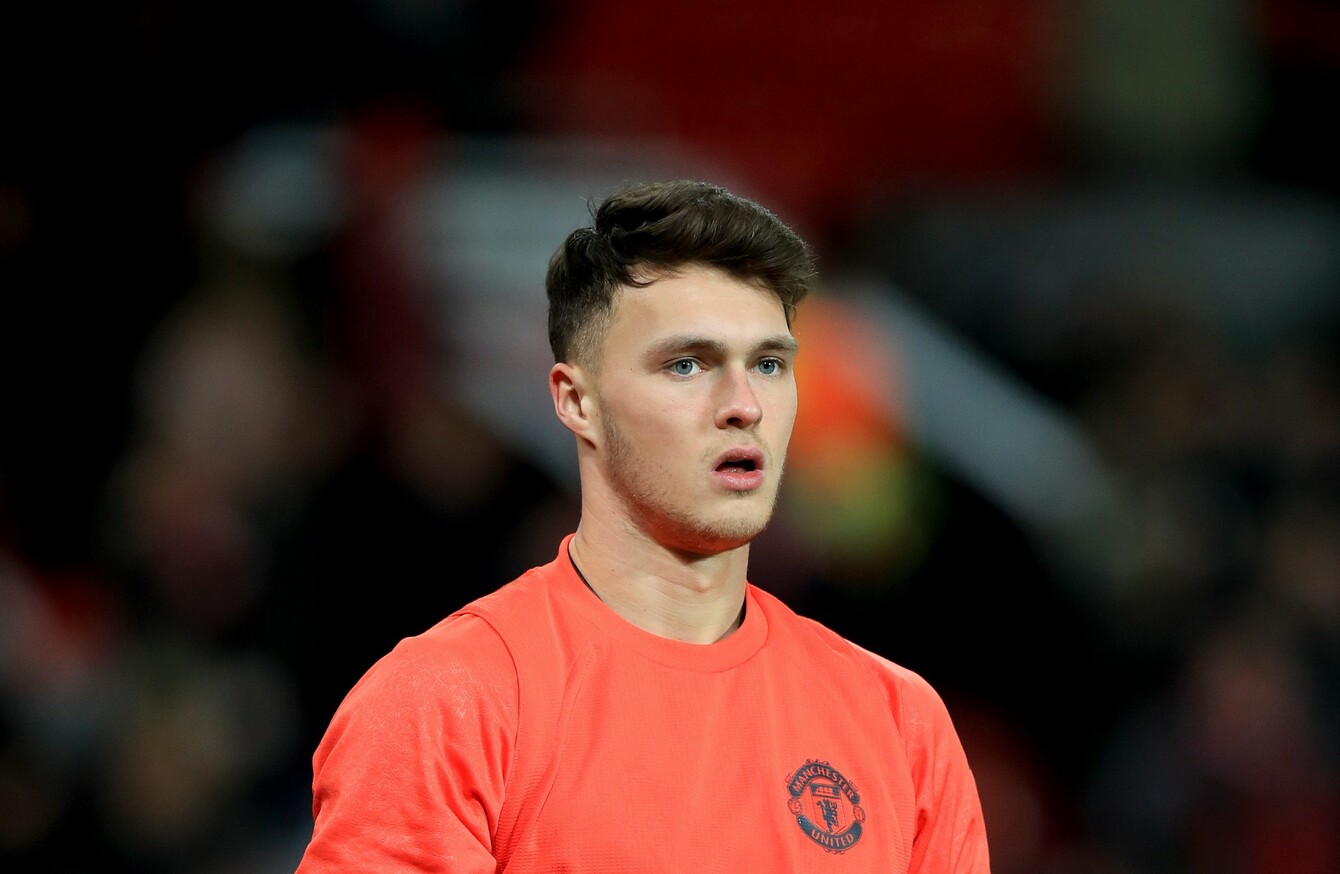 Kieran O'Hara is highly rated at Manchester United.
Image: EMPICS Sport
Kieran O'Hara is highly rated at Manchester United.
Image: EMPICS Sport
IT'S ONLY FIVE minutes into the interview and Kieran O'Hara has already made The42 feel distinctly old.
The subject is his footballing idol and given that he is a Mancunian who virtually grew up at United, Peter Schmeichel is suggested.
"I was a bit too young to watch him," O'Hara replies. "I've obviously seen videos and stuff like that."
In hindsight, it figures. When Schmeichel left United just after their famous treble-winning season in 1999, O'Hara had only just turned three years old.
He continues: "When I was playing football it was more Edwin van der Sar that I always looked up to. He was always the player I wanted to be exactly like. He was perfect — a fantastic goalkeeper — and he was definitely the person I wanted to emulate when I was young."
That also makes perfect sense. When the Dutch legend was enjoying his greatest moment in a United shirt, winning the 2008 Champions League final, O'Hara was 12 — the perfect age for formative footballing memories.
Since then, the youngster has taken significant steps towards realising his lifelong dream of being the Red Devils' number one goalkeeper.
In 2012, O'Hara joined United from local club Urmston Town. Two years later, he penned his first professional contract with the club.
It was not so much relief, but I was really happy and proud. I'm a Manchester-born lad, so that makes it a bit more special to become a professional footballer at the club that my family and I have always supported. I'd always outlined that as something I was going to achieve."
Now 20, he has already had a taste of what his heroes experience on a routine basis. After impressing with the United U21s, O'Hara this season has featured in first-team squads for Premier League and Europa League matches — he recently travelled with the senior team to Russia for their game against Rostov.
And while he is still some way off a regular starting berth, O'Hara's progress is encouraging nonetheless.
It was my first time in a European away game being involved with the first team. I really enjoyed it… It was very special for me to go and see how things are done.
"Those kind of experiences as a football player are really valuable when you're young."
Even one of the biggest names in football, Man United boss Jose Mourinho, offered words of encouragement for O'Hara.
He spoke to me a few times. In those kind of situations, it's about taking everything in, taking as much as you can from the whole experience."
Along with Mourinho, O'Hara has a world-class footballer to lean on for advice.
(David de Gea) is the best goalkeeper in the world. It's really special for me to be given the opportunity to train with him… I think there are a lot of things that he does well that I can learn from. Training with the best in the world can only improve you and make you stronger as a goalkeeper."
Given his progress at Old Trafford, it's no surprise that Ireland came calling for O'Hara recently.
Born in Manchester, his grandparents and other members of his father's side of the family originally hail from Galway.
It was during a loan spell last season in League Two with Morecambe that he first attracted the attention of Ireland U21 boss Noel King.
Having been born in England, O'Hara had a big decision to make once King put forward the offer. After a conversation with his parents, the youngster ultimately opted to declare for the Boys in Green.
I think they both agreed that Ireland was the best route into international football," he says.
"They were both over the moon that I was selected and thought it was great opportunity and one that I certainly wouldn't have turned down."
Despite being brought up in England, O'Hara is no stranger to Irish shores. In fact, trips over to Galway to visit relatives were a recurring part of his upbringing.
"We had cousins in Galway so they used to get us into GAA.
I've never been to any games but I remember watching a few All-Ireland finals and stuff like that, a few Galway games, just on television.
"I've still got my Galway GAA jersey at home but it's not fitting me anymore."
After getting his first squad call-up last September, O'Hara played for Ireland U21s against Slovakia in a friendly in La Manga back in November.
The United youngster will be hoping to add to his appearance tally at Tallaght Stadium this Saturday, when Ireland open their Uefa U21 Championships Qualifying Round against Kosovo. He faces stiff competition though, with highly-rated young Anderlecht goalkeeper Liam Bossin also in contention for a starting spot.
But of course, O'Hara is well accustomed to such challenges. Not only is he competing with experienced internationals in David de Gea and Sergio Romero for the goalkeeping jersey, but also other well-regarded youngsters such as Joel Castro Pereira and Sam Johnstone.
It's Manchester United, it's the biggest club in the world. For me to break into the first team will be pretty difficult," he admits. "But I'm 100% optimistic. I will always keep that as my goal to become Manchester United's number one goalkeeper."
Along with the pressure that comes with competing at this level, O'Hara is also almost expected to live a monk-like existence away from the game. He insists, however, that it is no big deal and that he won't be attracting sensationalist headlines anytime soon.
Being a football player, you're going to be in the limelight. You're going to get a lot of attention. You're not so much put in a bad light, but everything we do is covered and you're (always) in the eye of the public. But it's difficult because when you're young, you make mistakes and do silly things. But learning from those mistakes is the most important thing.
"I think it's part of the responsibility that you have to take and deal with because you can't get one (element of success) without the other.
It's difficult when you see your friends going out and stuff, but you've got to keep focused and sacrifice a lot of things for your dreams — it's a small sacrifice in the grand scheme of things. What you're getting out of it is a lot better than a couple of nights out."
The42 is on Instagram! Tap the button below on your phone to follow us!