1. The return of the King
Two of the loudest cheers of the night were reserved for Henry Shefflin. The roof almost came off the stands in Nowlan Park when he was announced as a late addition to the substitute's list and his appearance as a late sub was greeted with another tumultuous roar.
Shefflin steered the Kilkenny ship home and he laid off a pass for Richie Power to float over a late score. Shefflin revealed afterwards that he ignored his surgeon's advice to play a part but Kilkenny were certainly glad to have him back.
©INPHO/Donall Farmer
Shefflin provides magnificent leadership and while he's far from fully fit, the presence of the nine-time All-Ireland medallist on the pitch alone is worth a couple of points to the Noresiders. Shefflin would love to sign off his inter-county career with a 10th All-Ireland medal and deep down, that's a massive driving force for the Ballyhale Shamrocks wizard.
2. The old Kilkenny spark is back
After losing to Dublin in Portlaoise on the previous weekend, there was no bigger or better challenge for Kilkenny than facing their most bitter foes on home soil. Being knocked out of the championship by Tipperary, in their own back yard, was something that Brian Cody and his players simply would not countenance. Henry Shefflin admitted afterwards that it was a prospect that frightened the life out of Kilkenny. And now Kilkenny are back on the road to potential All-Ireland glory again and if the can retain the Liam MacCarthy Cup, it would rank right up there with Brian Cody's finest achievements. If they can get past Waterford in what could be a sticky tie next weekend, it would be hard to bet against them again as a number of injury problems clear up.
3. Tipperary facing transition
Tipperary's hurlers have now reached a real crossroads. Since the 2010 All-Ireland final, they have suffered three damaging championship defeats against Kilkenny and they have been given the unwanted tag of serial underachievers. For a number of players, retirement now seems a likely option, with the futures of Brendan Cummins, Eoin Kelly, John O'Brien, Paul Curran and Lar Corbett up for scrutiny.
Manager Eamon O'Shea has a tricky job on his hands ahead of the 2014 campaign as the aforementioned quintet provide experience and leadership in the dressing room. Corbett had been motoring particularly well before he ripped a hamstring and had to be taken off before half-time. And his absence was keenly felt in the second half.
4. Premier captaincy an issue
O'Shea raised eyebrows earlier in the year when he appointed Shane McGrath as team captain. And the Ballinahinch man, while naturally honoured to have been bestowed with such a prestigious role, played as if it was a millstone around his neck all year. McGrath was hauled off in both of Tipperary's championship games and he struggled once again last night.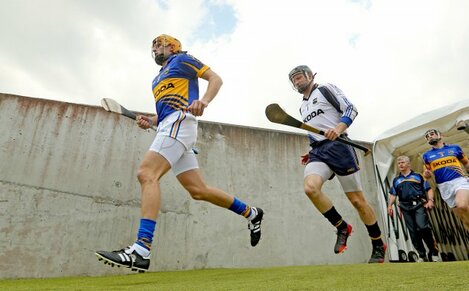 ©INPHO/James Crombie
A second viewing of the game shows that it completely by-passed him in the first half, before he was withdrawn at half-time. His work-rate could not be questioned but Tipp needed McGrath to rediscover his 2008 form this season. The 28-year-old has been a regular in the side since 2006 but it's likely that O'Shea will hand the captaincy to another player next year. And McGrath could respond positively without the added pressure on his shoulders. A move to right-half-back, where McGrath played for Limerick IT in the Fitzgibbon Cup, is another option that O'Shea will consider.
5. The last sting of a dying wasp?
It remains to be seen if this was the last sting of a dying wasp from Kilkenny. The All-Ireland champions produced three sub-standard championship displays before last night but when they needed it most, out came a big performance.
Kilkenny didn't need much more motivation than the arrival of Tipperary to Nowlan Park but how many more times can a core group of players aged 30 or over go to the well? A fourth game in as many weekends will test their ageing legs again next Saturday and a youthful Waterford side will fancy their chances of causing an upset. Naturally, Kilkenny will be tipped to advance but as James Woodlock showed last night, the Cats are vulnerable when players decide to run at them.