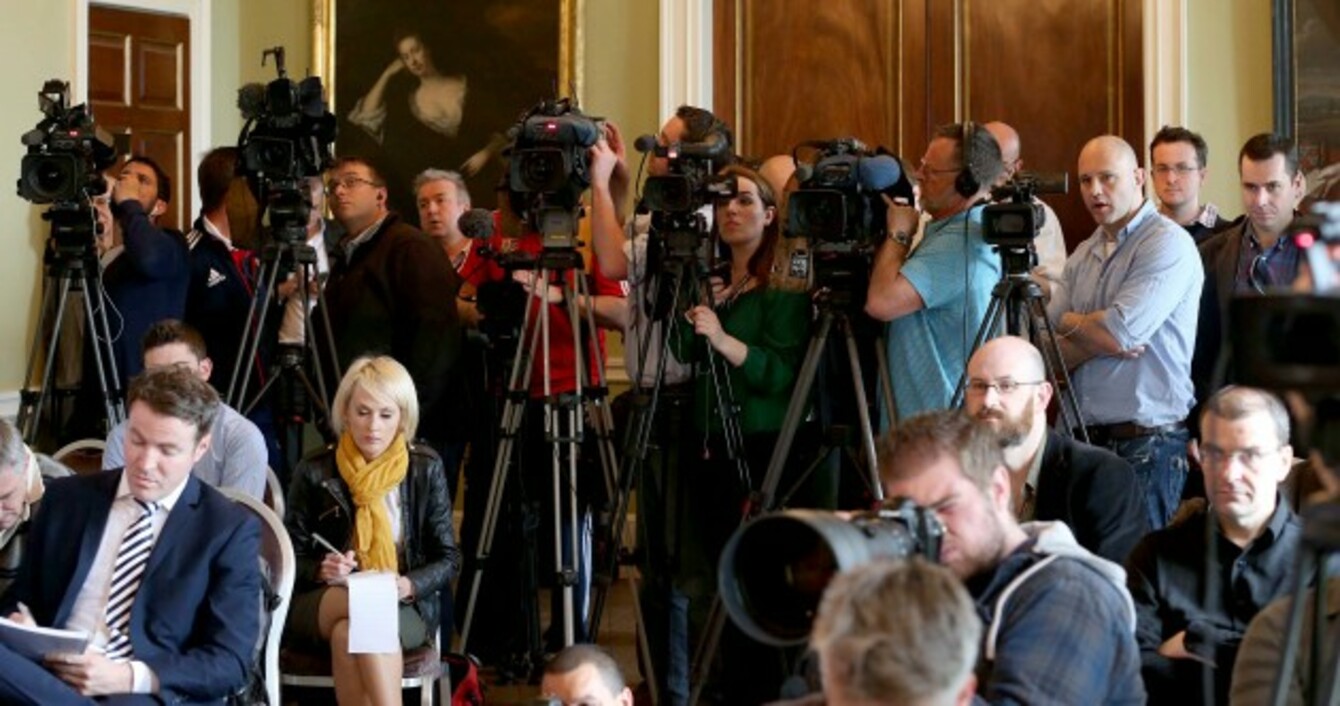 Reporters at Carton House this week.
Image: INPHO/Billy Stickland
Reporters at Carton House this week.
Image: INPHO/Billy Stickland
1. "Shinji Kagawa is one of the best players in the world and he now plays 20 minutes at Manchester United – on the left wing! My heart breaks. Really, I have tears in my eyes. Central midfield is Shinji's best role. He's an offensive midfielder with one of the best noses for goal I ever saw. But for most Japanese people it means more to play for Man United than Dortmund. We cried for 20 minutes, in each others' arms, when he left."
Donald McRae of The Guardian talks to Borussia Dortmund manager Jurgen Klopp about taking the club to the top and emotional departures.
2. "A person's head collides with an object. Unprepared for the impact, the head jerks in a violent whiplash motion. The person collapses, rolling on the ground and holding his head, before rising slowly and unsteadily. Eyewitnesses testify that the person was confused or disoriented."
Stefan Fatsis of Slate questions why sports teams are afraid to use the dreaded C-word.
3. "Yesterday was a sad day for the Rás as it's spirit is in danger of being lost forever.

For those who may not know, there is a rule in cycling that a rider may be eliminated from the race if they are outside 20 per cent of the winners' time on a stage. The rule is there to stop guys treating the stage like a rest-day with a view to challenge for stage honours on a later stage. Every one of those guys out there yesterday tried their hearts out."

Writing for Stick Bottle, former international and Rás rider Brian Ahern believes it could lose some of its mystique because of a rule change.
4. "The Fan Who Says "I Knew It"
Right after the game hits rock bottom and the outcome is no longer in doubt, this fan is there to tell you that he knew it was going to happen all along. This usually means he repeats the phrase "I knew it" in increasingly aggravated fashion, often to no one in particular. For some reason, this may also involve lots of agitated nodding.
By the way, this fan has no relation to The Pessimist, who at least gets credit for going negative early on. Instead, this fan's post-disaster "I knew it" tirade will be the first and only indication he's given all game long that he actually did know it."
The 20 Types of Depressed Sports Fans by Sean McIndoe for Grantland
5. "For Houstonians it carries a lot of weight and for Americans in general it's a known thing. It was such a big deal in the 60s. Houston is a city that's lacking in distinctive icons. It's still magnificent inside. When you're under that roof it's just a spectacular space. It just feels impressive."
On The Guardian, Tom Dart wonders what's next for the Houston Astrodome
6. "When the new three-year £5.5bn TV deals kick in next season, the top club in the Premier League can expect closer to £100m for winning the title, while the bottom club will get closer to £60m."
Sporting Intelligence's Nick Harris reveals where the money goes in the Premier League.