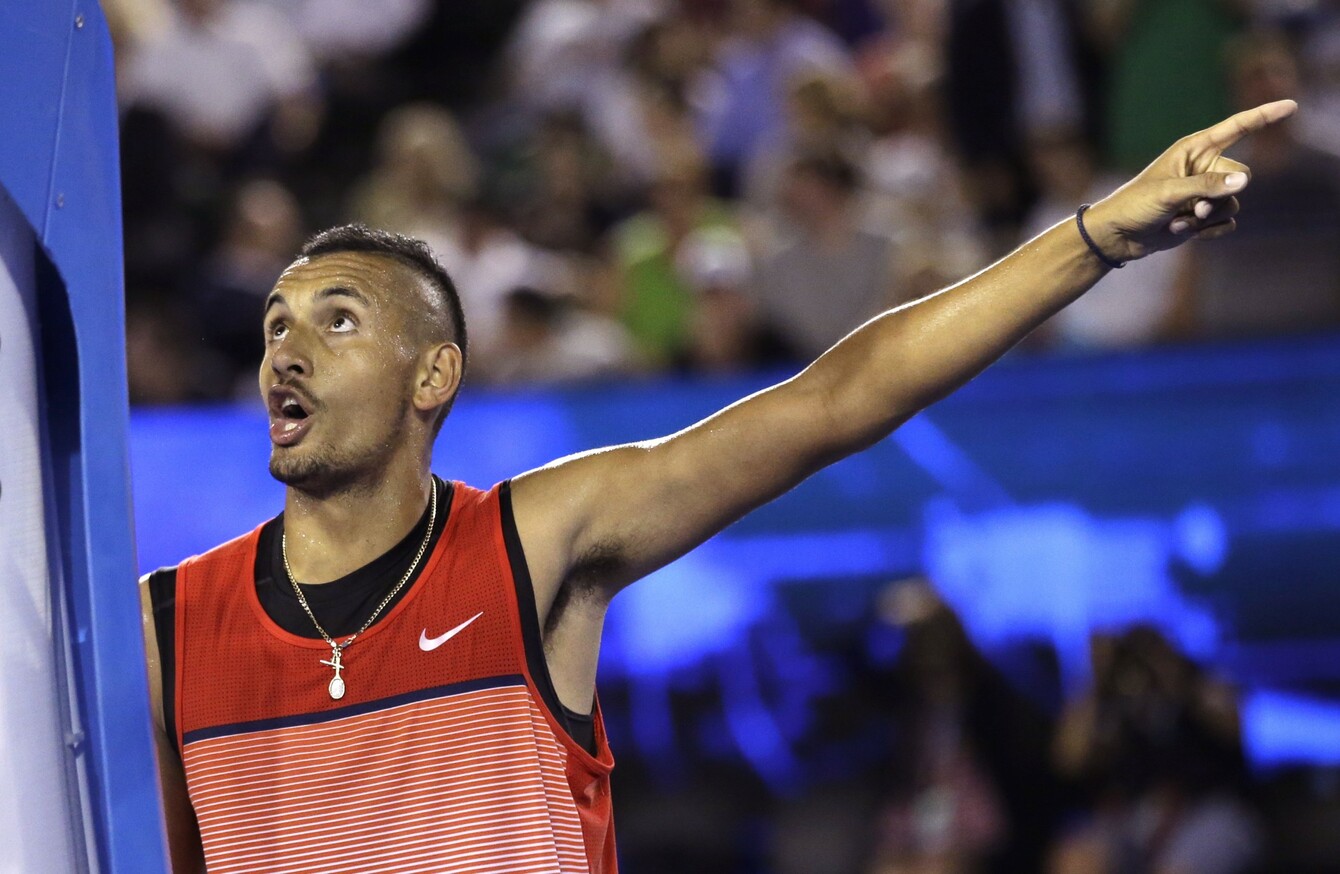 Image: Aaron Favila
Image: Aaron Favila
OH, NICK KYRGIOS. When will he learn.
The controversial Aussie was sent packing in four sets — 6-3, 6-4, 1-6, 6-4 — by Tomas Berdych in Melbourne today but as is often the case, not without drama.
Berdych, a two-time semi-finalist, was too cool and focused for the easily distracted 20-year-old at Rod Laver Arena.
The madcap Aussie repeatedly clashed with the umpire, James Keothavong, and engaged in a long-running conversation with himself as Berdych eventually swatted his challenge aside.
Kyrgios was annoyed that he heard music during the middle of a point near the end of the second set and took his frustrations out on the umpire.
"Mate, are you OK?" Kyrgios asked, rhetorically. "There's music playing in the crowd while we are playing. I've told you seven times. Mate!"
Source: WorldBreakingNews-4/YouTube
Kyrgios then tried to get the crowd involved, asking aloud: "Am I hearing things? Am I hearing things? Mate, it's a circus! So there's music allowed to be played? Did you hear something? So why did you not tell them to turn it off? Because you have a mic right there!"
The 20-year-old's emotions then reached boiling point in the third set and he let rip at the umpire.
"You really know how to control a match, buddy," he shouted. "There's guys throwing balls back into the crowd. And you have music playing while we're playing. Good control. It's a f***ing joke."
The Czech sixth seed advanced to the last 16 for the sixth consecutive Grand Slam where he will face Spaniard Roberto Bautista Agut, who knocked out 2014 US Open champion Marin Cilic in straight sets.
The Czech iron man, who upset Rafael Nadal on the way to last year's semi-finals, won the majority of the longer rallies and hit 44 winners, 26 of them on his big forehand.
Kyrgios gave his home supporters some hope with a fightback in the third set when he twice broke Berdych's serve, but the Czech regrouped in the fourth set to clinically finish off the Aussie.
Kyrgios, who is no stranger to controversy despite his fledgling professional career, shook hands with Berdych after the match before telling Keothavong: "That was terrible refereeing."
Additional reporting AFP